Creative Dialogue
Creative Dialogue is an international workshop for young instrumentalist and composers to learn new repertoire and experience the creative dialogue between music and its performers.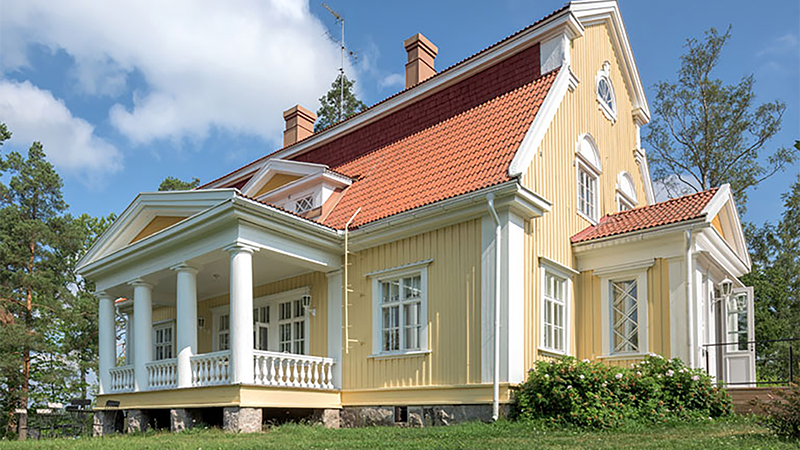 Presentation
Throughout its eleven years of operation, the Creative Dialogue workshop has already united nearly one hundred composers and musicians from around the world.
Instrumentalists and composers usually study in the same educational institutions. Nonetheless, composition students rarely get the chance to work with musicians. Cellist Anssi Karttunen and composers Kaija Saariaho and Magnus Lindberg created the Creative Dialogue workshop concept in 2008 in collaboration with the Sibelius Academy to open up new horizons and create new dialogue between young artists. Since then, these workshops have been an integral part of international activities of the Sibelius Academy, University of the Arts Helsinki.
The first six Creative Dialogue workshops were held at the Acequia Madre House in Santa Fe, United States. In 2015, the workshop was held for the first time in Finland at the Kallio-Kuninkala course center in Järvenpää. Since then, the Creative Dialogue has been organized alternatively in Finland and the United States. The workshop helps students to network and work closely together and deepen their understanding of how the relationships between composers and performers have influenced the history of music. Over the years, the workshops have been taught by Anssi Karttunen, Kaija Saariaho and Magnus Lindberg and visiting teachers like flutist Chen Halevi and soprano Barbara Hannigan, among others.
Collaborating universities
Teachers 2008-2019
Anssi Karttunen, 2008 – 2012, 2014 – 2019
Kaija Saariaho, 2008, 2015, 2017, 2019
Magnus Lindberg, 2012, 2014, 2016, 2018
Timo Korhonen, 2011
Chen Halevi, 2012
Barbara Hannigan, 2014
Tuija Hakkila, 2015
John Paul Jones, 2016
David Poissonnier, 2017, 2018
Daniel Belcher, 2019
Alumni
Matthew Barnson, Juilliard School of Music and Drama
Ben Hackbarth, University of California San Diego
Jouni Hirvelä, Sibelius Academy
Pasi Lyytikäinen, Sibelius Academy
Schuyler Tsuda, University of Minnesota School of Music
Andrew Bergmann, University of Minnesota School of Music
Bryan Jacobs, Columbia University
Yoshiaki Onishi, Columbia University
Yuan Peiying, Cornell University
Zosha Di Castri, Columbia University
Loren Loiacano, Cornell University
Taylor Brook, Columbia University
Juhani Vesikkala, Sibelius Academy
Cecile Marti, Guildhall School of Music
Artur Akshelyan, Conservatoire de Geneve
Nina Young, Sibelius Academy
Walter Sallinen, Sibelius Academy
Jacob Landau, Juilliard School of Music and Drama
Gonzalo Bustos, Geneva Conservatory
Joseph Howard, Royal Academy of Music, London
Mioko Yokoyama, Sibelius Academy
Ashkan Behzadi, Columbia University
Nuño Fernández, Sibelius Academy
David Bird, säveltäjä, Columbia University, New York
25. Sophya Polevaya, Royal Academy of Music, London
26. Jonas Skaarud, Norwegian Music University, Oslo
Kaspar Querfurth, Guildhall School of Music and Drama, London
Meeri Pulakka, Sibelius Academy
Sinead White, McGill University
Will Bryan, Florida State University
Eirik Fosstveit, Norges Musikhøgskola
Auroora Lahti-Hintsala, Sibelius Academy
Antoine Ouvrard, piano, Conservatoire de Paris
Tiffany Valvo Lopez
Carlos Cordeiro
Shi-Wen Fan
Veera Myllyniemi, Sibelius Academy
Rolf Haas, University of Minnesota School of Music
Tuuli Talvitie, Sibelius Academy
Lisa Romain, Mannes College of Music
Grace Youn, Butler School of Music
Miguel Colom, University of the Arts, Berlin
Yoonhee Lee, Amsterdam Conservatory
Wendy Toh, viulu, Eastman School of Music, Rochester
Danielle Daoukayeva, Royal Conservatory, Hague
Onni Toikka, Sibelius Academy
Ester Forsberg, Copenhagen Conservatory
Tim Hansson, Sibelius Academy
Molly Goldman, Eastman School of Music
David Medine,University of California San Diego
Olga Reskalenko, Sibelius Academy
Danika Paskvan, Juilliard School of Music and Drama
Zane Sturme, Det Konglige Danske Musikkonservatorium
Hannah Collins, Yale School of Music
Jacqueline Ludwig, New England Conservatory
Ashley Walters, University of California San Diego
Ramiro Alvarez, University of Michigan
Yotam Baruch, Indiana University
Kacy Clopton, New England Conservatory
Anton Kukkonen, Sibelius Academy
Mariel Roberts, Eastman School of Music
Caroline Stinson, Juilliard School of Music and Drama
Laura Usiskin, Yale School of Music
Hye-Yoon Choi, New England Conservatory
Shannon Hayden, Yale School of Music
Francesco Mastromatteo, The Butler School of Music (Univ. of Texas)
Aleisha Verner, Juilliard School of Music and Drama
Joel Salvo, Minnesota School of Music
Hannah Addario-Berry, Friends of Sibelius Academy grant
Nathan Harrenstein, The Butler School of Music (University of Texas)
Jaani Helander, Sibelius Academy
Jonathan Lo, Eastman School of Music
Mo Mo, Yale School of Music
Oleksa Mucyk, Bienen School of Music at Northwestern University
Patrick McGuire, Juilliard School of Music and Drama
Photos from the past workshops
Contact information for the project
Specialist, Development services Sibelius Academy, Sibelius Academy
Project name
---
Creative Dialogue
Time
---
01/2008