Skeleton Conductor XR Art
Embodied VR artwork, where audience conducts the audiovisual environment with their movements.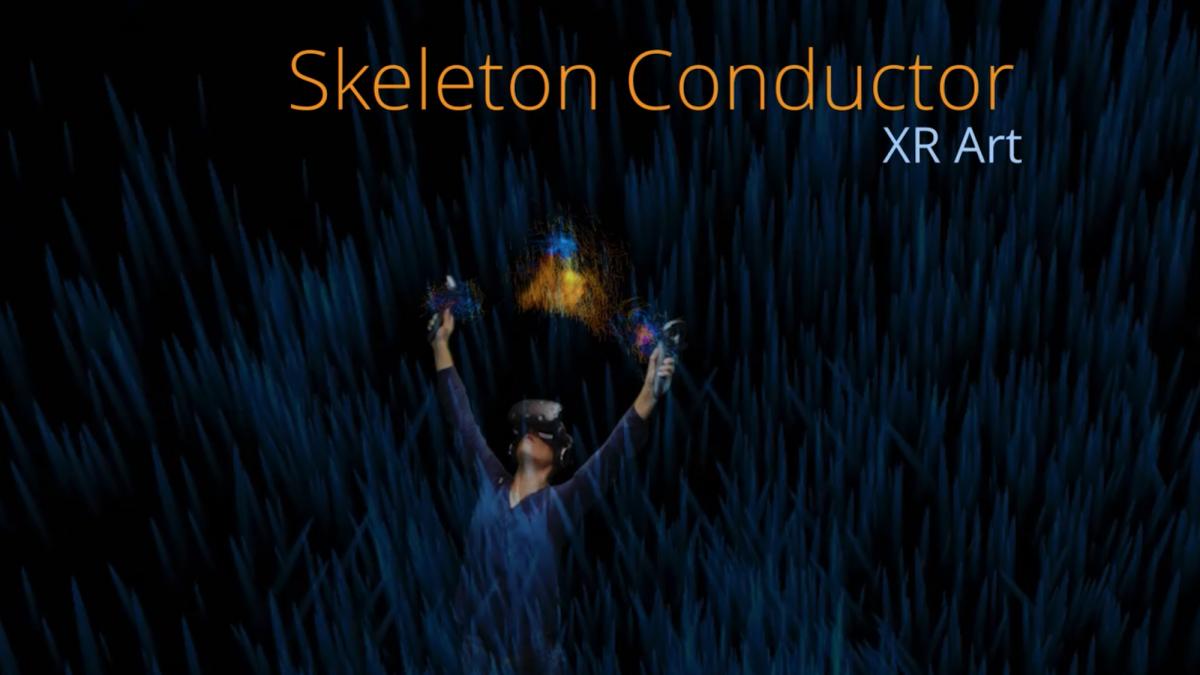 Artists
Choreography: Hanna Pajala-Assefa
Visual design: Daniel Leggat
Sound design: Janne Storm
Skeleton Conductor XR Art is a unique VR artwork, that explores kinaesthetic composition and self-awareness.
The user-centric multi-sensorial virtual artwork is a new technology, participatory media art. The experiencer of the individual work is the subject and author of their own experience. Bodily actions produce and shape the visual and musical dimensions of the experience and the augmented impulses are filtered through the embodied perception – the experiencer both produces and interprets their own story as active agents.

Skeleton Conductor XR Art has been shown at art and VR festivals and it received the People's Choice Award 2020 on its premiere at Altered-festival (USA).
Audience instructions
Spectators are asked to book their individual experience time and arrive 5-10 minutes beforehand. Entrance to Pannuhalli foyer from Cabel factory Lasipiha at your specific time slot. The viewer is guided to gear up with VR- equipment (head-mounted display and trackers) and instructed on how to interact with the artwork. Audience members can stay in the space to reflect on their experience through an online research questionnaire. Artwork does not require any prior experience with VR or interactive art. Age recommendation 12 years ->.
Audience is invited to participate in the artistic research
Artist-researcher Hanna Pajala-Assefa's dissertation at Art University studies choreography of emergent corporeality in technological mediated environments. Research case study experiment takes place alongside the performances 6.-8.6., and in additional group interviews 10.-14.6.
The research case study experiment studies the nature and quality of the virtual art experience. Spectators can take part in the research by replying to a short online questionnaire after the performance or in addition participate in a focus group interview session and donate their movement tracking data to be used for research purposes. Participation is voluntary.
More info on research and signing up for research experiments alongside ticket reservation. Inquiries about research: hanna.pajala-assefa@uniarts.fi NOTE: Research participant information and privacy notice need to be accepted when booking your ticket. Consent to participate in research signed upon attending the show.
Read our Q&A with Pajala-Assefa.