SERIES OF LECTURES ON MUSICIANS' EMPLOYABILITY AND CAREERS
Welcome to a series of lectures featuring world-leading experts on musicians' employability and careers!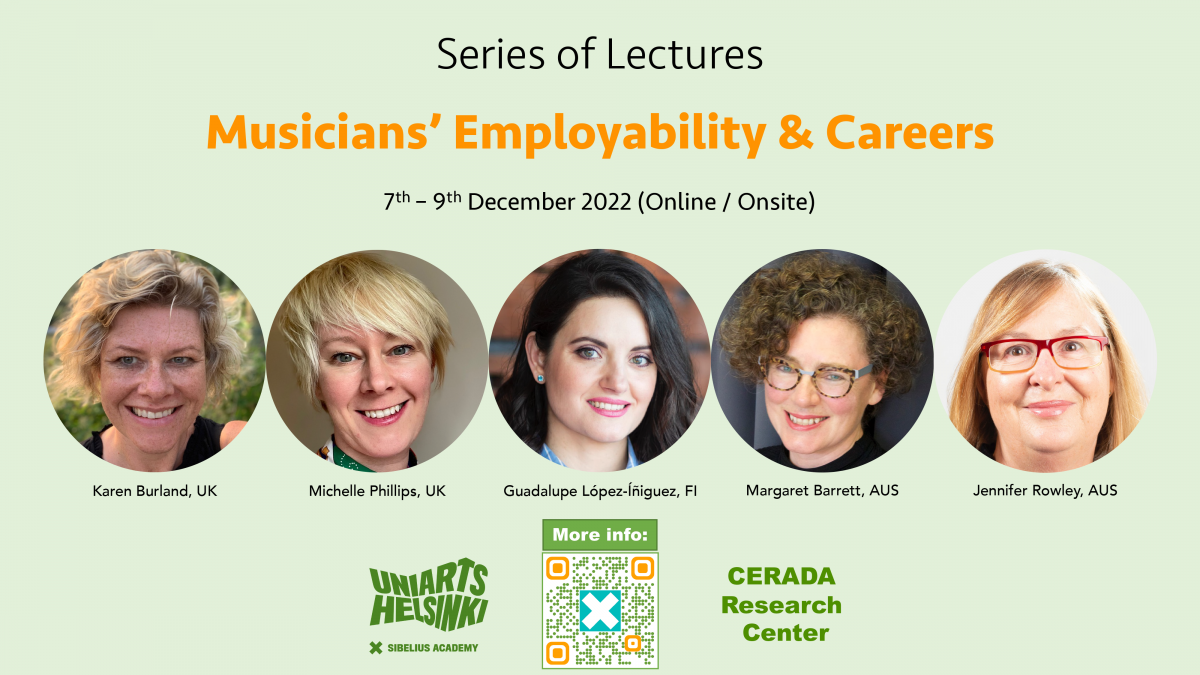 The lectures will tackle topics related to the future of music professionals, their career development, and how our identity can impact our opportunities within the music industry.
The lectures are open to the public and take place via online, hybrid, and/or onsite modes on December 7th to 9th (see details in the schedule below; note: the schedule follows the Eastern European Time, GMT+2).
The lectures onsite take place at room R-510, Sibelius Academy, Pohjoinen Rautatiekatu 9, Helsinki. Hybrid option: Although attending in person is recommended for the onsite lectures, you can also join via the same Zoom link as for the online lectures.
The series is hosted by the Sibelius Academy and the Center for Educational Research and Academic Development in the Arts (CERADA) at Uniarts Helsinki.
Schedule
Wednesday 7th of December
4-5pm (online)
Dr. Michelle Phillips, Royal Northern College of Music, UK:
"Preparing creative students to lead the industry of the future"
5:30-6:30pm (R-510, or hybrid via Zoom)
Dr. Margaret Barrett, Monash University, Sir Zelman Cowen School of Music and Performance, AUS:
"Learning beyond the institution: An evaluation of the Musica Viva FutureMakers Program"
Thursday 8th of December
4-5pm (online)
Dr. Jennifer Rowley, University of Sydney, Sydney Conservatorium, AUS:
"Developing graduate employability opportunities for creative and performing arts students"
5:30-6:30pm (R-510, or hybrid via Zoom)
Dr. Guadalupe López-Íñiguez, Uniarts Helsinki, Sibelius Academy, FI:
"Navigating uncertainty in the music industry: Protean careers and learner identity"
Friday 9th of December
4-5pm (online)
Dr. Karen Burland, University of Leeds, School of Music, UK:
"Exploring the role of identity in the development of musical futures"
Speaker biographies
Michelle Phillips is a Senior Lecturer in Music Psychology and Head of Enterprise (Academic) at the Royal Northern College of Music, Manchester, UK. Her research interests include music and time, perception of contemporary music, audience response to live and recorded music, entrepreneurship, and music and Parkinson's. She is co-investigator with Manchester Camerata for a study examining physiological, behavioural and neurological response to live and recorded music. Recent publications include a co-edited volume entitled 'Music and Time: Psychology, Philosophy, Practice' and an article on 'What Determines the Perception of Segmentation in Contemporary Music?' Michelle's research has been included in news and media shows including ITV Granada News and BBC Radio 4. She has advised science museums in London and Moscow on exhibitions regarding music and science, and most recently worked with the Science and Industry Museum Manchester on their current 'Turn It Up: The Power of Music' exhibition, which features Michelle's research. Michelle was recently Principal Investigator of the two-year StART Entrepreneurship Project, in partnership with the Royal Central School of Speech and Drama and University of the Arts London (funded by a £902,153 grant from the Office for Students and Research England). The StART Project sought to explore how best to support creative students to embark on freelance and portfolio careers, and to lead the creative industry of the future. Michelle has been invited to speak about the findings of the project at events such as the Advance HE Teaching and Learning Conference 2022, and other events hosted by specialist arts institutions in the UK and internationally.
Margaret Barrett is Professor and Head of the Sir Zelman Cowen School of Music and Performance at Monash University. Her research has addressed problems in the areas of Aesthetic decision-making, the meaning and value of Arts engagement for young people, young children's musical thinking, young children's identity work in and through music, teaching and learning practices in the arts, and the pedagogies and practices of creativity, collaboration, expertise and enterprise. A key aspect of her work has been the development of innovative arts-based inquiry and expertise in music and music education. Recent Awards include: Albi Rosenthal Visiting Fellowship in Music at the Bodleian Library, Oxford (2023); elected Beaufort Visiting Research Fellow at St John's College University of Cambridge in 2019; a research Residency funded by the Foundation de Maison des Sciences de l'Homme at IRCAM (Institute for Research and Coordination in Acoustics /Musique) investigating creative pedagogy and transmission practices in 2019; and Fulbright Senior Research Fellowship in 2018 in the Archives of the Smithsonian Institute, and the Library of Congress (Washington DC). She was awarded the Fellowship of the Australian Society for Music Education in 2011 and Honorary Life Membership of the International Society for Music Education in 2022. Professor Barrett has led seven ARC Grants and been co-investigator on a further two. She has served as President of the International Society for Music Education (2012-2014), Chair of the World Alliance for Arts Education (2013-2015), and Chair of the Asia-Pacific Symposium in Music Education Research (2009 – 2011).
A/Professor Jennifer Rowley (PhD) is Program Leader, Music Education and Deputy Associate Dean (Education) at Sydney Conservatorium of Music, The University of Sydney where a key role is co-ordinating the professional experience program for pre-service music teachers and Work-Integrated Learning experiences/internships for musicians into the Arts Industry. With an interest in identity development for teachers and musicians as they transition from expert student to novice professional through the utilisation of authentic learning experiences, her research on the impact of the ePortfolio for fostering enhanced career preparation within a framework of developing a sense of possible future self is well-known.
Guadalupe López-Íñiguez is a Spanish cellist, educator and interdisciplinary researcher. She is passionate about human (musical) learning and development and holds a PhD in Educational Psychology and a master's degree in Classical Music Performance. She is Associate Professor (dosentti) of Music Education at the Sibelius Academy in Finland. Her scholarly expertise in music research includes constructivist pedagogy, employability and careers, giftedness and talent, identity and lifelong learning, musicians' wellbeing, performance optimisation, and theories of emotion and motivation. Guadalupe is Co-Editor in Chief of ISME's Revista Internacional de Educación Musical, Co-Chair of ISME's Commission for the Education of the Professional Musician (CEPROM), and member of the European Association of Conservatoires' (AEC) Artists as Makers in Society (ARTEMIS) project. She is co-editor of "Learning and Teaching in the Music Studio – A Student-Centred Approach" (Springer, 2022), and has published several peer-reviewed articles and book chapters with leading publishers. She also serves as an expert for academic journals, conferences, and funding bodies. Her research has been recognized with significant funding (over €1M as a PI) and awards. As a musician, Guadalupe is specialised in historically informed practice and plays on baroque, classical, and modern cellos. Alba Records released her critically acclaimed albums with the complete cello works by Gabrielli and Scarlatti in 2018, and the complete cello works by Mendelssohn in 2019. She plays at times with the Helsinki Baroque Orchestra and has recorded for radio and television.
Karen Burland is Professor of Applied Music Psychology at the University of Leeds and is currently the faculty and university academic lead for work relating to employability and student futures. Karen researches musical identities and their role in musical participation in a variety of contexts. She is currently involved in projects investigating the ways in which undergraduate and postgraduate students engage with, and perceive, employability activities during university and beyond and is interested in exploring the ways in which musicians create and support their work in music, as well as in the role of music for wellbeing. Her book Coughing and Clapping: Investigating Audience Experience, edited with Stephanie Pitts, was published in December 2014. Karen was awarded a National Teaching Fellowship in 2022 for her work as a music psychology educator and her approaches to supporting the employability of students in Higher Education.
Credits for students
Uniarts Helsinki students can get 0,5 ECTS for active participation in all lectures. Please, contact the coordinator of this series, Dr. Guadalupe López-Íñiguez (guadalupe.lopez.iniguez@uniarts.fi), if you would like the credits to be added to your personal study plan (HOPS).
Contact information for the event
Academy Research Fellow, MuTri-tohtorikoulu, Sibelius Academy
Part-time teacher, MuTri-tohtorikoulu, Sibelius Academy
Part-time teacher, Piano, harmonikka, kitara ja kantele, Sibelius Academy
Visiting researcher, Taidekasvatuksen tutkimuksen tk CERADA, Research hub
guadalupe.lopez.iniguez@uniarts.fi