Theatre pedagogy degree student: We can try out different things from the whole spectrum of art
Read an interview with Nóra Varga.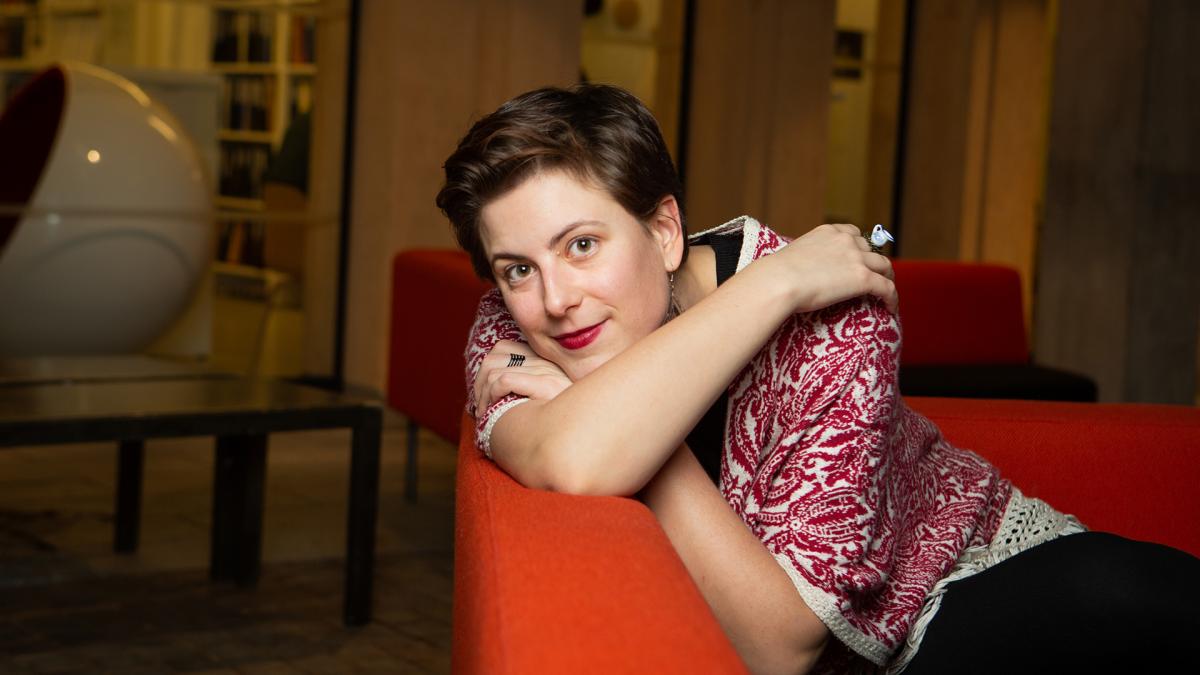 Tell us who you are and how you ended up studying at Uniarts Helsinki.
My name is Nóra Varga, I am a master's student in theatre pedagogy and I come from Hungary. At the time of applying I was working in Belgium for a puppet theatre as an intern in administration and the theatre's pedagogical programme. I had a desire to study art pedagogy, and to study it in a way that is practical and theoretical at the same time. I ended up googling for a programme and found the MA in theatre pedagogy here at the Theatre Academy. At the time it felt like a far-fetched idea to study here. I didn't know much about Finland. I had visited the country shortly once before but knew about its world-famous education system.
What were your auditions like?
The process took 1 to 3 days. On every afternoon they would publish the names that would get a callback for the next day. Despite the challenging process, I felt that the teachers involved tried to make the situation as comfortable as possible for all of the applicants. Every student was treated equally as human beings. After the final decision we had a possibility to call the teachers and ask their reflection. I think it has major importance because in that way you get finality and feedback after the process. Throughout the auditions I felt like I had found my group, my place. It inspired me very much to meet like-minded people.
How did you prepare for the entrance exam?
I remember being very excited. I tried to gather as much information as possible about the university and Finland. I tried to keep myself up-to-date about current pedagogical themes. I think my general motivation towards the subject matter kept me driven.
What were the pre-assignments like?
We had to reflect on some pedagogical texts. I found it a very reasonable task to do, because it's important that you have an opinion and a point-of-view about pedagogy. The texts were very inspiring as well.
How has studying been so far?
I'm enjoying the general atmosphere and the reflective nature of our programme. It's very inspiring to work with people who have a similar pedagogical and aesthetic view as I do. I enjoy the infrastructure at Uniarts Helsinki's Theatre Academy. We can always ask and get help from the staff, I feel the strong support from the university. It is a privilege. The opportunities are vast and so are the collaborations with other organisations (e.g. Aalto University, Emma Museum, Yhteiset Lapsemme ry and Uniarts Helsinki's Sibelius Academy). We can try out different things from the whole spectrum of art. We have the possibility to apply for a grant for e.g. a workshop abroad. For instance, I'm going to Paris to a puppet-making workshop for a week in April. It's related to my thesis work. If the knowledge isn't provided in-house, the university supports you financially to study abroad.
What has been the most challenging about your studies?
The language. In our class we only have two non-Finnish native speakers and I am the only one who is not a Finn. On the other hand, my class is amazing in that they are always helpful in translating and understanding things culturally and language-wise. Sometimes it is hard to enjoy the privileges given by the excellent infrastructure and support of Uniarts while in Hungary the far-rightist government is building an oppressive, threat-based social and cultural system.
What's the best in your studies?
Besides the possibilities that we have theoretically, pedagogically, practically, and artistically, I'd say trust. And trust as a pedagogical method. I like that we are all the time evaluating the current socio-political climate and our position. I try to transfer this trust-based model to the persons I am working with in Finland and in Hungary.