Stu­dent views: Learning from a real situation with immediate feedback
Working with professional orchestras and conductors allows us to tap into a wisdom that has been growing way longer than students have been alive.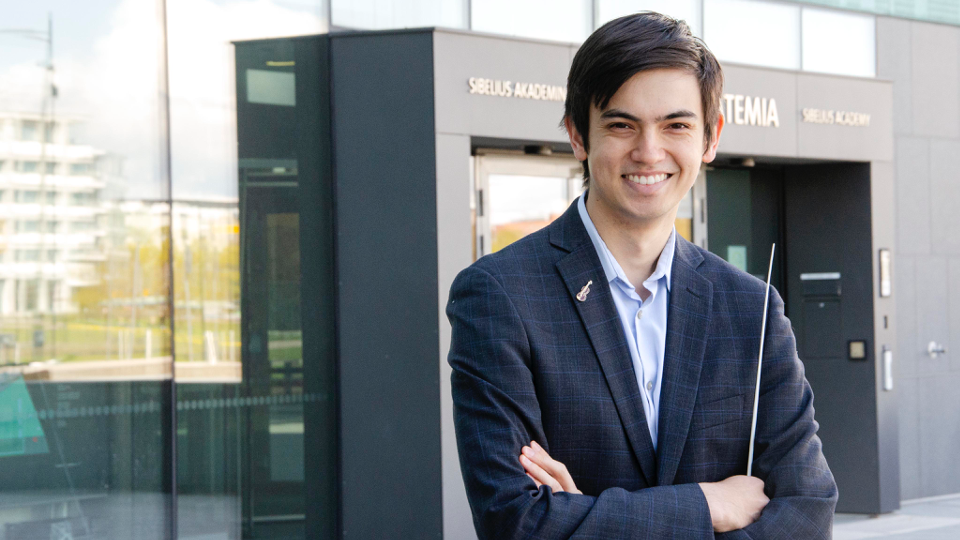 AKU SORENSEN, Conducting, FINLAND AND THE UNITED STATES
Aku knew he would become a conductor when he was three years old. At the Sibelius Academy, he was immediately put on trial by fire. In his first week he was working with an internationally renowned conductor; by week four he was on a regional tour with a professional orchestra.
"As a conductor you are intensely connected to the music – to what it can be. You can shape something massive that goes far beyond people.
Because of the nature of conducting, the programme is based on constant live practice. We work with our laboratory orchestra at the Helsinki Music Centre twice a week and frequently collaborate with professional orchestras. This podium time allows you to learn from a real situation with immediate feedback from both the orchestra and top-tier conductors and pedagogues.
The conducting class has a close relationship with professional orchestras and conductors from all over the world. During my first year we have worked with Sir Roger Norrington, Peter Eötvös, Johannes Schlaefli and Hannu Lintu, to name just a few. We have also had concerts with several professional orchestras who show a strong commitment to supporting the development of a new generation of conductors.
Standing in front of a professional orchestra for the first time is terrifying. You are hyper-aware of the fact that you are the least experienced in the room, and yet you are put in charge of the situation. And this is the cornerstone of our education at Sibelius Academy: Working with masters allows us to tap into a wisdom that has been growing way longer than us students have been alive."