Rewarding exchange year for Natalie Roe
Read an interview with Natalie Roe.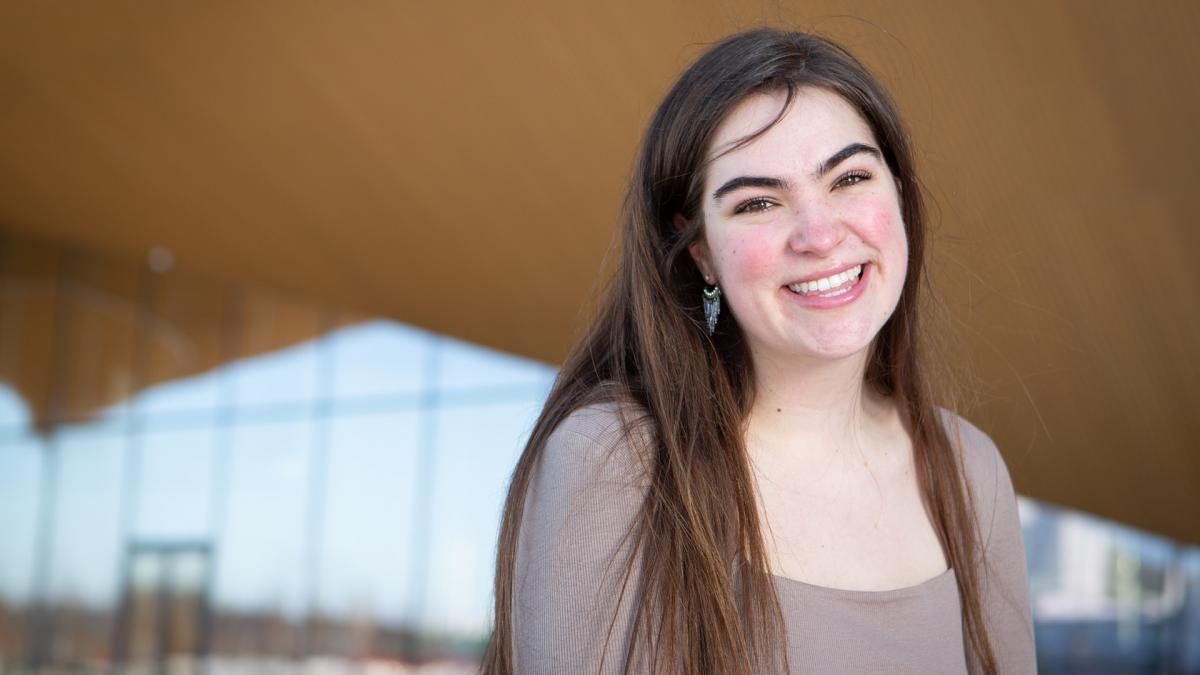 Natalie Roe is from the United Kingdom and she studies at the Sibelius Academy's Music Technology Department. She recommends trying something different academically and learning new skills during the exchange year.
How did you end up as an exchange student at Uniarts Helsinki?
I come from Balsall Common, Solihull in the UK and study Composition at The Royal Welsh College of Music and Drama in Cardiff. I chose to come to the Sibelius Academy for my exchange year after hearing such fantastic remarks about the Academy and Music Technology Department from previous students. Furthermore, as a composer I get inspired to write music when visiting new places and as I had never been to Finland before my exchange, this was also an important factor in choosing where to go on Erasmus. I wanted to explore a new country and its sonic qualities. I originally planned to stay in Helsinki for one semester, but I love my studies so much that I have extended my stay to study a whole year here.
What has it been like to study in Finland?
It has been fantastic to study in Finland and explore its beautiful landscapes. It is an extremely safe and clean country which has meant my time here has been very enjoyable and has allowed me to focus on my studies. The people I have met on my exchange, both Finnish and international, have been very friendly and kind and will continue to be lifelong friends and colleagues. Experiencing the Finnish culture has been very exciting and eye-opening. I have many amazing memories I will treasure. It has also been fantastic to explore Finland outside of Helsinki. Due to the wonderful transport system throughout Finland, which offers very good student prices, I have been able to see many parts of Finland as far as North Lapland! Despite doing my exchange during COVID-19, I feel I still have had the full Erasmus experience. I have not only learned so much about music and different cultures but also life skills and how to live abroad.
Which courses or projects have been the most memorable ones during your exchange year?
I have thoroughly enjoyed all of my courses. One highlight of my year was performing a 30-minute live set on Modular Synthesizer at the MuTe Festival 2020. The MuTe Festival is an annual week-long festival which showcases the creation of new music using technology from the Music Technology Department at the Sibelius Academy. I spent the first few months of my studies learning how to perform and compose with a modular synthesizer. It was a real honour to then perform in such an exciting celebration of new music. Additionally, I have been creating an installation for 16 speakers in a dome structure as part of the Media and Sonic Arts course which is being exhibited in East Helsinki. Other courses I have taken include building instruments in SuperCollider, writing music for a new game being developed by students in Helsinki, performance with electronic instruments and electronic and acoustic composition.
What is the best part of your studies?
One of my favourite aspects of studying at the Sibelius Academy is the openness to exploring any kind of music you wish. I have been able to compose and perform a range of less conventional genres of music and try out so many new electronic instruments. This leads me on to talk about the outstanding facilities at the Sibelius Academy and particularly the multiple studios and recording rooms and equipment which we have been given tuition in to use throughout our studies. Furthermore, I really like the fact you can take courses and subjects from other departments in the Academy, meaning you can have a multi-disciplinary learning agreement and learn many new skills.
What has been the most challenging part of your studies?
I would say that the uncertainty of traveling to and from Finland during the pandemic was a challenge and not being able to have family and friends visit, but I still believe it was worth the challenge.
What tips do you have for future exchange students?
My biggest tip for future exchange students would be to just go for it and go into your exchange with an open mind. My Erasmus year has been one of the best experiences of my life and I would recommend Erasmus to anyone as I believe there is no other opportunity that comes close to it. I would also suggest exploring the beautiful Finnish landscapes and travelling to different cities. Finally, I would say whilst on Erasmus, if your degree allows it, try to study something a bit different. For example, I decided to study in the Music Technology Department instead of the Composition Department and have also taken courses from other departments and have had a fantastic time trying new areas of music.

The European Commission is not responsible for the content of this publication.