Procurement Manager helps the university reach optimal results in procurement
The 'Working at Uniarts Helsinki' series presents people who enable the growth of students and help them become highly skilled and broadminded artists and changemakers, thanks to their work in different roles within the university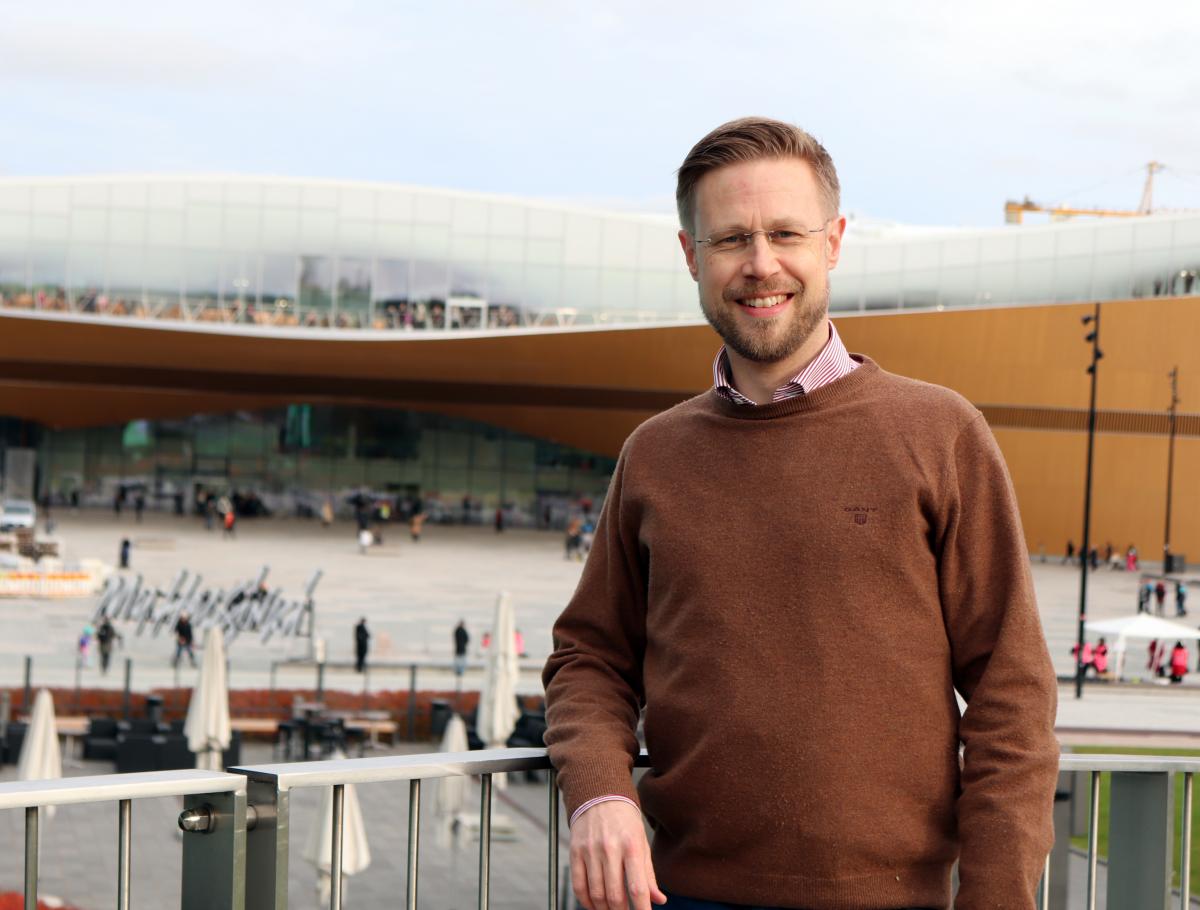 In this interview, we will learn more about Uniarts Helsinki's Procurement Manager Timo Malmberg, who sees his role as that of a problem-solver and an introducer of possibilities.
Who are you and what do you do at Uniarts Helsinki?
"I am a 44-year-old professional in procurement and development. I am a Master of Science in Economics and Business Administration, and I studied logistics as a major subject.
At Uniarts Helsinki, I'm in charge of all procurements, which range from grand pianos to restaurant services. My goal is to help Uniarts Helsinki reach optimal results in procurement.
My main duties are providing internal consultation, increasing the systematic planning of procurements within Uniarts Helsinki, planning and executing tendering processes, developing procurement services and managing supplier relations."
Why did you apply to work at Uniarts Helsinki?
"I have always been interested in the arts, so my goal was to enter the field through a job where I could utilise my degree in economics as well as my versatile experience in procurement. When I came across the job announcement for this position, it immediately felt like a good fit."
What is the best part of your job?
"The best part is definitely that my job description is versatile and allows me to deal with a wide range of services and products. Each procurement has its own objectives, needs and other relevant details that must be identified so that Uniarts Helsinki can remain in the driver's seat.
My job is a convenient way of getting to know the community of people working within the university as I help them in their procurement needs. It's always rewarding to work on procurement processes: I see my role as that of a problem-solver and an introducer of possibilities.
Although the Act on Public Procurement and Concession Contracts may sometimes limit the range of options, there are still always several different ways to complete a procurement process. There are no dull moments in my job thanks to a diverse set of challenges, and no two days are the same."
What is the best aspect of working at Uniarts Helsinki?
"The open and constructive atmosphere we have here at Uniarts Helsinki builds up a strong foundation for my work. The university values self-initiative and a development-oriented attitude, which is something I like.
Our work community is easy-going, and my colleagues are cooperative, which was apparent in the extensive and demanding redesign project of the Uniarts Helsinki website, for example."
Which Uniarts Helsinki performance or exhibition did you visit most recently?
"Most recently I went to a concert by Hui-Ying Liu-Tawaststjerna's piano students. The quality of the concert was incredibly high, and the atmosphere was very intense, as all the pianists gave it their all."
About Uniarts Helsinki
Uniarts Helsinki is an open meeting place for the arts – an ambitious university community for bold reformers and experts in tradition. We cultivate a unique environment that helps artists grow and strengthens the power of art as a driver of change. Uniarts Helsinki is among the leading performing arts universities in the world, and it is comprised of the Academy of Fine Arts, Sibelius Academy and Theatre Academy. We have about 2,000 students and about 700 full-time equivalent employees.
#workingatuniartshelsinki #weareuniartshelsinki