Planning officers in the internationalisation programme develop service paths for students and staff to promote integration in Finland
In 2021, Uniarts Helsinki launched a three-year internationalisation programme funded by the Ministry of Education and Culture. One part of the programme is the Talent Boost project, which promotes the recruitment of international students and staff, improves their services and helps students find employment after graduation. The project will also lead to various support measures that will make it easier for international members of the community to integrate themselves into Uniarts Helsinki and Finland.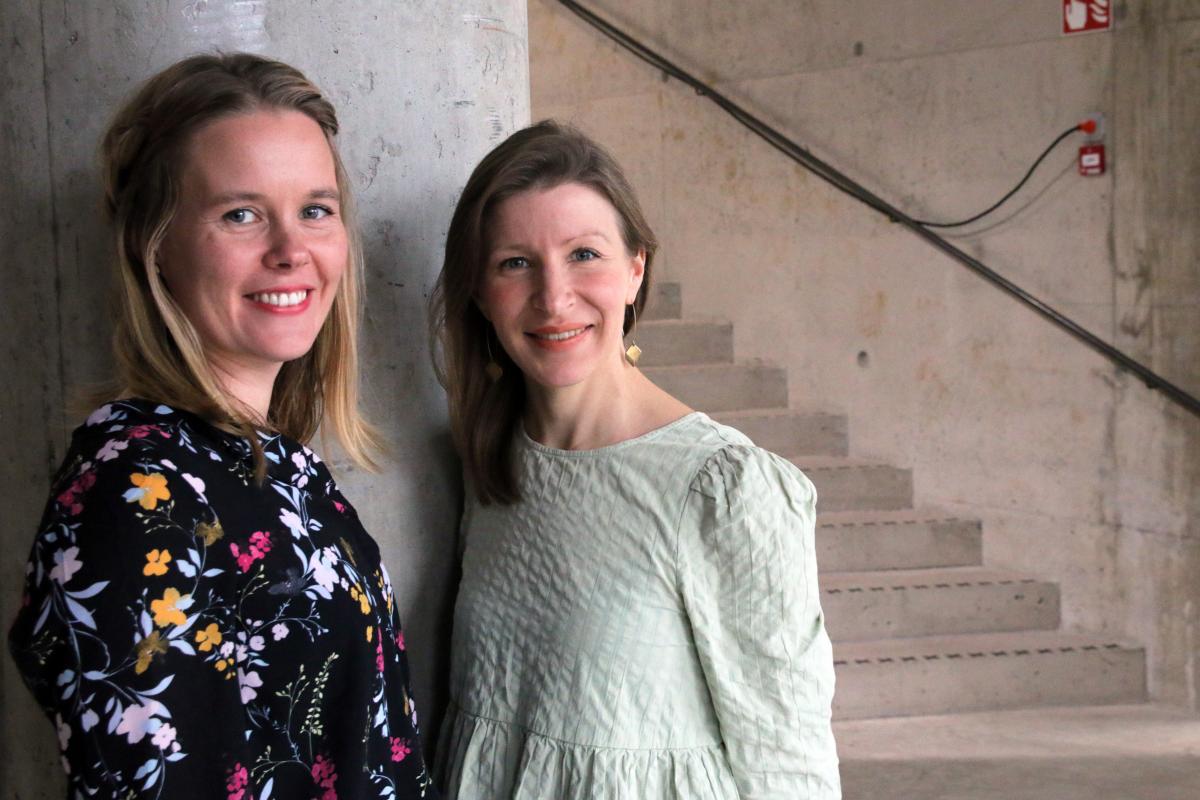 Johanna Mustonen and Heidi Sintonen, planning officers in the Talent Boost project, find that Uniarts Helsinki's asset is its small organisation where everybody helps each other and is motivated in their work.
Who are you and what do you do at Uniarts Helsinki?
I'm Johanna Mustonen and I'm part of the university-level academic affairs team. I develop services for international degree students so that they have an easier time integrating themselves into Finland. In practice, our aim is to develop academic service processes so that they support international students and their needs in the optimal way. Orientation of new students and tutoring play a key role in these processes. We also update the instructions and guidelines aimed at our students on the university website so that they are as clear as possible both for new students and for those who have been part of the community for years.
I'm Heidi Sintonen and I work for the university-level HR services. My responsibility is to develop the selection of services for international staff members to help them and their family integrate into Uniarts Helsinki and Finland. Induction processes, for example, need to be tailored for international employees, because quite understandably, their needs concerning induction differ from those of Finnish staff. I'm also involved in a more wide-scale concept development work in international affairs, which aims at preparing an international HR policy and creating processes for international work situations.
How would you describe your typical day at work?
The most refreshing part of our job is having variety in our working days and duties. We engage in dialogue both with our project team and with a range of operators within the university. Talent Boost is a national programme, which is why stakeholder cooperation and network activities are also an essential part of our job description. Our typical days can consist of various meetings and discussions, communications, as well as planning and development work that entails reflecting on the current situation and outlining visions for the future.
We also organise various events that aim at promoting the integration of the university's international students and staff and increasing their sense of community.
How did you end up working at Uniarts Helsinki?
Johanna: I ended up at Uniarts Helsinki when I was hired by the Academy of Fine Arts 6.5 years ago, and then later I started working for the academic affairs team at the Sibelius Academy. In student services, the most motivating thing is getting to promote students' affairs, and in my current job, I was especially interested in having the chance to develop services for international students. My career in university administration began in international services about 10 years ago, so it's been fun getting to focus in that area again. I've also lived abroad a few times, so I understand what it's like moving to a foreign country.
Heidi: I've lived abroad for a long time and have experience in working in international and multicultural environments. Now I'm a returnee in Finland. I've experienced moving abroad with all its logistic and mental challenges and know what it feels like to integrate into a new culture, so in a way I'm an expert by experience in this job. I applied for the job because it was an interesting combination of the promotion of staff's wellbeing, international affairs and the university world, which was already familiar and comfortable to me.
What is the best aspect of your work?
Johanna: The best moments are when I notice that I have provided concrete support to an international student in their arrival or integration in Finland. I also like how varied my job duties are and I enjoy development work. Interacting with people is what brings me the most joy.
Heidi: The best thing about my job is that I get to know a wide range of people in the Uniarts Helsinki community. I'm motivated by the opportunity of getting to develop the kind of international staff services that I personally would have wanted to take advantage of when I was in a similar situation. I also enjoy the benefits of hybrid work: one day I get to meet and network with new people, and then the next day I get to have a quiet day of working remotely at home, feeling cosy in my wool socks.
What is the best aspect of working at Uniarts Helsinki?
Johanna: Talented people and the fact that art is a nonstop presence on campus and therefore my everyday life, too, which is a unique opportunity.
Heidi: I enjoy the atmosphere here at Uniarts Helsinki; there's room for thinking and creative processes. I get to be part of a safe and open workplace community, where people are allowed to ask questions and also have fun. The best thing is that people both provide and accept help.
What is your latest art experience?
Johanna: I went to see the BFA Exhibition at the Academy of Fine Arts on its opening day in September. It was especially nice having my first exhibition experience in the new Mylly facilities. The atmosphere in the opening was also wonderful, the way everyone was gathered around art. I felt that the exhibition space was utilised in a clever way in the artworks. It's lovely having facilities dedicated to exhibitions right here on campus. It's easy stopping by at an exhibition at the end of the working day.
Heidi: An art experience that has stuck with me is a dance piece called Tree of Codes by Wayne McGregor, Olafur Eliasson and Jamie xx. The performance was long, but I wouldn't take a minute away from it. I remember wondering how the human body can possibly be capable of such movement. The whole performance was simply a documentation of the perfection of the human body.
About Uniarts Helsinki
Uniarts Helsinki is an open meeting place for the arts – an ambitious university community for bold reformers and experts in tradition. We cultivate a unique environment that helps artists grow and strengthens the power of art as a driver of change. Uniarts Helsinki is among the leading performing arts universities in the world, and it is comprised of the Academy of Fine Arts, Sibelius Academy and Theatre Academy. We have about 2,000 students and about 700 full-time equivalent employees.
#workingatuniartshelsinki #weareuniartshelsinki