Meet the visiting lecturer: Pianist, chamber musician and Colburn professor Fabio Bidini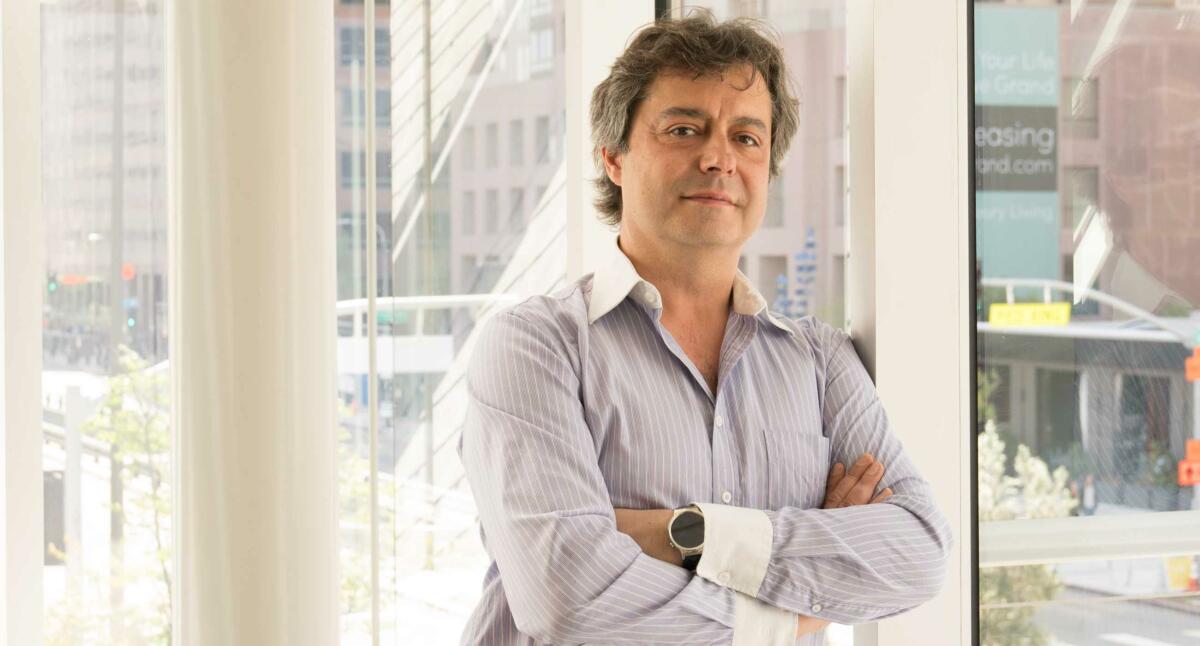 The Sibelius Academy and the Colburn Academy and Conservatory of Music in Los Angeles have found a way to cooperate this Spring through student and staff exchange. Earlier this year, a chamber trio of Sibelius Junior Academy visited Colburn for a chamber music week and last week, a group of Colburn students came to Helsinki to visit. Professor Fabio Bidini, Piano Chair at Colburn, was a member of the delegation. During the visit he gave a master class to the Sibelius Academy piano and chamber music students.
Cooperation based on mutual approaches and values
Coaching the students for a real life as professionals is a responsible task to take on for a teacher. It is a step more difficult than teaching the basics of music and a particular instrument.

"At the end of their studies, the students will be like in a huge forest not maybe knowing where to head to. Our job as teachers is to give them the map or the compass, the tools to be able to make a living. The main thing for them is to be musically independent. This means being able to open the score of a new piece and to actually put it together by yourself", Bidini says.

Bidini sees that both the Colburn school and Uniarts Helsinki's Sibelius Academy thrive to go an extra mile to provide the students with sufficient professional skills.

"I see that our academies are really trying to prepare the students for 'real life' – there are many schools in the world that are not doing that! The most important thing is that whatever you do as an institution for the students, you do it well. It's all about quality, never quantity. The same principle, I think, should apply to the students when they practise."

Especially for pianists the working life can be challenging: they don't have the orchestra positions to apply to, so they and/rely on soloist gigs, chamber music ensembles or teaching. It requires what Bidini describes as a full 360-degree musicianship.

"We have tens of millions of professional pianists in the world today, maybe eight million of those in China alone. You need to be curious of everything – not only music but about culture, arts, life in general; curiosity is the best medicine! As a teacher you have to be able to stimulate your students in many ways."
What Bidini especially appreciates in the Sibelius Academy and the Colburn is their holistic approach to the students; they really seem to care about the students comprehensively. Both institutions offer many performance opportunities for their students. One practical example of the reality-based study approach is that rehearsal are done based on what the actual professional life is; if you have an orchestra concert you might have two rehearsals before it instead of twenty – also already as a student.

It's very important that the students as well as their parents know where they are standing in regards to their education all the time. As a teacher I need to furnish them the the possibility of realising their dreams but keep them grounded at the same time.
International perspectives help defining your own musical voice
Having international influences already during your study time is a crucial, even a mandatory part of becoming a musician – after all, it is an international profession by nature. Bidini says international possibilities give the students opportunities to recieve different views and opinions about life and music. That in turn allows them to merge them into their own ways of making music – into their own musical voice. Having students work with various international connections is a way to let them think by themselves and to grow. Bidini believes in a sincere approach.

"As a teacher I always try to speak with some knowledge and information behind it and we always need to explain why we say certain things. The most important moment in learning is the moment of understanding that can only happen through your own brain, eyes and heart. The approach that I have to music is very sincere. This also means being sincere with yourself in regards of others. And I think at the very end, this is the most important thing because you can't hide behind the music – that's essentially who you are."
Foster the enthusiasm
Having a vast intenrational appraised career, Bidini himself is maybe a good example on what fostering a child's enthusiasm from a very early age can lead to. He begun studying the piano already at the age of four. It was something that was just burning in him, he says, and he was lucky to have somebody to get hold of this enthusiasm. That person was an engineer and amateur musician from a couple of floors up in his apartment building. With him Bidini played and studied for hours every day.

"After a while he said that I needed to have a real teacher to keep going, and so we found me a professional teacher. From there on I didn't doubt for one day not to be a pianist. I'm programmed to make music one way or another. When I was very young, I was practising with lots of enthusiasm. Today I'm working at Colburn, basically 20 hours a day in my studio. I'm packed with students and I love my class – I love to see my students succeed!"