Exchange year at the Sibelius Academy helps Pablo Gil grow as a musician
Read an interview with exchange student Pablo Gil.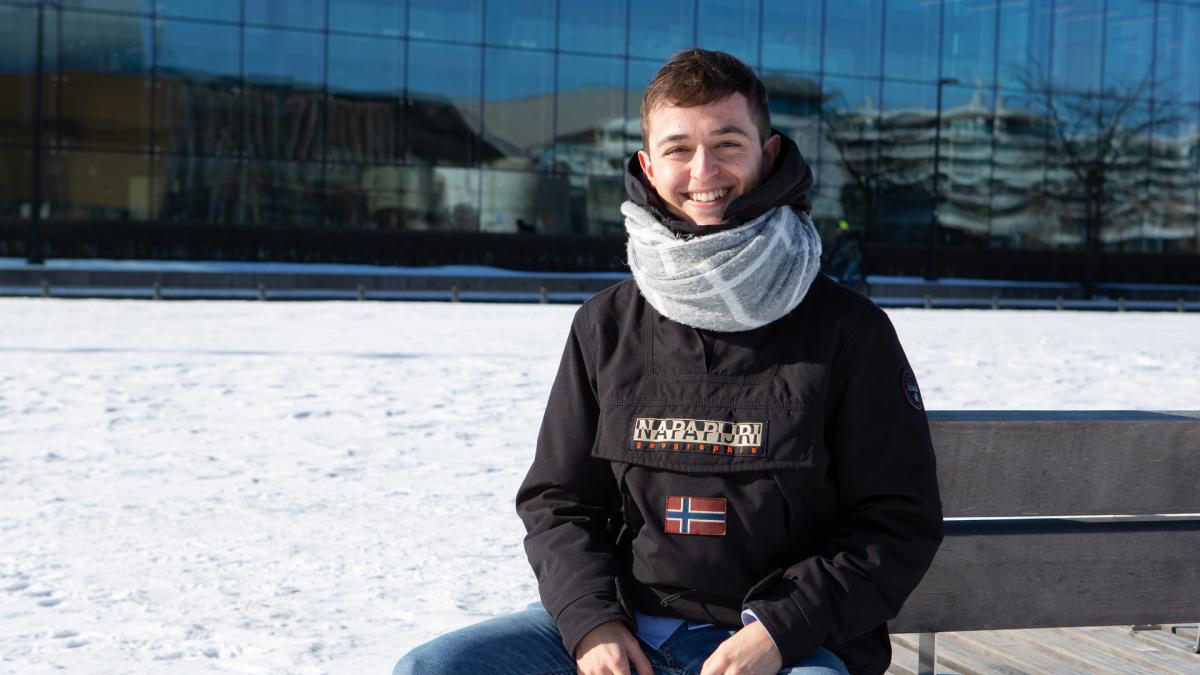 Uniarts Helsinki welcomes exchange students from around the world. Pablo Gil comes from Spain and during his Erasmus exchange year he is studying classical piano at the Sibelius Academy. For newcomers, Pablo recommends making full use of the high-quality tuition and the facilities of the Sibelius Academy. For him, the exchange year has been an unforgettable experience.
How did you end up as an exchange student at Uniarts Helsinki?
I was born in the north of Spain, in a small village called Vera de Moncayo, and since 2018 I have studied in the city of Murcia, at the Conservatorio Superior de Música de Murcia. I am a third-year bachelor's degree student of classical piano. The main reason why I came to Helsinki as an Erasmus student is that some teachers and colleagues from my home institution spoke highly of the Sibelius Academy, praising its facilities and tuition. In addition, I also wanted to have the experience of living abroad for some time and I thought that Finland would be a really nice country to live in. And I wasn't wrong. I have been in Helsinki for around nine months and it's been one of the best experiences I've ever had.
What has it been like to study in Finland?
It has been an unforgettable experience and very important for me to study in Finland this past academic year. I have also grown as a musician and, especially, as a person.
Helsinki is very suitable for students and you can find students from every part of the world here. International students receive a lot of help and support from the Finnish universities and the government. Also, Finnish people are very welcoming and they always try to help us. English is spoken everywhere in Helsinki, which has helped me to feel comfortable here. Finally, I would like to draw attention to the beautiful landscapes that you can find all over the country. Despite the pandemic, I have had the opportunity to travel in Finland, and I can say that it is one of the most beautiful countries I have ever visited.
Which courses or projects have been the most memorable during your exchange year?
During this year, I have had the opportunity to take part in amazing projects and choose plenty of interesting subjects. What first comes to my mind is playing in the different halls of the Helsinki Music Centre. For example, I had the opportunity to play with the Sibelius Academy Symphony Orchestra in the main concert hall of the Music Centre and I also played in the Camerata hall. To be able to use most of the facilities of the Music Centre is one of the best things of studying here.
At the Sibelius Academy, I have also had the opportunity to include multiple disciplines in my studies and explore them. I have taken part in piano concerts and I have also played with some chamber music ensembles. It has been a really nice opportunity to play with different musicians from all over the world, and to make really good friends. Playing music with different students is an incredible opportunity to meet wonderful people.
What is the best part of your studies?
The best part of my studies has been the high-quality tuition and the facilities of the Sibelius Academy. I have met really good teachers, who have shared all their knowledge with us and have taught us new ways of learning. In addition to all the excellent piano teachers, I have met teachers from every department at the Sibelius Academy, as we can pick subjects from every curriculum of every department. The excellent facilities of the Sibelius Academy have really helped me to learn as much as I can in all my lessons. As a piano student, I have had access to really good pianos.
What has been the most challenging part of your studies?
Perhaps the biggest challenge has been dealing with all the obstacles that Covid-19 brought to our lives. Nevertheless, I have received all the help I needed from the Academy, and the lessons have not stopped, so we have been able to continue with all the subjects either at the university or online. I've been in Finland since August 2020, and it has been hard to be far from my home, family and friends for so long. Luckily I have made really good friends in Helsinki and they have become my new family.
What tips would you have for future exchange students?
The best tip that I can give future Erasmus students coming to Finland is that you should take advantage of the high-quality education that you can receive at Finnish universities. At the Sibelius Academy, we have excellent teachers and facilities, so I would highly recommend working hard and trying to do your best in order to develop as a musician as much as you can. Time flies, and the time I have spent as an exchange student in Helsinki has gone extremely fast. I would also encourage you to enjoy Finland. The Finnish people, culture and landscapes are amazing, so I really recommend studying here. 

The European Commission is not responsible for the content of this publication.