Arts Management student: Peer-learning is a significant part of my Uniarts studies
Read an interview with Elizaveta Bomash.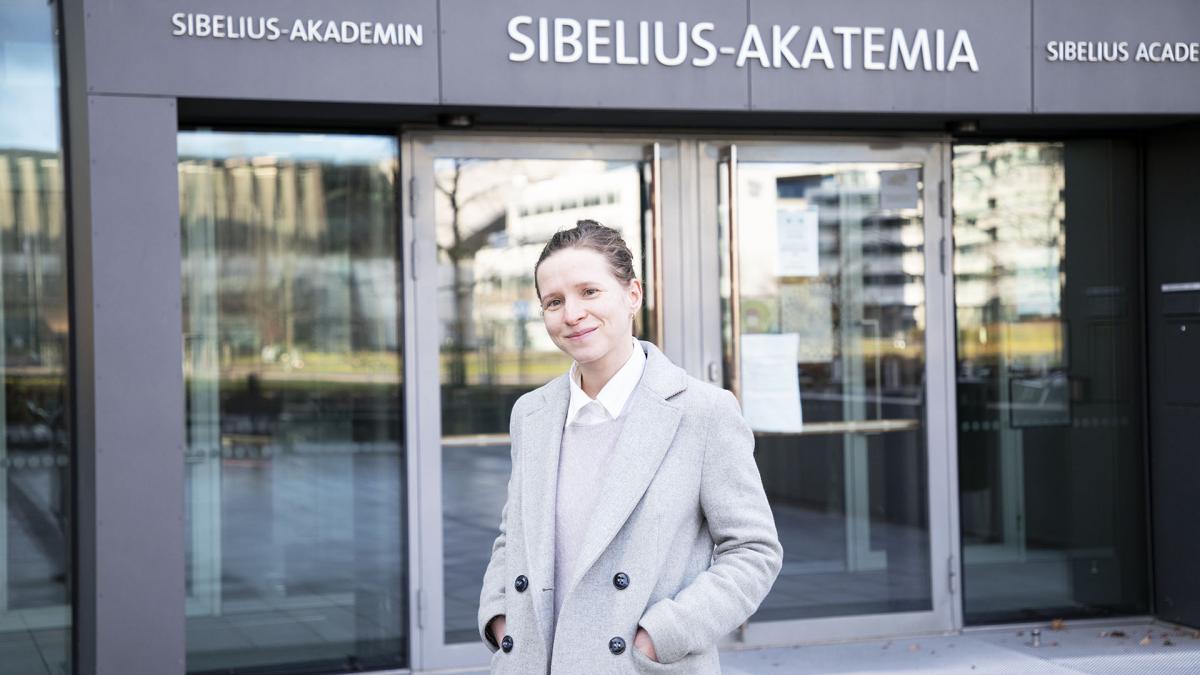 Who are you, what are you studying and why did you choose Uniarts Helsinki?
Hello! I am Elizaveta Bomash and I am currently studying Arts Management at the Sibelius Academy. After completing my first degree in theatre history/management in 2009, I have been working in theatre, festival, and event management in Saint-Petersburg, Russia; and government and film festival administration in Wellington, New Zealand.
I had heard many positive things about this bi-annual Arts Management programme and had been keeping an eye on it for a while. So, when my family decided to move back to Europe last year, it luckily coincided with the programme's intake and provided me with a perfect opportunity to continue my professional development.
What did you think about the admissions process, can you describe it for us?
It was all online and easy to navigate; the instructions and timeline were clear. I had to do a TOEFL test as part of the process, which required a bit of planning to ensure I would get the results in time. After the initial selection round, I was invited to participate in the entrance exam and interview. The reading materials were provided to prepare for the exam. In May 2019, I was able to attend both the examination and the interview in person. I do, however, recall that there was an alternative option to do it remotely as well.
What has it been like to study here, and what has your experience of Helsinki been?
It feels empowering to be back at university with access to as much knowledge as one wishes to acquire. There are many services to support the students, and I have found the student community welcoming. I live in Hyvinkää, which is an easy 45-min train commute. Helsinki is a lovely and convenient city to get around, with the special character of a sea city and a beautiful national romantic style in architecture. Public transport is excellent, the cultural scene is vibrant, and there are places where you can get superb coffee!
What are the most memorable projects you have been involved with?
In our programme, there are many opportunities to take part in various projects (even more if you know some Finnish). My favourite has been helping to produce MuTeFest, a festival highlighting the artistic work of students from the Centre for Music and Technology at the Sibelius Academy.
It's rewarding to collaborate with other departments, learn about areas of art you have not worked with before, and practice production and marketing skills alongside studies. MuTeFest'20 (24-27 November) was streamed online this year, and it's a wonderful opportunity to experience the experimental artistic work created at SibA.
What is your typical day like at Uniarts Helsinki?
Rewinding to pre-COVID times: The lectures were usually scheduled Monday to Thursday from 9-12.30. Then many of us would go and have lunch together at the student cafeteria. Many great discussions were held in the lecture breaks and during lunches, where we would often continue to exchange opinions on the lecture's topics.
Peer-learning is a significant part of my Uniarts studies. Now that we are studying remotely, these interactions outside of the classroom are even more important.
What's been the best about studying at Uniarts Helsinki?
Easy question! Getting to know my Arts Management classmates. They are a diverse group of professionals and super nice people. It is precious to learn alongside all of them and share experiences, successes and failures.
And what has been most challenging?
If I were to reply to this question last year, I would say finding enough time to read all the books and articles I want. Now, though, I think switching to remote studies as it is a steep learning curve, which continues to be challenging in some courses more than the others.
The Arts Management programme is renewed: How do you think it will be better and more meaningful for our future students?
The department follows closely the emerging themes in arts management and cultural field in general, which is reflected in the curriculum. On a practical level, students gather once a semester to evaluate the courses and provide feedback to the department. There is a constant strive to improve things, so it seems to be getting better and better with each intake.
What tip would you give to other students who are considering Uniarts Helsinki – especially overseas students?
Read the Uniarts blogs for greater insight into the current industry topics, happenings at the university, and life of the departments. Here, for example, is the Arts Management blog.