Researcher-artist Maiju Loukola hopes to see more city spaces that allow visitors' idleness
"With art, we can show that the world could be different" – participants at this year's Research Days will reflect on what makes a well-designed city.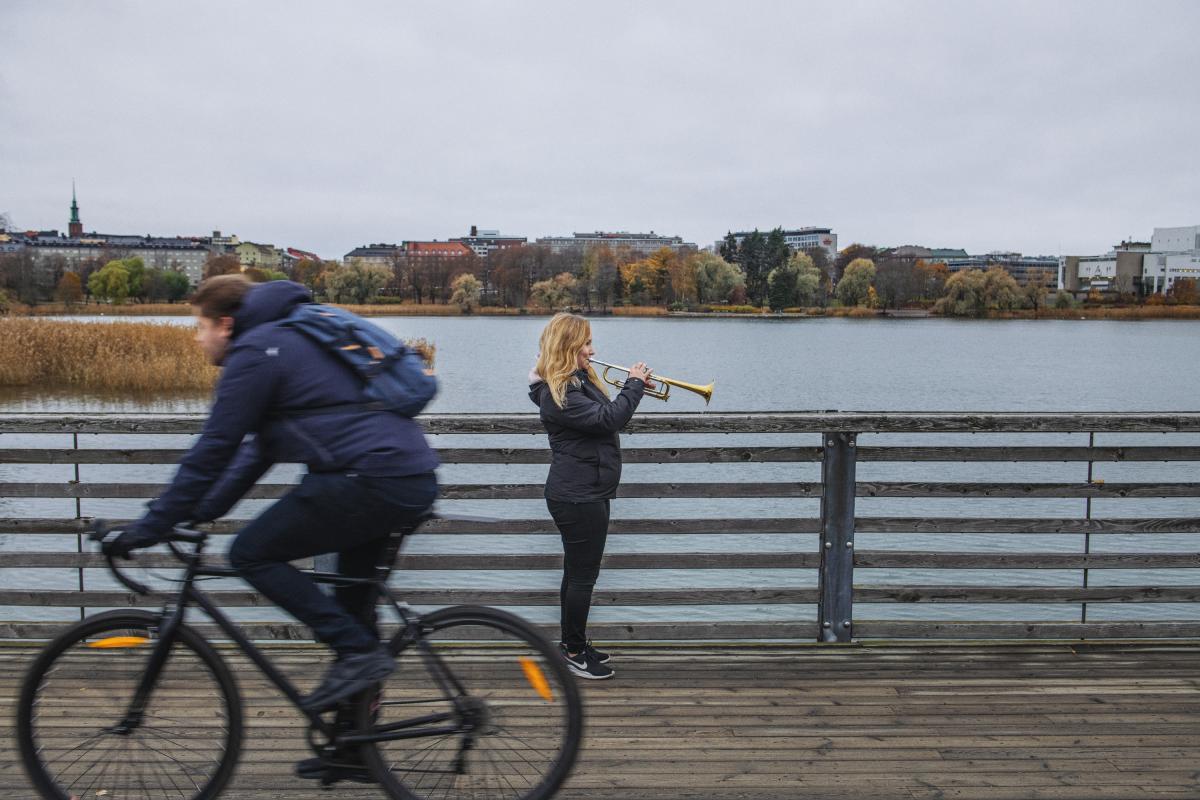 Loukola has carried out site- and situation-specific artistic research to explore what kind of spaces for diverse outlooks and dreaming a city offers and could offer and what kind of democratisation practices they enable in an urban space.
These are also some of the themes that will be at the forefront of this year's KuvA Research Days, too, where Loukola is the head coordinator of the presentations focusing on urban spaces. Loukola has a background in live and spatial art, and she completed her dissertation at Aalto University's Department of Film, TV and Scenography in 2014.
"When I worked on my dissertation, I drifted away from live art and wanted to shift my focus more and more on space. I started working on spatial laboratory installations and later on, I became interested in external space and urban space. I took notice of unused land and buildings and intermediate spaces in urban areas, which often also involve social issues like equity and equality," Loukola describes her journey as an artist.
This was the premise that gave impetus to her City as Space of Rules and Dreaming project. The project is funded by the Kone Foundation, and it promotes emancipation and democratisation in urban space by combining artistic research, empirical urban research, and political and legal theory. The multidisciplinary project group reflects on the way that art and norms infect each other: norms regulate society, while on the other hand, art can change this dynamic completely by revealing another utopia.
"I started noticing things in the urban space that could be better. I don't do political art with blatant messages, but what's going on in the world factors in to my art-making. It would be hard not to have if affect what I do. Art is strong, sense-driven and subconscious. It gives us the infinite possibility to speculate and reflect on things. With art, we can show that the world could be different."
What makes a good city?
Loukola hopes that there would be other criteria measuring a well-designed urban space besides money, profitability and efficient flow of people.
"What's essential is that many different kinds of people and creatures find the city their own and that we're all able to live side by side. It's okay to be idle or with nowhere to go in an urban space. You don't have to be an activist even if you want to be and live against the norms of standard urban planning."
When talking about well-designed urban spaces, Loukola mentions the Helsinki Central Library Oodi that was completed in 2018 and the urban structure of Barcelona as examples. Oodi has managed to create a genuinely open space where people can simply lounge around and get lost in their thoughts. Barcelona, on the other hand, is globally known for unused land and buildings and squatting. Mayor of Barcelona and social activist Ada Colau has contributed to this reputation, as she has actively fought for grassroots movements' efforts to claim more space from investors in the centre of Barcelona.
Loukola hopes to see fine arts in more diverse contexts in urban space in the future.
"We should have various kinds of artist-driven spaces. We have a need but also the space to exhibit art in various different ways in unexpected places – impulsively and quickly and with no big hassle. Art has a built-in quality of bursting out in surprising places. Even a small temporary space for art can leave a big mark."
Research Days at the Academy of Fine Arts on Dec 12-14
The keynote speakers at the Research Days of the Academy of Fine Arts both have their own points of view for examining city spaces. British professor Rachel Armstrong will approach the topic of urban space from the perspective of ecosystems, even at the microbe level, and reflect on the ways we share our common city space. Legal scholar Greek Julia Chryssostalis, studies the urban space through the relations of legal science, art and politics.
The Research Days will welcome artists and researchers from Johannesburg, where city spaces are characterised by very different elements than in Finland due to the city's history and equity issues.
"The value of Research Days is that we learn something new and simultaneously acquire a more profound understanding on what we're doing in our own work. I look forward to seeing what comes about when people and new points of view draw inspiration from each other.
The focus on the third day of Research Days will be on pedagogical approaches in fine arts, and this section of the programme will be hosted by lecturer and doctoral student Frank Brümmel from the Academy of Fine Arts. The lectures deal with the artist's role as a teacher: how artists can bring in their own artistic work into the teaching process.