Violin artist Anja Ignatius (1911-1995)
Aino Szalai, a master-level student of violin at the Sibelius Academy, wrote about the life and heritage of violin artist Anja Ignatius.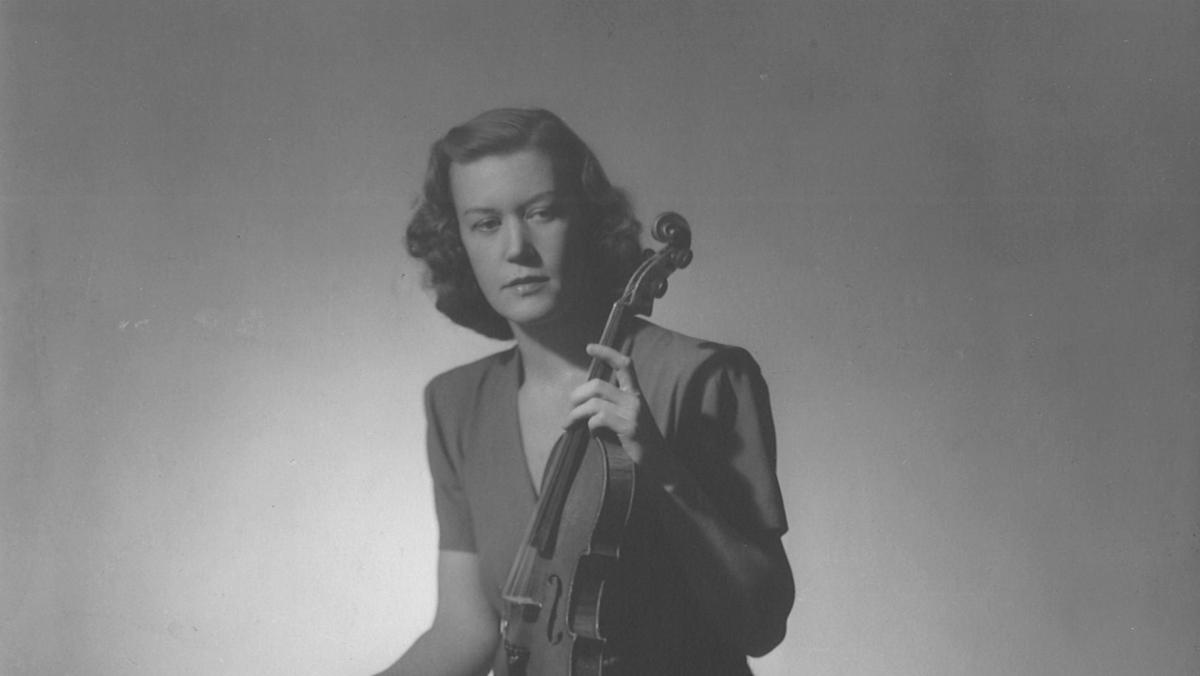 Anja Ignatius is familiar to many as an expert interpreter of the Sibelius Violin Concerto. The work has been closely linked to her career as an international violin artist, but her heritage includes a lot more. Ignatius worked as a violin professor at the Sibelius Academy for over twenty years.
'First of all, I remember Anja's very charming, warm and heartfelt smile,' says Päivyt Meller, former student of Ignatius.
'Even if I had been afraid of a difficult work when I came to class, when I saw her smile, I knew that at least I didn't have to fear her. She was always supportive. That smile wasn't a fake Pepsodent smile, but it came from the heart.'
Many former students talk about her kindness, and it is clear that she has had a significant impact on the lives of many important Finnish musicians.
Anja Ignatius was born in Tampere on 2 July 1911. Anja demonstrated rare musicality early on: For example, she could listen to works in her head while looking at the sheet music. The parents, who were interested in music, were surprised by Anja's perfect pitch, and she started violin classes at the age of five, alongside her brother Lassi.
Anja's mother planned the career of a "reputable violinist" for her daughter and strongly influenced the beginning of her daughter's musical career. In addition to keeping an eye on the practice and taking notes, it was the mother who found the Italian virtuoso Gennaro Romano playing in a Tampere café and decided that he would become the child's teacher. When it was time for Anja to go to Paris to study at the age of 13, her mother joined her for the first weeks. Even later, the mother organised Anja's studies from Finland: She found out about a Czech pedagogue Otakar Ševciki and arranged an audition with conductor Bruno Walter, who recommended that the famous violin pedagogist Carl Flesch took Anja to his class.
Anja studied under the leadership of several significant teachers. Edouard Nadaud from the Paris Conservatory taught her privately even after Anja got to the conservatory's preparatory class, as the teacher assigned to her proved too relaxed.
For Anja, however, perhaps the most important thing was the city's colourful cultural life: For example, she heard a symphony orchestra for the first time. Anja had to become independent when she was young, but luckily there were relatives and family friends in the city such as visual artist Wilho Sjöström and singer Aino Ackté.
After Nadaud's surprising death, Anja moved to a small Czech town in Pisek to study at the Ševciki violin class. In the violin classes, the focus was on refining detailed and systematic technique, but the musical content of the songs was not as important.
Ševciki students practised at least seven hours a day, and the teacher, travelling around the city, sometimes appeared behind their windows to monitor the correctness of home training. This is where Flesch offered a much-needed change. After arriving in Berlin, Anja finally felt that she had come to the right place. Flesch gave a lot of classroom lessons that also taught about performance and interpretation. He treated all his students fairly harshly, sometimes praising them and occasionally criticising severely.
Anja described her time in Berlin afterwards as follows, 'If I had been in the same school when I was 13, I would have missed a lot of unnecessary work. This was a man who taught me to think with my own brain.'
Anja Ignatius held her debut concert in Helsinki on 16 September 1926, when she was still studying in Paris under the leadership of Nadaud. This was an opportunity where the young talent was able to show her ability as a soloist. A large number of audiences came to listen to an unknown 15-year-old Ignatius at the University's banquet hall, and the country's largest newspapers wrote praise. The success resulted in grants that the young violinist could use to ensure her future studies as well as concert opportunities such as extensive domestic tours. Soon, the orchestras began to hire the young talent as their soloist. As her first soloist task, Ignatius performed Tchaikovsky's Violin Concerto with the Helsinki City Orchestra, and this cooperation continued throughout Ignatius's career.
In Paris, Ignatius had already studied Sibelius' Violin Concerto. The first opportunity to present the work with the orchestra was when the Swedish Radio Symphony Orchestra invited her to a studio concert celebrating the composer's birthday. After a successful concert, Ignatius received a letter from Sibelius himself in addition to good press reviews.
Correspondence continued between them, and the composer followed the young violinist's career closely. In a way, the Concerto gradually became a kind of trademark for Ignatius. Ignatius performed in numerous cities across Europe and in the United States with the Boston Symphony Orchestra led by Sergei Koussewitzky. In 1932, the Finnish Broadcasting Company participated in a concert series of European radio companies, which was broadcast live in 14 countries, and invited the 21-year-old Ignatius as a soloist to the Sibelius concert.
Another major event opened in Berlin in spring 1943: Ignatius was invited to record the Sibelius Violin Concerto with the Berlin City Orchestra. This was the first international concert recording carried out by a Finnish instrumentalist, and Ignatius's interpretation has lasted alongside hundreds of later recordings. In 1957, she presented the Sibelius Violin Concerto as the first Finnish artist during the Sibelius week. She was preceded by top names such as David Oistrakh, Isaac Stern and Henryk Szeryng, and the performance by Ignatius was praised by both the media and the composer himself.
In 1977, two recitals held in the Concert Hall of the Sibelius Academy, in which she interpreted all of Bach's solo violin sonatas and partitas, formed the final demonstration of the 50th anniversary of Ignatius. By then, she had had a great career in both concert halls and the radio: She recorded all of Beethoven's violin sonatas with pianist Timo Mikkilä to Yle.
Ignatius was also an active performer of contemporary music: She was a soloist at the first concert of Alban Berg's Violin Concerto in Finland in May 1958 and also presented the first violin concerts of Prokofiev and Bartók. She had played new Finnish music since the 1940s and premiered Uuno Klami's Violin Concerto dedicated to her and Aarre Merikanto's Violin Concerto No 3.
Parallel to her artist's career, Anja Ignatius began with the other studying stage of her life, as she described it herself. In May 1955, she was appointed a professor of violin at the Sibelius Academy without actual pedagogical experience. As a teacher, she did not try to represent a particular school, but treated each student as an individual and offered each one what they needed.
Although Ignatius was precise about basic technique, the starting point for everything was music. She praised and encouraged her students when there was reason to do so and encouraged them to follow their own path. Ignatius also coached chamber music groups, especially at the end of her professorship, drawing on her long experience as the primus inter pares of the successful Helsinki Quartet. She also served in the jury of numerous national and international violin and chamber music competitions, such as the Jean Sibelius Violin Competition.
The teacher persona of Ignatius conveys an image of a very gentle but sharp teacher. Former students describe her as consistent and responsible.
Erkki Palola remembers Ignatius as a dedicated teacher who cared about the well-being of her students: 'The only time Anja really got mad at me was when I played in a concert while having a fever.'
Palola also remembers the phenomenal memory of Ignatius, and the always refined appearance even when she was older.
'Anja was a very friendly and warm person who was also interested in the personal lives of her students. For example, it was obvious that I invited her to my wedding and introduced her to my first new-born son. In her teaching, she paid a great deal of attention to the musical content and colour scheme of the works, including the smallest details,' says Merit Palas, who prepared her master's degree and debut concert under the direction of Ignatius.
Ignatius got married in 1931 and one can only wonder about her ability to raise four children alongside a very successful violin artist's career. She retired in 1978 after a mild but fatal cerebral infarction.
After losing her playing skills, she felt that she could not continue teaching. "Playing up front" was so essential to her pedagogy. Former students, such as Jukka-Pekka Saraste and Lajos Garam, kept in touch with Ignatius even after her retirement. Some of the pupils took the habit of visiting her, especially on Valentine's Day, reminiscing the past. Her Joseph Guarnerius, filius Andreae violin Ignatius donated to the Sibelius Academy for students of violin.
Text: Aino Szalai, Sibelius Academy violin master-level student