Researchers created Wood Orchestra for the new exhibition in Heureka
The researchers in Uniarts Helsinki and Aalto University co-produced wood panels working as loudspeakers for the Science Centre Heureka's exhibition.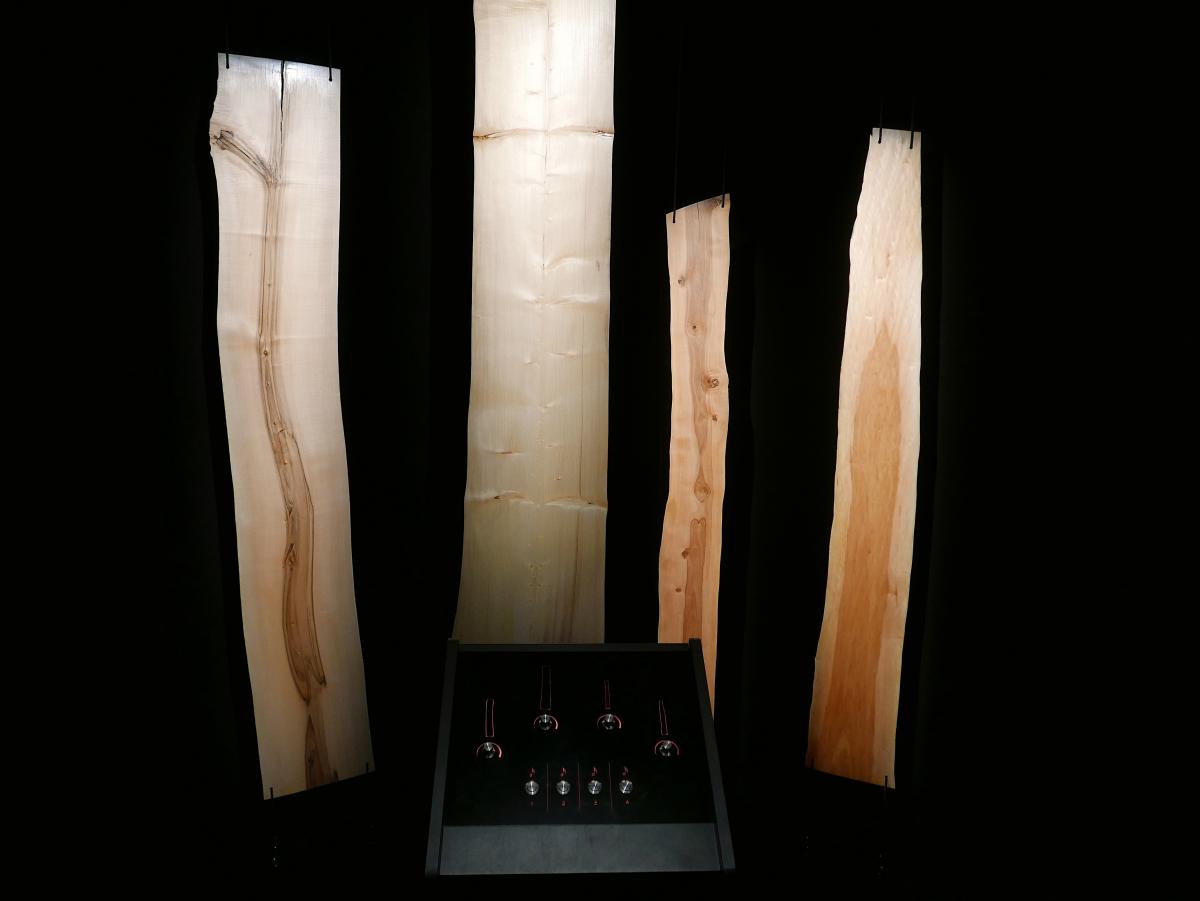 The Finnish Science Centre Heureka features a new exhibition entitled Wild Wild Wood, which demonstrates the versatility of wood material. One of the exhibition's attractions is the Wood Orchestra co-produced by Uniarts Helsinki's Sibelius Academy together with the Aalto Acoustics Lab and Heureka.
Academy of Finland fellow Otso Lähdeoja from Sibelius Academy, Uniarts Helsinki, composed four quartet pieces for the Wood Orchestra. Each wood panel replicates the sound of one instrument, and the panels join voices to form a wooden quartet. Visitors can experiment with the acoustic properties of wood by listening the panels individually or by mixing between each panel's sound.
Clear apple tree, soft goat willow
Lähdeoja composed the music in Koli artist residence in December. Different wood panels got their 'voices' in the silence of a snowy spruce forest.
"It was fun to imagine the wood panels as musicians and wonder what kind of music they would play. I went after a soft, acoustic sound but as many visitors in Heureka are children, I wanted to have some rhythm to it as well," says Lähdeoja.
The Wood Orchestra is made up of a cello (spruce), a violin (goat willow), a clarinet (maple) and a flute (apple tree).
"Spruce has the best or most balanced acoustic properties inherently. The apple tree has a particularly clear sound quality, and the sound of goat willow is very soft," Lähdeoja describes.
Wood panels as loudspeakers in a multidisciplinary project
Four wood panels were transformed into loudspeakers in this multidisciplinary project by Uniarts Helsinki and Aalto University. Panels sliced from tree trunks were worked and polished by luthier Juhana Nyrhinen who teaches instrument-making at Sibelius Academy.
Then the panels were equipped with audio-rate actuators, which are structure-borne sound drivers. The drivers transfer sound vibration into the panels, making them radiate sound much like regular loudspeakers.
Otso Lähdeoja has conducted prior research into the musical applications of structure-borne sound, for instance in concert hall settings.
Acoustic properties of the wood panels were measured and analyzed at the Aalto University's big anechoic chamber. An equalizer for each panel was customized by audio signal processing researchers M.Sc. Juho Liski and Dr. Jussi Rämö together with Professor Vesa Välimäki. The equalization enhances the panels's sound quality to meet the requirements of music reproduction.
Heureka's design team created the technical setup, scenography, and the user interface of the Wood Orchestra.
The Wild Wild Wood exhibition will be open until 31 August 2021.