"Life is short, art is everlasting" – director Ritva Siikala, 80, wants to support arts education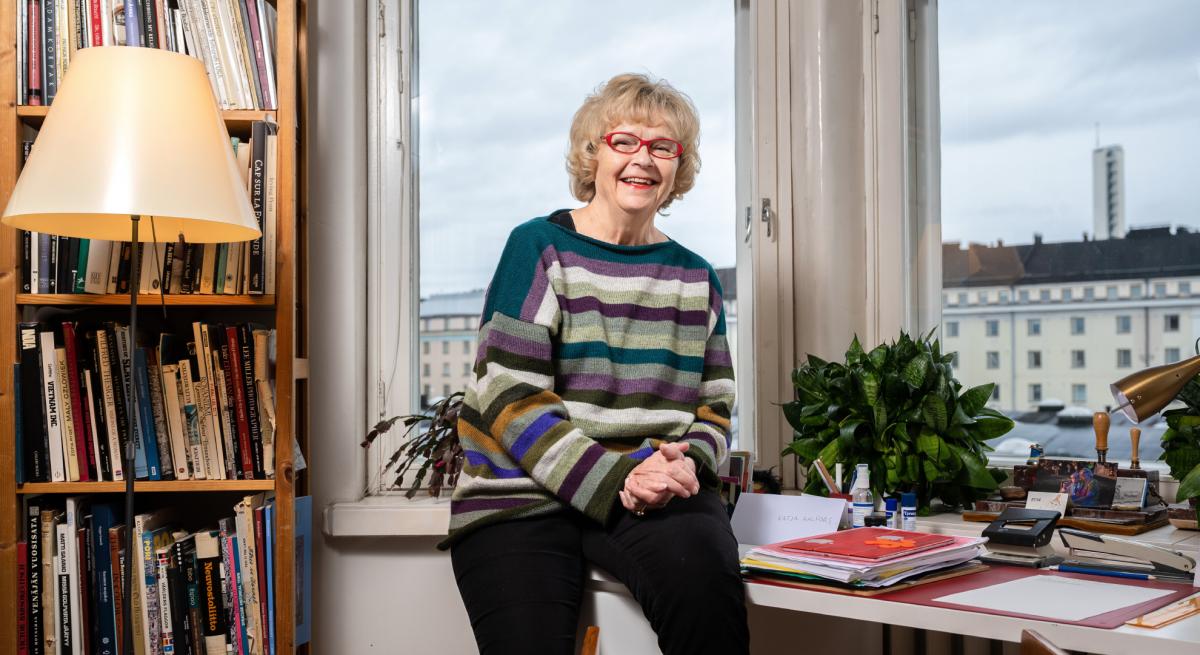 On her birthday, the prolific and accomplished theatre director Ritva Siikala does not wish to receive any material things, but instead, she hopes that her birthday guests make a donation to support the future of arts education.
In 1957, the Kemi City Theatre produced a play that was based on The Diary of Anne Frank. 16-year-old Ritva Siikala went to see each performance of the play, and she still remembers how it felt to walk down the stairs of the theatre building after the show was over. She had trouble staying up on her feet.
"That is when it hit me. The awareness that some people have to endure endless evil without ever having done something wrong themselves," Siikala reminisces.
Theatre held the power to recount other people's experiences in a way that made it feel like they were your own.
Now, 64 years later, it is easy to discern a common thread running through Ritva Siikala's career; a thread that started from the play about the life of Anne Frank. Throughout her career as a director, Siikala's works have had deep moral undertones. She has wanted to utilise art as a way of putting herself in the shoes of another person, increasing shared understanding and helping people to interact with each other.
From Kemi to the Helsinki theatre scene
Born in 1941, Ritva Siikala spent her childhood in the City of Kemi. Her father was a dentist, her mother a housewife.
For some reason, a career in theatre was always a self-evident choice for the daughter of a bourgeois family. Siikala's first hobby in the arts was ballet, but she also often got the chance to visit backstages and audiences of theatres thanks to her father, who was a theatre enthusiast. Ritva Siikala's elder sister completed formal training as an actress.
Siikala ended up moving from Kemi to Helsinki already as a teenager, then going to Delaware in the United States as an exchange student, working in a kibbutz in Israel, and starting her university-level directing studies at the Finnish Theatre School at the age of 22.
Siikala's complete resume is an exhausting read with all of its directorial credits for theatre and TV productions, as well as scripts, translations and other texts. She also served as a teacher and manager of the higher education department of the Finnish Theatre School, the predecessor of Uniarts Helsinki's Theatre Academy, for a long time.
In many of her positions and projects, Siikala took on the role of a pioneer.
Fighting for the women and minorities
In 1988, Siikala founded a theatre company called Teatteri Raivoisat Ruusut (The Raging Roses), where she directed everything from classic plays by Aeschylus and Shakespeare to Bible texts for a group that consisted solely of female actors.
"Our zeal was undeniable. I'm still pretty proud of Raivoisat Ruudut."
At the beginning of the 1990s, the first significant wave of refugees from Africa arrived in Finland following a civil war in Somalia. Siikala lived in the Eastern part of Helsinki and took the metro on a daily basis. There were often Somali women in the same metro carriage with her, and Siikala felt like she did not know anything about them.
"Ever since I was a young girl, I've liked wearing long trousers. That's probably why I started wondering what they thought of me, as I was sitting there in the metro and looking at the women. And it was specifically this way around: what did they think of me? In hindsight, this was actually kind of a good question."
For Siikala, theatre became a tool to understand and build connections with people who came from a different culture and who thought differently. She gathered up minority representatives to join her artistic projects, founded a multicultural arts community Kassandra and directed the play Antigone by Sophocles with colourblind casting.
When Siikala is asked if she wants to make an impact on society with her art, she quips: "Well hell yes I do".
Young artists ready to take the spotlight
In modern Finland, what worries Siikala the most is the rise of racism.
Her first encounter with racism happened already in the 70s when she adopted a boy born in Ethiopia with her spouse. Nowadays, she also has a son-in-law with a Gambian background, giving all of her seven grand-children African roots. As their grandmother, she cannot close her eyes to racism.
Her Finnish-Swedish spouse, director and writer Bengt Ahlfors, was Siikala's first introduction to living between two languages and cultures.
The role of an outside observer has taught her the meaning of curiosity, openness and genuine interest. This attitude towards the world is what Siikala hopes that future generations of artists, too, will absorb.
"Be curious. Be bold and dare to interact with people who you know nothing about. Be honest with yourselves. Each time period has its own one and only truths, so try to see beyond them."
Ritva Siikala will turn 80 years old on 13 November 2021. For her birthday, she does not wish for any gifts or speeches. Instead, she hopes her friends give donations to Uniarts Helsinki to support the education of young artists.
After all, as Siikala herself puts it:
"Life is short. Art is everlasting."
Read more about the Uniarts Helsinki's fundraising campaign
Who?
Ritva Siikala
Born on 13 November 1941 in Oulu
Theatre director, writer
Studied at the higher education department of the Finnish Theatre School in 1963–66
Worked as a teacher at the Theatre Academy and its predecessor
Nearly 60 directorial credits for Finnish and international theatre productions in 1966–2020
Recognitions include First Class Knight of the White Rose of Finland and Pro Finlandia
Spouse Bengt Ahlfors, two adult children, seven grandchildren