"I don't think the island wants anything from me" – The Island of Relations exhibition by Academy of Fine Arts students explores the relationship between people, art and nature
How do you organise an art exhibition with sustainability as the fundamental value, and yet avoid being paralysed by the notion that nature does not need us or our art? These are some of the thoughts that have been discussed when planning the Island of Relations exhibition hosted by Uniarts Helsinki's Academy of Fine Arts on Kuninkaansaari island.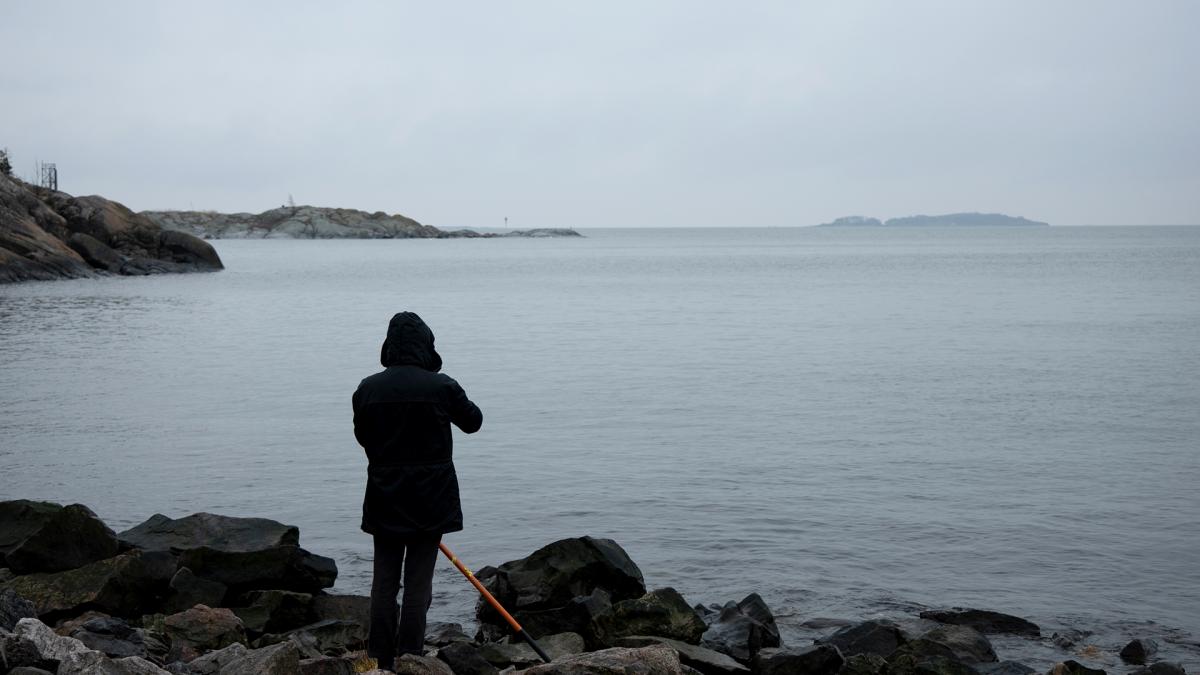 It is a windy July day, and Cáit Ní Dhuinnín feels tired. She has spent the night alone in a tent on Kuninkaansaari island, where a storm has kept her awake. The night was quite scary, too.
Ireland-born Ní Dhuinnín is one of the students participating in Uniarts Helsinki's Island of Relations exhibition. The 17 works featured in the exhibition include installations, performances and sound and video art, and they can be seen around Kuninkaansaari island in August and September.
As part of her own project, Ní Dhuinnín has spent time camping on Kuninkaansaari island this summer. The working title of the piece is "I don't want anything from the island and I don't think the island wants anything from me".
But there is, in fact, something that she has found from the island. There is a bundle of water and weather-worn, yet colourful – blue, red, green, yellow – thin, straw-like pieces of plastic hanging on Dhuinnin's waist.
One of them she picked up from the narrow breakwater that connects Kuninkaansaari and Vallisaari.
"I don't know what these are or where they are from, but I think they're cool."
Ní Dhuinnín collects unusual pieces of plastic on the shoreline to keep the island clean, and she may also use them as material for her upcoming artwork. She does not know the final form of it yet, but it does not feel that important, either.
"The more I spend time here, the more strongly I feel that the island doesn't need me. I don't know if I want to bring a specific work here, but I can act as a witness on the island."
Focusing on the concept of island
The Island of Relations exhibition has come to life as part of a course led by Professor of Exhibition Studies Anna-Kaisa Rastenberger and Professor of Time and Space Arts Ulrika Ferm at the Academy of Fine Arts. Both fine arts and curating students have participated in the course and worked on the event as a team.
One of the main ideas behind the exhibition has been the concept of an island from a philosophical and a theoretical perspective. A central question includes whether an island is an independent, isolated entity, "or actually a metaphor for conjoining", Rastenberger notes.
"Our philosophy is that an island isn't a separate unit, but something that exists only in relation to others: the sea, the mainland, and so on."
Art featured in the exhibition has been heavily influenced by Kuninkaansaari as a place. All works have been made and planned with the island in mind.
Students have studied the unique cultural history of Kuninkaansaari as part of Helsinki's defence system, including its geological strata, wild, untended nature, as well as its ecosystems.
The original plan that Rastenberger and the students had was to spend time together on the island at different times of the year by going camping and working on their art. Due to coronavirus, this was possible only last autumn.
"I'm sure the pieces would have been very different if we had had the chance to visit the island last spring, too. Now imagination has played a bigger role in the process. But imagining isn't necessarily a bad thing. We've been lucky here in Helsinki, because at least we've been able to go outdoors."
Even though the organising of joint trips was not possible due to a break in contact teaching during the spring, students did get to visit the island independently this summer.
Ecological values
Besides the island itself, another focus area in the exhibition has been ecological and political themes. There have been plans to give most of Kuninkaansaari the status of a nature conservation area, which lays down certain pre-conditions for the exhibition.
"We've shared views on how art could be exhibited and made to be exhibited in an environment that is fundamentally very fragile. Our starting point has been to appreciate the environment and non-human elements in general. The work we do on the island can't burden the island's ecosystem in any way," Rastenberger says.
Questions revolving around the relationship between art and the environment are topical – and difficult. Making art produces waste, consumes energy and uses up material just like any other industry.
Nature does not need people's art – rather the opposite.
"One reaction might be to conclude that it's better not to create art at all. On the other hand, I believe that art's potential as a cultural eye-opener and a driver of change is extremely important."
Works of art may help us pay attention to something that we otherwise would not see, Rastenberger points out. Such as rocks that have stood still for millions of years, or the fast pace that currently characterises our lives and consumption habits.
Or the environment that surrounds us, in general.
"And I think that's really valuable."
The beauty of plastic and cycles of nature
Ní Dhuinnín's work, too, has been influenced by her awareness of the environmental crisis and the human impact on nature. It may not be conducive to art making, and instead, it may have a completely paralysing effect, Ní Dhuinnín notes.
"When I came here, I decided that I wouldn't try to avoid conflict-laden thoughts, but find gentle ways to face them and make my way through them," Ní Dhuinnín shares.
The colourful pieces of plastic on Ní Dhuinnín's waist are an example of this. They litter the environment, end up inside fish, degrade into microplastics and will not decompose.
And they are oh-so-beautiful.
"During my time here, I've realised that I love plastic, the colours, and what it looks like. It's funny and contradictory, like a guilty pleasure."
Time slows down and comes to a halt on the island. Little changes become more distinct: traces left by people, a tree felled by a storm. Waves crash the shore, the tide alternates between covering and revealing, the sun dries the splashes of water on the rocks.
"Cycles, such as sunlight phases, are more visible here. When there's only a limited number of places to go, you pick up a habit of going to the same places; there's a certain cycle in that, too. Some places become more important, more intimate."
The work that Ní Dhuinnín will create for the Island of Relations exhibition may consist of pieces of plastic and the thoughts that she has had on the island and a text that she has written based on the books that she has read there.
Or it can be the island itself, its places and cycles: the sea, sun, wind, forests, rocks, waves.
By Silja Ylitalo
The opening of Island 2020 will be held on 20 August. The first performance that is open to the public will take place on 11 August. The programme will continue until 25 September.
Read more about Island 2020