A performance can change our minds on what we think is impossible, says Tuija Kokkonen
Professor of Artistic Research Tuija Kokkonen asked young environmental activists to take part in her performance, because she could not bear stand by and watch how they were being treated by society.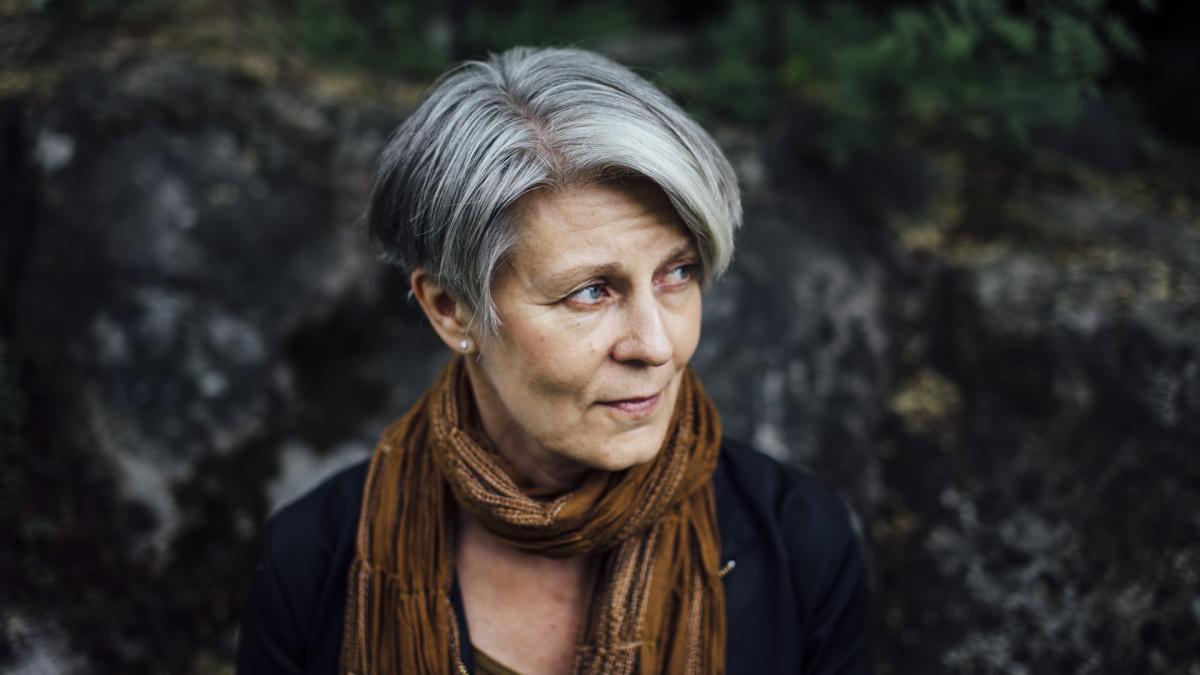 "To me, this performance is a form of activism," Tuija Kokkonen explains why she asked young Elokapina activists to be involved in her performance, which is currently showing at the Kiasma Theatre.
Kokkonen points out that while young people have called for combatting biodiversity loss and the climate crisis, the middle-aged powers-that-be have mostly distinguished themselves by dragging activists to jail, imposing fines on them and belittling and looking down on their work. When, in reality, we should thank them.
"And besides thanking them, we should ask what we can learn from them, and above all, we should join forces with them," Kokkonen says.
Last week, she presented the same challenge also to art institutions in a discussion event, which was organised as a collaboration between Uniarts Helsinki's Academy of Fine Arts and the Elokapina movement.
A pioneer in posthumanist live art
The performance Kemi – II memo of trees for the Kiasma Theatre is a good example of the working methods of Kokkonen, who works as a professor of artistic research.
She can rightly be called one of the pioneers in posthumanist art and thinking in Finland. A common thread woven in her work is exploring humans' relationship with the rest of nature and with beings of other species.
"Far too long we have lived under this strange illusion that the future relies on, or that people's lives have ever relied on, people. We live indistinguishably with plants and animals, our living relies on them."
Since 2018, Tuija Kokkonen has worked as professor of artistic research at Uniarts Helsinki's Theatre Academy. Her doctoral research project focused on people's relationship with the non-human – with other animals and plants, in particular. She reflected on how our understanding of a performance and humans would change if we widened the agency of performance beyond human and considered beings of other species our equal co-actors.
Working from this premise, Kokkonen ended up developing practice and theory for interspecies performance in her doctoral research project. The artistic portion of her research project comprised a performance series called Memos of Time – performances with and for non-humans, which was kicked off in 2006. The series was featured in the programme of the Kiasma Theatre, and parts of its were also performed at the Finnish National Theatre and in several countries abroad.
Ever-evolving artistic research
Kokkonen has a background in theoretical theatre and gender studies, for which she also holds a master's degree, as well as in hands-on creation of performances. Kokkonen's first jobs in a theatre context were as a playwright and comparative dramaturge, but soon, she hopped over to directing, too. For each piece she did, she gathered a group of artists who represented her self-founded performance collective called Maus & Orlovski.
"Before I even started carrying out actual artistic research, my approach to my artistic activities was research-based. I have always felt that it's natural that theory and practice are intertwined."
In the mid-2000s, artistic research offered a context for a work method that Kokkonen had already adopted. Carrying out a doctoral research project was a chance to delve into topics in a way that would not have been possible in the daily life of an artist moving from one performance to another. Artistic research also offered a community of people who were interested in the same kind of exploration and reflection.
"Now in the 2020s, as artistic research has undergone an academicisation process, I find that having a vibrant relation to art-making and the field is all the more important in artistic research, as part of its wider link to society."
Art can revolutionise our thinking
In her doctoral research, Kokkonen was motivated by the question of what is, and what could be, the meaning and potential of performance in the age of ecological crises. She finds that the social potential of art, and especially live art, which is closest to her heart, lies in its ability to open our eyes to alternative perspectives and expand our horizon of possibilities.
"A performance can help us see that something that we thought was impossible is actually possible, whether it's the point of view of someone who thinks differently or the end of the lifecycle of capitalism. That alone can hold tremendous power – being able to wrap our heads around another person's or being's point of view, to even understand their experience. Sometimes art can fundamentally alter the way we understand humans and what we're living with here."
For Kokkonen, opening her performance to non-human species was exactly the kind of horizon expansion that she talked about.
"The fact that I started to think about sociability and performance beyond human context and consider beings of other species as equal actors fundamentally changed my experience of being in this world, and pretty much everything."
And what did incorporating non-humans in her performance mean in practice? Beings of other species are not brought out to theatres and their black boxes, and instead, people go and visit the home territories of plants and animals. The performance creates a space for the opportunity of interaction between different species.
"First and foremost, it's about turning our attention to others, giving them space and listening to them. I came up with the idea of human weak agency, which enables the observation and agency of beings of other species. In that way, the premise is also decolonialising."
Essentially, what she does is not much different from her childhood in Kemi when she pondered and explored in her mind and reached out to other beings of the biosphere.
"As a kid living there by the forest, I used to play with animals and plants. In some ways, what I have done with my research resembles my childhood play, but now my activities are connected to the public debate and our great concern over ecological crises. Some of the species found in my childhood have already become extinct in Finland."
From collective hypnosis to assuming responsibility
Right now, making art and carrying out research is not enough, however. Kokkonen also strives to make a difference on various other platforms. She is involved in university-political activities and in the Elokapina movement, and she is a member of the Kone Foundation's Board of Trustees. Responding to the climate crisis and biodiversity loss cannot wait and instead, they require immediate actions.
When Kokkonen followed the social debate on Elokapina, she observed that adults had a disdainful, know-all attitude towards young people. Young people who made personal sacrifices and took risks in order to keep this planet liveable not only for themselves and their children but also for colonialised people and other species. This attitude was something Kokkonen simply could not tolerate.
"Young artists are doing exactly what all of us exercising any kind of power should be doing."
The public debate has a discourse that sustains the idea that the ever-increasing felling of timber is absolutely necessary and that it is not possible to reduce emissions or to make decisions on forest conservation quickly and substantially enough. In the end, it all comes down to political will, however. Decisions are made by people, and we could always choose to decide differently. Denying this would mean hiding one's head in the sand.
"It's like some sort of a collective hypnosis that we're living in. As if there's some other outside force that could come and solve these crises. But there's no such thing. There's just us."
Collective dodging of responsibility inspired Kokkonen to create a performance with young activists.
Kemi – II memo of trees premiered in December, and it was preceded by two years of groundwork when Kokkonen collected material and created the performance Kemi – memo of trees on forests and forest industry for Kemi City Theatre. Then she started interviewing activists. At some point of the process, she realised that it was important that the activists were given the chance to write their own commentaries. Beings of other species are part of the performance in the form of material.
The end result is a performance that the audience cannot observe without living through the thoughts and feelings of those who have to live with the consequences of ecological crises also in the future.
We must finally stop and listen to them.
The performance "Kemi – II memo of trees" is part of the Kiasma Theatre's programme from 3 to 9 February, and it will also be featured as part of the main programme of Tampere Theatre Festival in August. Read more.
Tuija Kokkonen will hold a prologue lecture, which is open to the public, on 26 April 2023 at 17:15 at the Theatre Academy (address: Haapaniemenkatu 6).