Strings (main instrument)
Study under the guidance of internationally esteemed string instrument teachers and play together with top professionals in a symphony orchestra.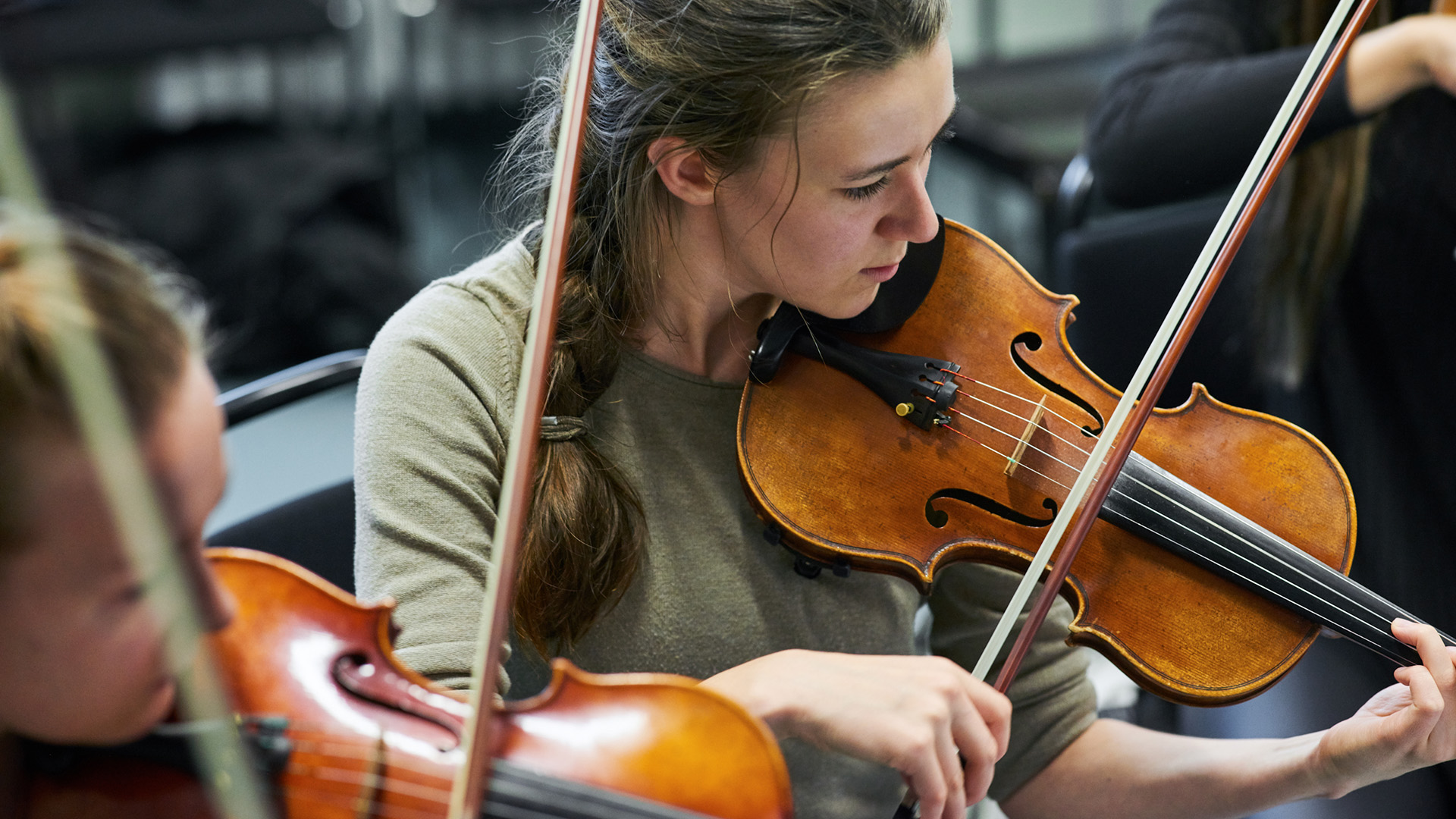 Why study here?
Already during your first year of studies, you will get to play as part of the full-scale Sibelius Academy Symphony Orchestra. You will also get the chance to take part in the chamber music activities of the Academy, join the Orchestra Academy at the Helsinki Music Centre, and cooperate with professional orchestras. The Academy regularly welcomes international top artists and pedagogues as guests.
Content and objective of the programme
You can study violin, viola, cello or double bass as your main instrument. Chamber music, playing in an orchestra and high-level competence in one's instrument are the core of the studies.
Bachelor's studies
You will receive 90 minutes of individual instruction in your main instrument per week. You will also study chamber music, music perception, music history, pedagogy and languages, as well as minor studies of your own choosing. You can complement your degree by completing courses in conducting, jazz, folk music, early music, composition and arrangement, for example.
Master's studies
As a master's student, you will increase your competence in your major subject and either develop a broad understanding of several areas or concentrate e.g. on orchestral performance and chamber music, contemporary music, or early music instruments and performance practices. In your optional studies, you can deepen your skills as a string musician by participating in audition training or training for acting as the principal/leader of strings and playing parts. Our graduates work as competent pedagogues and orchestra musicians, chamber musicians and soloists.
You can also choose courses organised by the other two academies of the University and complete so-called joint studies that are available for all students.
Teachers
Our teachers are some of the best experts in their respective fields. In addition to the permanent teaching staff, the programme welcomes international top professionals as guests on a regular basis.
Applying
Our University is one of the most sought-after places to study in Finland. Browse the applicant statistics from previous years.
Doctoral studies
It is possible to complete a licentiate and a doctoral degree at the University as a third-cycle degree. After graduating with a master's degree, you will have the option to apply for doctoral studies in music and specialise in research-oriented, artistic or applied doctoral studies.
You can apply to
---
Degree Programme in Classical Music Performance, main instrument options: violin, viola, cello or double bass
bachelor's and master's (5,5 years)
master's (2,5 years)
Target degree
---
Master of Music (MMus)
Unit
---
Sibelius Academy
Languages
---
English, Finnish, Swedish Read more about language skill requirements
Tuition fee
---
Annual tuition fee €5,000 for students from outside the EU and EEA countries.
Read more about tuition fees
Application period
---
Next possible time to apply is in January 2022. Studies begin in August 2022.
Persons in charge
---
Päivi Arjas
Lecturer, Department Head