Guitar (main instrument)
Study to become a top-level guitar professional in an international and welcoming atmosphere.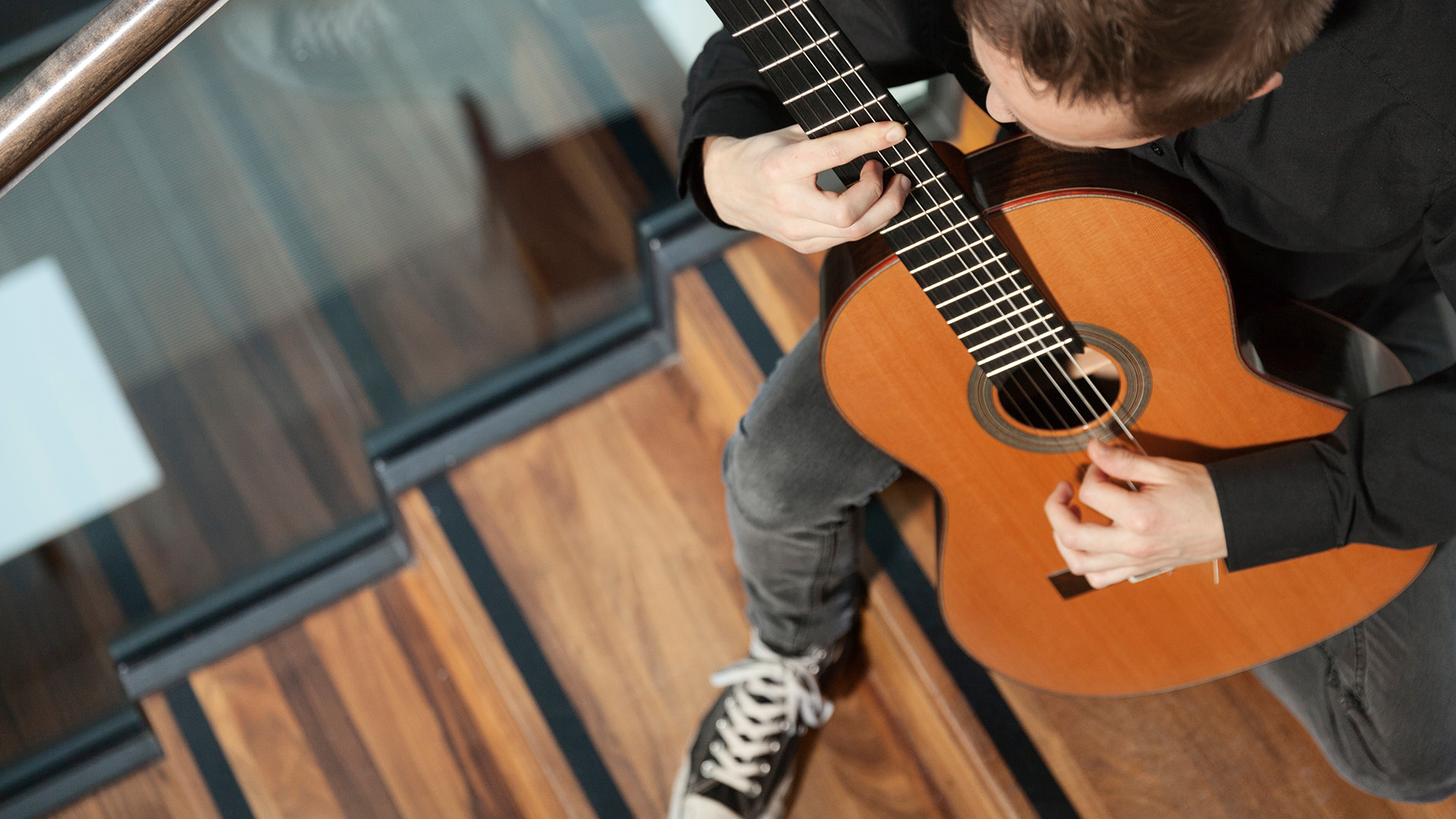 Why study here?
We give you the chance to study guitar at the highest possible level and help you in your journey of becoming exactly the kind of artist that you aspire to be. You will also acquire the competence to work as a highly competent guitar teacher. Almost all of Finland's most esteemed classical guitar players have completed their degree at the Sibelius Academy.
About the studies
Our practice-oriented and international environment is ideal for learning the artistic, technical and pedagogical skills needed to master guitar as a musician and as a teacher. In addition to guitar lessons, your curriculum includes studies in chamber music, guitar pedagogy, sight-reading, guitar history, repertoires and free accompaniment. You will also complete elective studies and possible minor subject studies. You can also choose courses organised by the other two academies of the University and complete so-called joint studies that are available for all students. Performing in concerts is also essential to your studies.
Through your pedagogy studies, you will learn to observe the learning processes of other students as well as your own, increase your knowledge on the development of children's and young people's psychological and motoric skills, and learn to analyse these processes from the point of view of a guitar professional.
After graduation, you can work as a soloist, chamber musician or guitar teacher, or alternatively in other jobs that require suitable expertise. During your studies, you will also develop your ability to work in the cultural sector with people and organisations from different fields and engage in collaborative projects with different cultural institutions.
Teachers
In addition to the Sibelius Academy's own guitar teachers, you will also learn from international guests and attend master classes that are held on a regular basis. Guitar is also available as a minor subject for students of other instruments.
Applying
Our University is one of the most sought-after places to study in Finland. Browse the applicant statistics from previous years.
Doctoral studies
It is possible to complete a licentiate and a doctoral degree at the University as a third-cycle degree. After graduating with a master's degree, you will have the option to apply for doctoral studies in music and specialise in research-oriented, artistic or applied doctoral studies.
You can apply to
---
Degree Programme in Classical Music Performance, main instrument: guitar
bachelor's and master's (5,5 years)
master's (2,5 years)
Target degree
---
Master of Music (MMus)
Unit
---
Sibelius Academy
Languages
---
English, Finnish, Swedish Read more about language skill requirements
Tuition fee
---
Annual tuition fee €5,000 for students from outside the EU and EEA countries. Read more about tuition fees
Application period
---
Next possible time to apply is in January 2022. Studies begin in August 2022.
Persons in charge
---
Niklas Pokki,
Department Head
Ismo Eskelinen,
Coordinating Teacher (guitar)
Andrzej Wilkus
Coordinating Teacher (guitar pedagogy)