Outi Pieski: Art is always the result of certain circumstances
Uniarts Helsinki's Alum of 2021 selected from the Academy of Fine Arts is visual artist Outi Pieski.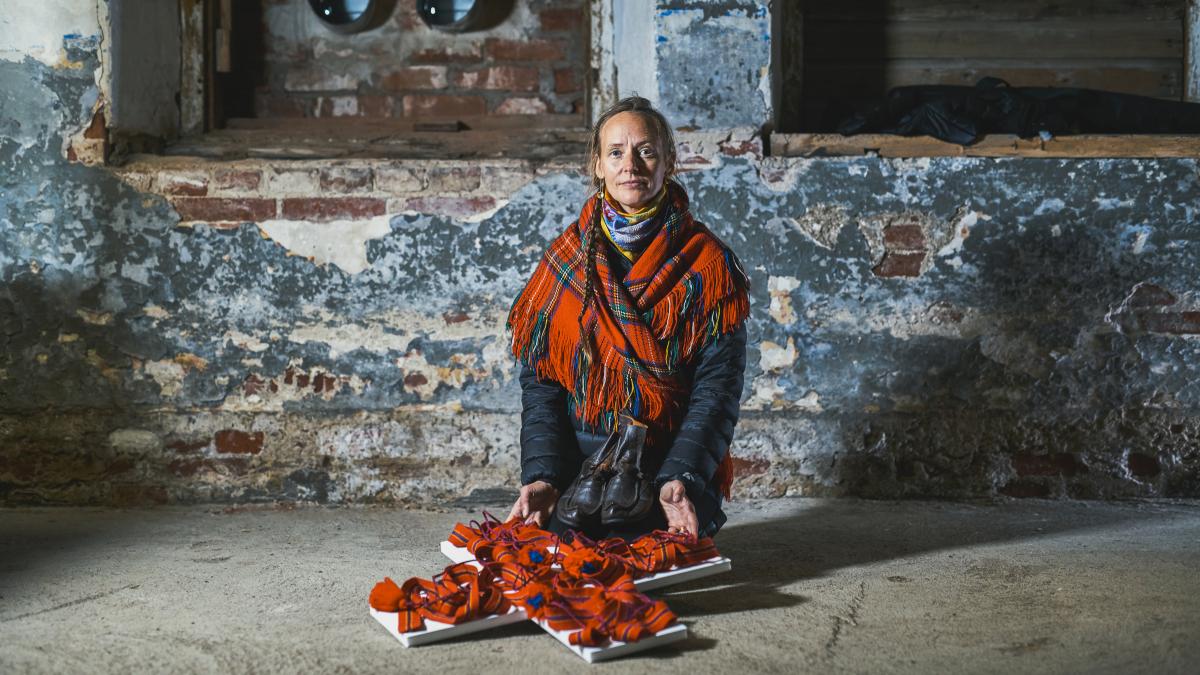 For visual artist Outi Pieski, creating visual art has always been a natural part of her self-expression.
"I've been shy, which is why art has become a vital means of communications for me."
Pursuing a degree at the Academy of Fine Arts felt like a natural continuum after she finished her studies at Helsinki Upper Secondary School of Visual Arts. She is happy with her personal academic path.
"For me, education meant access to a significant support network. I was given the support I needed in order to develop into an artist," she says.
Outi Pieski also sees the meaning of education from a wider perspective. As a representative of a minority culture, the Sámi people, she has set an example for younger generations.
"An art university is part of an art institution, which holds a lot of power. Only a few get to benefit from its resources. Many young people may experience that these resources are unattainable for them and that such an environment is not for them. That's why it's important to set an example and show that the field of visual arts doesn't stem solely from the Western culture, but that anyone, regardless of their cultural background or personal circumstances, can be part of it."
Room to find your own path
Outi Pieski finds it important that an art school is able to offer tools also to those students whose background is not based on the tradition of Western art.
"My time as a student was strongly characterised by the search for my own self and identity. It was wonderful how the school gave me room to do so and understood that because I came from a different cultural background, I didn't always get the support I needed from there. I was given room to look for my own paths."
During her studies, Pieski worked up north a lot and also studied the Northern Sámi language in Inari.
"When students start their studies, it's important to support also those people whose artistic experience is based on something other than the Western tradition. There is a need to reflect on how multiculturalism could be enabled in education. I personally felt that I was detached from my own living environment when I was studying at the Academy of Fine Arts. I worked in a sort of non-space, a bubble where I had trouble finding my own expression method. I felt that my work was easier when I was in interaction with the living environments that helped me build my own identity."
Art is always the result of certain circumstances
In her own works, Outi Pieski has dealt with the relationship between human beings and the environment from the perspective of indigenous people. The premise for her works is often the Sámi visual tradition of duodji. Through her own example, she has wanted to express that each person has their own personal history that involves a certain relationship and that can be used as a source of inspiration.
"I think that the problems of minority cultures are intertwined with each other, and on a global level, they are ultimately also linked to nature conservation issues. When we open our ears to the marginalised and side-lined minority representatives in our society, we may increase our awareness on issues that are topical and meaningful for everyone."
Outi Pieski reminds people that art is always linked to its maker and the maker's position in the world. Some people's position involves more privileges, while others have more obstacles.
"I think that "othering" and viewing minority cultures through an exotic lens may decrease when we understand that all art is the result of certain circumstances and linked to power structures and that there's no such thing as art that could be free from these contexts."
Outi Pieski finds that art is born based on the artist's influences. That is why it is important to understand where these influences come from and how deeply rooted they are, and to see the underlying reasons behind what we do.
"I feel that painting helps me reinforce my relationship with the earth and my family. It's an act or a ritual that reinforces the things that I want to commit to."
New forms of cooperation needed for promoting multiculturalism
According to Pieski, art promotes multiculturalism. Even though everyone works on the basis of their own specific circumstances and art reflects cultural differences, the fundamental message of art is usually the same regardless of the culture.
She believes that multiculturalism in arts teaching could be promoted effectively through a transformation of the structures of institutions.
"This requires a discussion on who gets to receive education, what kind of staff is recruited, and how the structures of multicultural arts teaching are developed. All of these questions make a difference."
The transformation of structures could be promoted through new kinds of collaborations.
"Because a Western arts university has limited resources for supporting artists who come from different kinds of backgrounds, there should be more cooperation with various local communities, and we should find new ways of collaborating. This could provide support for different cultural structures," Pieski says.
She also finds that focusing on locality would be extremely important.
"Being international has been a permanent trend in contemporary art, but what if we made a switch and focused on being local, instead? The point of view for discussing global questions should be small communities and locality. Our development would be more sustainable this way. Art plays a major role in this building process."
***
The title of Alum of the Year is awarded each year to a few alumni of Uniarts Helsinki who have highlighted the unique value and role of art and artist education in an exemplary manner through their work.