Wind orchestra conducting student: We all get the same time at the podium
Yoann Combémorel is a French-born first year student of wind orchestra conducting at the Sibelius Academy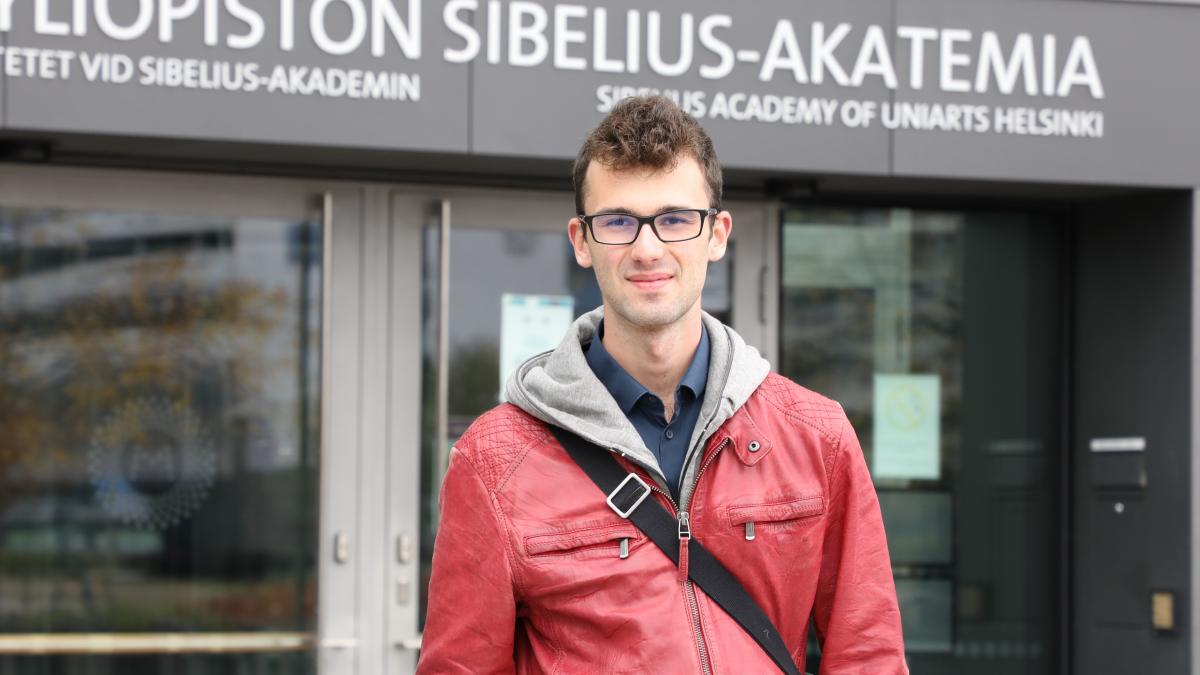 What motivated you to apply to the Sibelius Academy?
Studying at the Sibelius Academy is just a dream when you want to become a conductor. At least for me it was. A lot of good conductors today come from this "Jorma Panula school" and I think it is not for nothing, So I was just obliged to discover this way of thinking. Also all the conductors I like and I feel close to their conducting approach are from the Sibelius Academy. I am also passionate about Finland and would like to discover this country and culture. People here are different than in my native France; I would say they are more open minded and respect each other's personal space. Life is so peaceful here.
What you do think makes the Sibelius Academy a unique learning environment?
The atmosphere here is wonderful. What makes a big difference is that we are all considered to be at the same level but at the same time, we are aware that we all have our own facilities and difficulties and probably a different way of looking at conducting and music. We all have the same time on the podium and have lessons together – the minor and major students as equals. I really enjoy learning with and from my student colleagues and I wouldn't change a thing since they are all talented and super caring. I feel that this state of mind and lovely atmosphere is rare.
I also think that the school really cares about its students and seems to give us as much as it can to offer us a good environment. The academy trusts its students. We can also go and listen to the RSO and HPO for free, that's just amazing! Like after you've finished practicing you can just go downstairs to the great concert hall and listen to a high-quality orchestra concert! I am doing this at least once a week!
What is your typical study day like?
A typical week for me could be something like this: on Monday and Tuesday we conduct the orchestra or/and have preparatory lessons and a video feedback session afterwards. In the middle of the week we sometimes have some extra courses, like meeting with the composer we are studying, or on orchestration etc. Usually at the end of the week and on weekends I am working on the score for the next week. This is quite intense, but in addition we also must manage our other studies: for me it is piano, trombone, analysis, Finnish courses, piano score reading and history of music. And of course we have to find time to practice by ourselves and sometimes sleep, too!
How do you see the studies prepare you for the working life?
The best thing here is the time on the podium that we get with an orchestra. We get to conduct a real live orchestra 1 or 2 times per week. This is unique and offers us the opportunity to learn things deeply. In addition, we have some projects with professional orchestra. So we get a lot of experience, room for experiment and also opportunities to make mistakes. In the working life the situation is completely different; there is no place for errors; you have to lead the musicians well from the first note to the end if you want to have a chance to survive in the conducting world. Thanks to the system at the Sibelius Academy, I feel that by the end of my studies here I will be "ready" to face this. Also if we are absent for work, a competition or something like that, the school understands and even encourages us to succeed in our career. As a conductor I also try to listen to how conductors approach music from their own cultural starting points – it is always a good learning experience also for the future career.
Do you have the opportunity or the will to do art that takes a stand in the society? Do you feel you are encouraged to do so?
I do, and that is important to me. I believe it's all about education. The key word is sensitization. Children and teenagers must be made aware of art. After that, it's just a natural path that is created and it would solve a lot of problems in our world. It's quite basic, but if you give someone the tools to learn to think for themselves, to be able to listen to others and to learn to express themselves, it already changes a lot. Finland is much more advanced than France in this!
Who?
Yoann Combémorel is a French-born first year student of wind orchestra conducting at the Sibelius Academy, Uniarts Helsinki. He is also the musical director of the Lyon Metropole Orchestra and the founder of Ensemble Musical RhônAlpin.