Opera Coaching (major subject)
Pursue studies in a master's programme aimed at pianists who aspire to contribute to opera productions and collaborate with singers and orchestra musicians.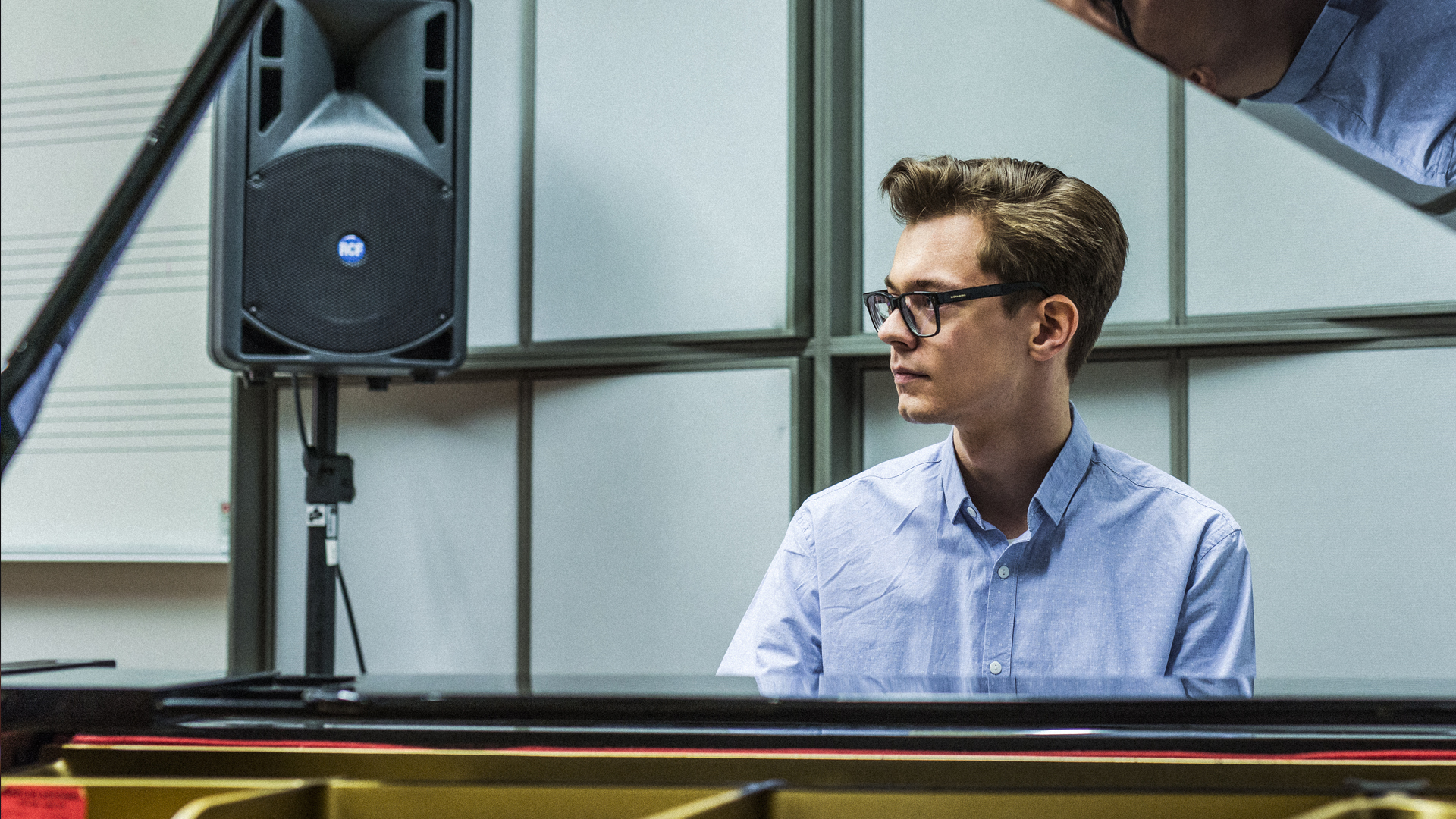 Why study here?
Come and study at one of the best performing arts universities of the world. As a master's student in opera coaching, you will engage in close-knit cooperation with master's students of opera. Upon graduation, you will be a versatile professional in opera music and able to take responsibility of large-scale music coaching projects and piano performances.
Content and objective of the programme
The 2.5-year programme consists of opera coaching and production-based work as well as studies in piano, conducting, vocal chamber music and vocal music. You will also complete a thesis project and research studies. During your studies, you will get to take part in the productions of the opera programme and contribute to the Sibelius Academy's performances, concert activities, and auditions. The Academy's opera training produces at least two full-scale opera productions a year, and opera coaching students are actively involved in the process.
You can also choose courses organised by the other two academies of the University and complete so-called joint studies that are available for all students.
Teachers
Our teachers are some of the best experts in their respective fields. In addition to the permanent teaching staff, the programme welcomes international top professionals as guests on a regular basis.
US pianist, Professor Martin Katz acts as adjunct professor in the opera coaching programme. The programme has active cooperation with the Departments of Vocal Music and Piano.
Applying to the programme
New students to opera coaching studies are admitted on an annual basis. The next round of admissions will be in January 2020. Opera coaches have very versatile duties, which is why the entrance examination is multi-faceted and highly demanding in parts. Studies in opera coaching are organised alongside the opera training, which admits new master's students every other year.
Our University is one of the most sought-after places to study in Finland. Browse the applicant statistics from previous years.
New admissions guides will be published in October-November 2021
Doctoral studies
It is possible to complete a licentiate and a doctoral degree at the University as a third-cycle degree. After graduating with a master's degree, you will have the option to apply for doctoral studies in music and specialise in research-oriented, artistic or applied doctoral studies.
Find out more
Students of opera and opera coaching 2019–2020
Opera ensemble 2019–2021
Sopranos: Iris Candelaria, Manon Gleizes, Maria Turunen and Stella Tähtinen
Mezzo sopranos: Olivia Kyllönen and Ruut Mattila
Tenors: Jasper Leppänen and Tuomas Miettola
Baritone: Luke Scott
Opera coaches
Anu Kosonen
Elias Miettinen
Markus Vaara
Opera productions (performances in the Sonore Hall of the Helsinki Music Centre)
2021 Pulkkis: All the Truths we cannot see (world premiere, co-production with the Thornton School of Music, University of Southern California)
2020 Mozart: Così fan tutte; Britten: Albert Herring
2019 Händel: Alcina; Soirée Offenbach; Sempre Sempre! Opera scenes and arias
2018 Mozart: La clemenza di Tito; Britten: The Rape of Lucretia
2017: Britten: A Midsummer Night's Dream; Verdi: Falstaff; Sempre, sempre!
2016: Mozart: Le Nozze di Figaro; Humperdinck: Hänsel und Gretel and Rautavaara: The Gift of the Magi
2015 Rossini: Il viaggio – The Journey to Brussels; The Face of the Night – an evening of French opera; Sempre sempre!
2014 Mozart: Così fan tutte; Aho: Frida y Diego (world premiere)
2013 Rameau: Les Indes Galantes; Strauss: Die Fledermaus
2012 Mozart: Le Nozze di Figaro; Menotti: The Consul
2011 Kortekangas & Baran: One Night Stand (world premiere)
Opera behind the scenes
Opera students write a blog Opera behind the scenes where they share their thoughts on the operas, composers, and their characters before each upcoming premiere.
You can apply to
---
Degree Programme in Classical Music Performance, major subject: opera coaching
Target degree
---
Master of Music (MMus)
Unit
---
Sibelius Academy
Languages
---
English, Finnish, Swedish Read more about language skill requirements
Tuition fee
---
Annual tuition fee €5,000 for students from outside the EU and EEA countries.
Read more about tuition fees
Next application time
---
The next possible time to apply will be confirmed in the autumn 2021.
Persons in charge
---
Tuula-Marja Tuomela-Nyman
Coordinating Lecturer

Markus Lehtinen
Professor of Opera
Apply to this programme on Studyinfo.fi