Kantele (main instrument)
Study to become a top-level kantele professional of classical and contemporary music in the leading programme in its field.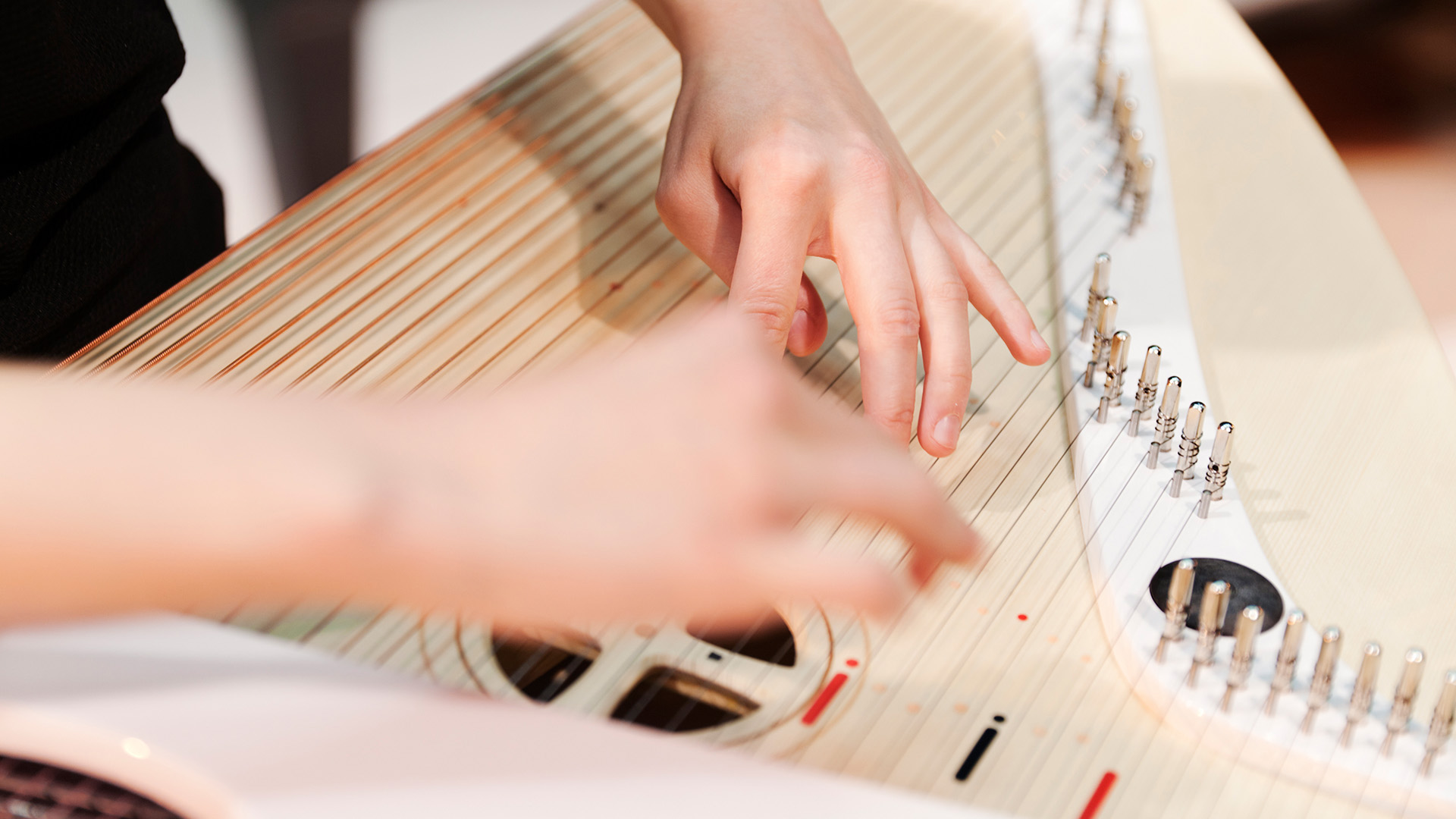 Why study here?
The kantele programme is multi-faceted and highly respected both by national and international standards. It has a unique mission in fostering and renewing kantele music and pedagogy. Kantele artists who have studied at the Sibelius Academy and achieved global success include Eva Alkula, Eija Kankaanranta, Kristi Mühling and Hedi Viisma.
Content and objective of the programme
The flexible curriculum caters to individual interests and aims at providing students with wide expertise and top-level mastery of the instrument. You will have the chance to grow into a professional with your own strong artistic vision.
The kantele major focuses on versatile soloist studies, spanning different eras and genres as well as the development of extensive pedagogical skills. In your studies, you will also learn more about chamber music, free accompaniment and improvisation, ergonomics when playing, as well as the history and modern state of kantele. The programme gives you the opportunity to work with composers and composition students and learn about how to incorporate electric kantele and music technology in your music. You will also become acquainted with the structure and maintenance of kantele.
Bachelor's studies focus on general courses in music theory and history, for example, as well as kantele studies with more specialised themes.
As a master's student, you will have the option to choose courses more freely, and you can also choose courses organised by the other two academies of the University. You can complement your degree by completing courses in jazz, folk music and early music, as well as in composition and arrangement.
After graduating as a professional kantele player specialising in classical music, you can work as a soloist, chamber musician or kantele teacher, or alternatively in other jobs that require expertise in music and the arts.
Teachers
Our teachers are some of the best experts in their respective fields. In addition to the permanent teaching staff, the programme welcomes international top experts as guests on a regular basis.
Applying
Our University is one of the most sought-after places to study in Finland. Browse the admissions statistics from previous years.
Doctoral studies
It is possible to complete a licentiate and a doctoral degree at the University as a third-cycle degree. After graduating with a master's degree, you will have the option to apply for doctoral studies in music and specialise in research-oriented, artistic or applied doctoral studies.
You can apply to
---
Degree Programme in Classical Music Performance, main instrument: kantele
bachelor's and master's (5,5 years)
master's (2,5 years)
Target degree
---
Master of Music (MMus)
Unit
---
Sibelius Academy
Languages
---
English, Finnish, Swedish Read more about language skill requirements
Tuition fee
---
Annual tuition fee €5,000 for students from outside the EU and EEA countries.
Read more about tuition fees.
Application period
---
Next possible time to apply is in January 2022. Studies begin in August 2022.
Persons in charge
---
Niklas Pokki
Lecturer, Department Head
Ritva Koistinen-Armfelt
Lecturer, Teacher-in-Charge