Conducting (degree programme)
Leave your name in the history of Finnish music by studying symphony or wind orchestra conducting or choral conducting under the guidance of top-quality teachers.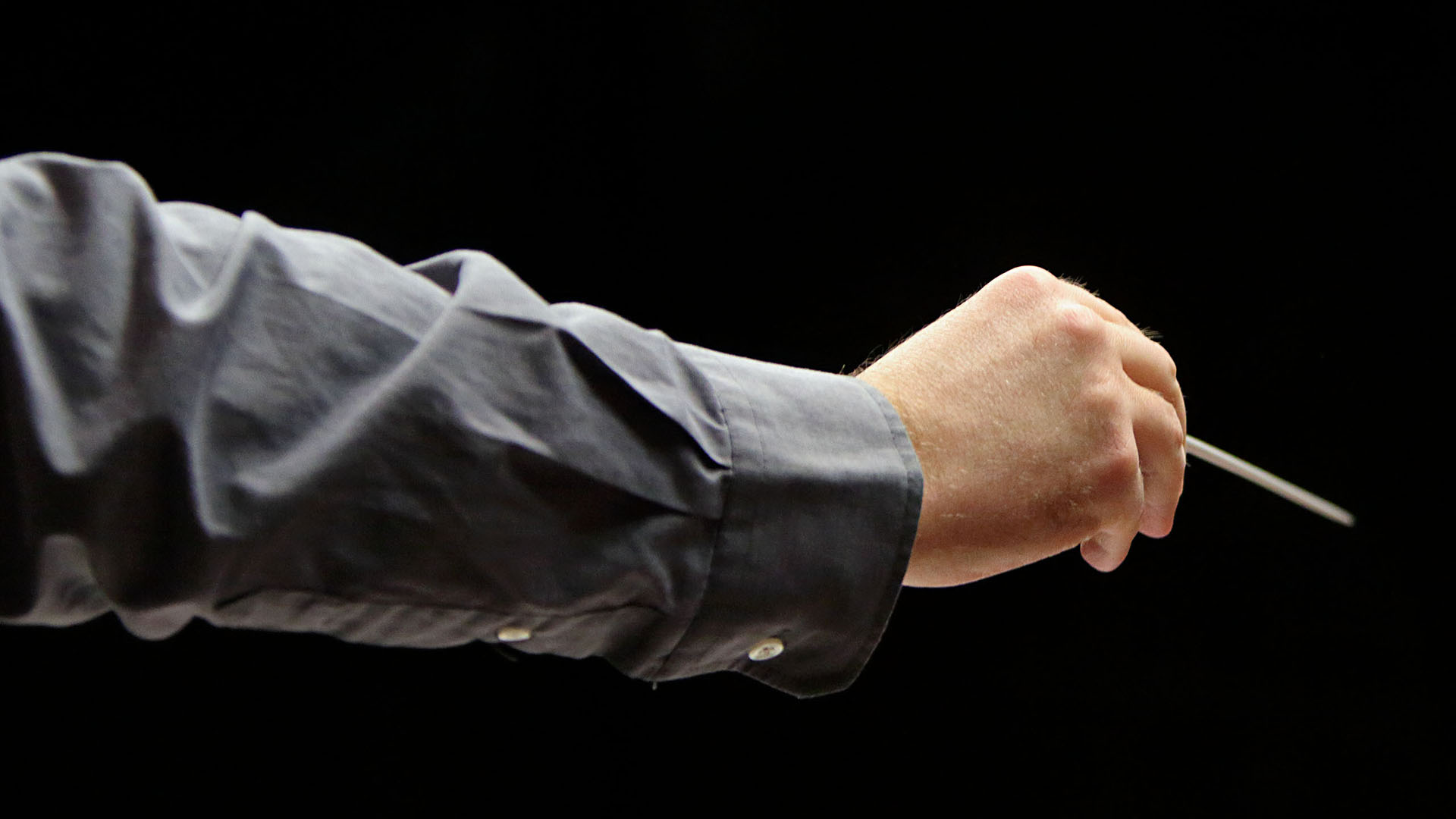 Why study here?
You will be able to study music conducting under the guidance of the most renowned conductors of the world at one of the best performing arts universities of the world. You will regularly work with a trainee orchestra, a choir consisting of professional singers and professional orchestras operating at the Helsinki Music Centre. This offers you all the support and tools that you may need from the very beginning of your studies. The orchestral and choral conductors who have graduated from the programme have went on to build impressive careers in the world's leading orchestras and choirs.
Content and objective of the programme
You will get to lead a trainee orchestra or a choir on a weekly basis, and some of your rehearsals are recorded on video. During the joint feedback sessions, you will be able to exchange thoughts and ideas on your work with your student colleagues and the supervising teachers. Regular collaborations with professional orchestras both in Finland and abroad serve as a bridge between studies and working life. These working methods make our education unique even by international standards.
The degree programme in conducting comprises a variety of subjects within music theory and conducting practice. With the help of studies that are tailored to fit your personal goals, you will acquire the skills needed to work in demanding roles in the field of music.
You can also choose courses organised by the other two academies of the University and complete so-called joint studies that are available for all students.
Orchestral conducting
As a student of orchestral conducting, your most important tool is the trainee orchestra, available to students for an average of twice a week. You will also get to lead Finnish orchestras on an annual basis. In your studies you will become extensively acquainted with the literature of orchestral music, different styles and their special features and interpretations, as well with musical theatre such as opera, ballet and musical plays. As part of your professional skill set you will also learn the administrative tasks of a conductor.
Over the course of its long history, the Sibelius Academy has educated a long and illustrious line of internationally renowned conductors. Sibelius Academy alumni include e.g. Mikko Franck, Hannu Lintu, Susanna Mälkki, Eva Ollikainen, Sakari Oramo, Jukka-Pekka Saraste, Esa-Pekka Salonen, John Storgårds and Osmo Vänskä.
As a part of Sibelius Academy's International Visitor Programme, established in 2019, Sir Roger Norrington was one of the ingternational esteemed artists invited to teach at the Sibelius Academy.
Choral Conducting
With choral conducting as your major, you will work with the Sibelius Academy's 16-member vocal ensemble ("Vokis") in your practice and degree concerts. You will perform with Vokis 3 to 4 times a year. As a student of choral conducting, you will study the history of choral music, choral literature from the 14th century to the present day, the conducting technique required for the most demanding choral music works, sound formation techniques in choral music during different stylistic periods, the special features of repertoires and sound formation in different types of choirs, and enunciation practices of foreign languages.
Graduates of choral conducting include e.g. Pasi Hyökki, Dani Juris, Juha Kuivanen, Heikki Liimola, Jani Sivén and Kari Turunen.
Vocal Ensemble Theatre of Voices is one of the international professionals invited to teach at the Sibelius Academy through the International Visitor Programme, established in 2019.
Wind orchestra conducting
You have the opportunity to choose between studying general wind orchestra conducting or specialising in military orchestra conducting. In your studies, you will become acquainted with the conducting techniques required for more demanding pieces in the wind orchestra repertoire, the extensive repertoire that exists for wind orchestras as well as its different styles, special features and interpretations. You will regularly get the opportunity to work with varying band compositions. Your weekly tool is the 12-17-member trainee wind band. Your class will also serve as visiting conductors for the Finnish Military Bands around Finland.
Teachers
Our teachers are some of the best experts in their respective fields. In addition to the permanent teaching staff, the programme welcomes international top experts as guests on a regular basis.
Applying to the programme
Applicants to the orchestral or wind orchestra conducting major are required to have versatile soloist skills and theoretical knowledge, as well as experience in ensemble playing. Applicants to the choral conducting major are required to have versatile soloist skills and theoretical knowledge, as well as experience in ensemble singing.
Our University is one of the most sought-after places to study in Finland. Browse the admissions statistics from previous years.
Doctoral studies
It is possible to complete a licentiate and a doctoral degree at the University as a third-cycle degree. After graduating with a master's degree, you'll have the option to apply for doctoral studies in music and specialise in research-oriented, artistic or applied doctoral studies.
Find out more
KapuTv is the Youtube playlist for orchestral, choral, and wind orchestral conducting studies. Esteemed teachers from both Finland and abroad guest star in the videos. Tune in!
You can apply to
---
Degree Programme in Conducting, major subject options: orchestral conducting, choral conducting, wind orchestra conducting
bachelor's and master's (5,5 years)
master's (2,5 years)
Target degree
---
Master of Music (MMus)
Unit
---
Sibelius Academy
Languages
---
English, Finnish, Swedish Read more about language skill requirements
Tuition fee
---
Annual tuition fee €5,000 for students from outside the EU and EEA countries. Read more about tuition fees.
Application period
---
Next possible time to apply is in January 2022. Studies begin in August 2022.
Persons in charge
---
Kaisa Holopainen
Department Head