Accordion (main instrument)
Study classical accordion in the leading programme in its field, in an international yet close-knit environment.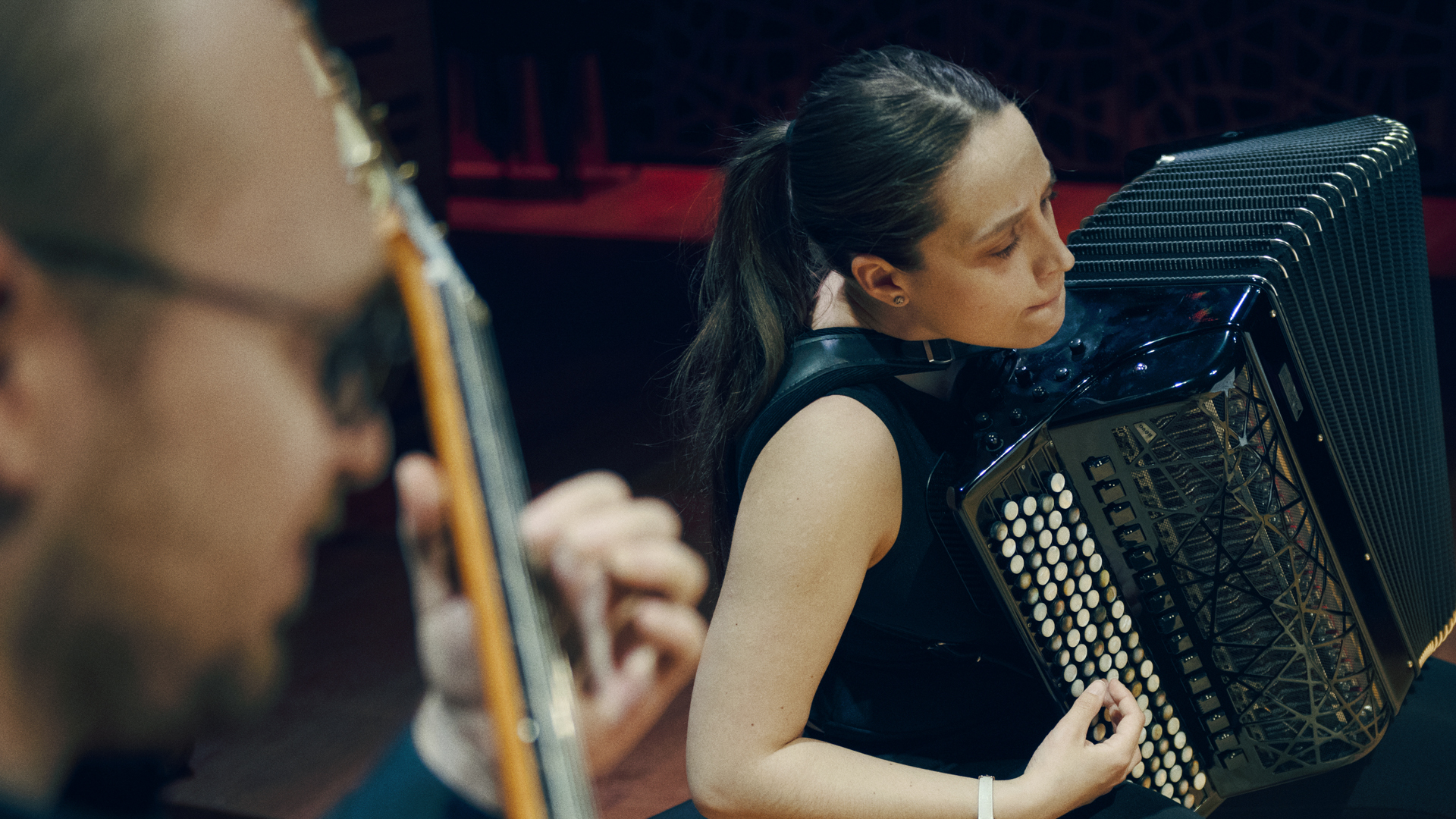 Why study here?
The Sibelius Academy's classical accordion training is considered one of the most distinguished in its field. For decades already, our alumni have worked in esteemed teaching positions around the world and gained success in numerous international competitions.
Content and objective of the programme
The objective of the education provided by the accordion department is to allow students to acquire a well-rounded expertise that respects their personality with the help of studies that best suit their interests.
The accordion major focuses on versatile soloist studies, spanning different genres and eras, as well as the development of extensive pedagogical skills. Additionally, the studies include chamber music, sight reading, free accompaniment and improvisation, as well as the repertoire of the accordion, ranging from the Baroque era to the modern day. Seminars and master classes are also organised on a regular basis as part of the studies.
Bachelor's studies
As a bachelor's student, you will practise soloist repertoire and complete studies in music theory and aural skills, music history and chamber music. For a period of two years, you will improve your accordion pedagogy on a weekly basis with your own practice pupil.
Master's studies
As a master's student, you will continue your soloist studies, study chamber music, general music studies, and communications, and improve your career and study skills. You can also select optional courses comprising 30 credits. For example, you may choose to complete pedagogical studies, giving you the qualifications to work as a teacher.
You can also choose courses organised by the other two academies of the University and complete so-called joint studies that are available for all students.
Upon graduation, you will have the skills and knowledge needed to work in demanding job positions as a soloist, pedagogue and chamber musician, for example. The music studies also give you a well-rounded foundation to take on other kinds of career paths.
Besides instrument studies, ensemble playing is also integral to the programme. The study environment is close-knit and community-oriented, yet international, and enriched by the presence of exchange students and degree students from all over the world.
Teachers
Our teachers are some of the best experts in their respective fields. In addition to the permanent teaching staff, the programme welcomes international top experts as guests on a regular basis.
Applying to the programme
Our University is one of the most sought-after places to study in Finland. Browse the admissions statistics from previous years.
Doctoral studies
It is possible to complete a licentiate and a doctoral degree at the University as a third-cycle degree. After graduating as a master, you will have the option to apply for doctoral studies in music and specialise in research-oriented, artistic or applied doctoral studies.

You can apply to
---
Degree Programme in Classical Music Performance, main instrument: accordion
bachelor's and master's (5,5 years)
master's (2,5 years)
Target degree
---
Master of Music (MMus)
Unit
---
Sibelius Academy
Languages
---
English, Finnish, Swedish Read more about language skill requirements
Tuition fee
---
Annual tuition fee €5,000 for students from outside the EU and EEA countries.
Read more about tuition fees
Application period
---
Next possible time to apply is in January 2022. Studies begin in August 2022.
Persons in charge
---
Niklas Pokki
Department Head
Veli Kujala
Lecturer, Teacher-in-Charge