A grant is a welcome recognition for a young artist
A grant awarded by the University of the Arts Helsinki Foundation has given visual artist Einari Hyvönen the opportunity to focus fully on making art.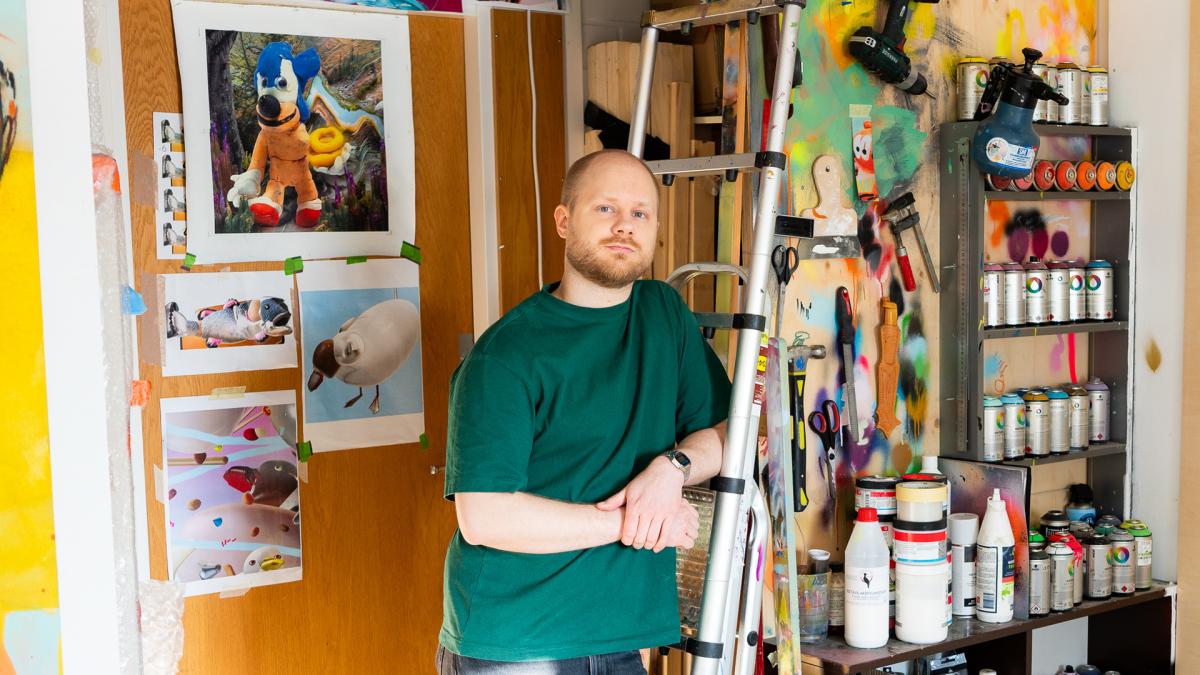 A former office in Merihaka, Helsinki, houses an army of spray paint bottles, oil and acrylic paints and brushes. Unfinished paintings are leaning against the walls. By the entrance, a large brown scroll is waiting to be transported to Milan.
– It contains four of my paintings that will go to a joint exhibition in Italy, explains Einari Hyvönen, 33, who is in charge of the studio.
Hyvönen graduated with a master's degree from the Academy of Fine Arts in 2021, and his career has started well. In May, a solo exhibition will open in Helsinki, and next year his work will probably be hanging in a solo exhibition in England.
After graduation, Hyvönen has been able to focus fully on making art. This is thanks to grants and customers. After graduation, Hyvönen received a grant of 4,000 euros from the University of the Arts Helsinki Foundation. At the same time, he struck lucky with a couple of other grant applications.
According to Hyvönen, the grant from the foundation enables full-time artistic work for 2 to 3 months. The money will be spent on supplies, renting a studio and living expenses.
Grants play a huge role for early-career artists such as myself.
– For me, the time after graduation has been extremely fruitful from the point of view of work. I have had room for experiments and mistakes. I have learned to accept that some works fail.
According to the young artist, mistakes and experiments are important, as sometimes mistakes are hiding a new insight, the beginning of something new and wonderful.
Had Hyvönen not received any grants, he would now be doing something else alongside artistic work: being a gallery attendant, putting stretchers together, working as an assistant for a more experienced artist. He would be creating his own art on the side. So far, the sales of his own work have not covered Hyvönen's living expenses.
A grant builds self-belief
But a grant is not just about money. Hyvönen emphasises that it is also a recognition of the work already done. A scholarship or grant makes you believe in yourself and what you do. It encourages you to set the bar higher.
Hyvönen has listed the grants he has received in his CV. According to him, they are also regarded as a merit in the eyes of the rest of the world.
– Ordinary art buyers do not look at the grants received. Instead, they buy a work of art because they love it or identify with it. Professional artists or art investors, on the other hand, may carefully study the grants given to an artist. They may indicate that this guy's already got a foothold.
And the grants an artist has previously received may be useful when new grants are allocated. The grants often go to the same recipients.
Hyvönen has noticed that the distribution of money is accompanied by a great deal of emotion. Some may be bitter when they receive an undesirable decision.
– I'm not upset if I'm not always lucky, and grants go to other people. Instead, I am pleased that we have an existing grant system. This is quite rare on the global scale. We have a small art market, but there has been a desire to support the creation of art. The grants also enable the creation of non-commercial art.
Hyvönen emphasises that applying for grants is a skill that develops gradually. These days, Hyvönen takes less than a week to finish an application.
– It's a bit like drafting a job application. For a working grant, you need a clear action plan with a schedule and, of course, good argumentation for why your work is so important that it deserves support. You need to be concise, as the grant reviewers have a lot to read. My first applications were just too long and verbose.
From Helsinki to the world
Hyvönen's colourful works that sometimes look metallic are inhabited by animal or robotic characters. Despite the joyful first impressions, he often deals with difficult topics that are personal and, at the same time, universal.
In his paintings, he has dealt with issues such as his father's death and getting back on his feet after a break-up. Global themes, such as the mass extinction of species, have also been transferred onto canvas.
– Helsinki may not be the best place for my kind of art. You see more art like this elsewhere in the world. My plan is to try to get my work into galleries abroad.
The young artist hopes that he would always have the next exhibition marked in his calendar, and that art would provide a livelihood for himself and his family, so that there would be no need to constantly think about money.
And in his wildest imagination, Hyvönen dreams of living in a city in Central Europe where it would be easy to travel to different countries to see major exhibitions. His dreams also include a hall-like workspace with large windows and plenty of space to make art.