Early Music (major subject)
Immerse yourself in the special characteristics of early music and period instruments with the help of the large instrument collection in world-class training that emphasises ensemble playing.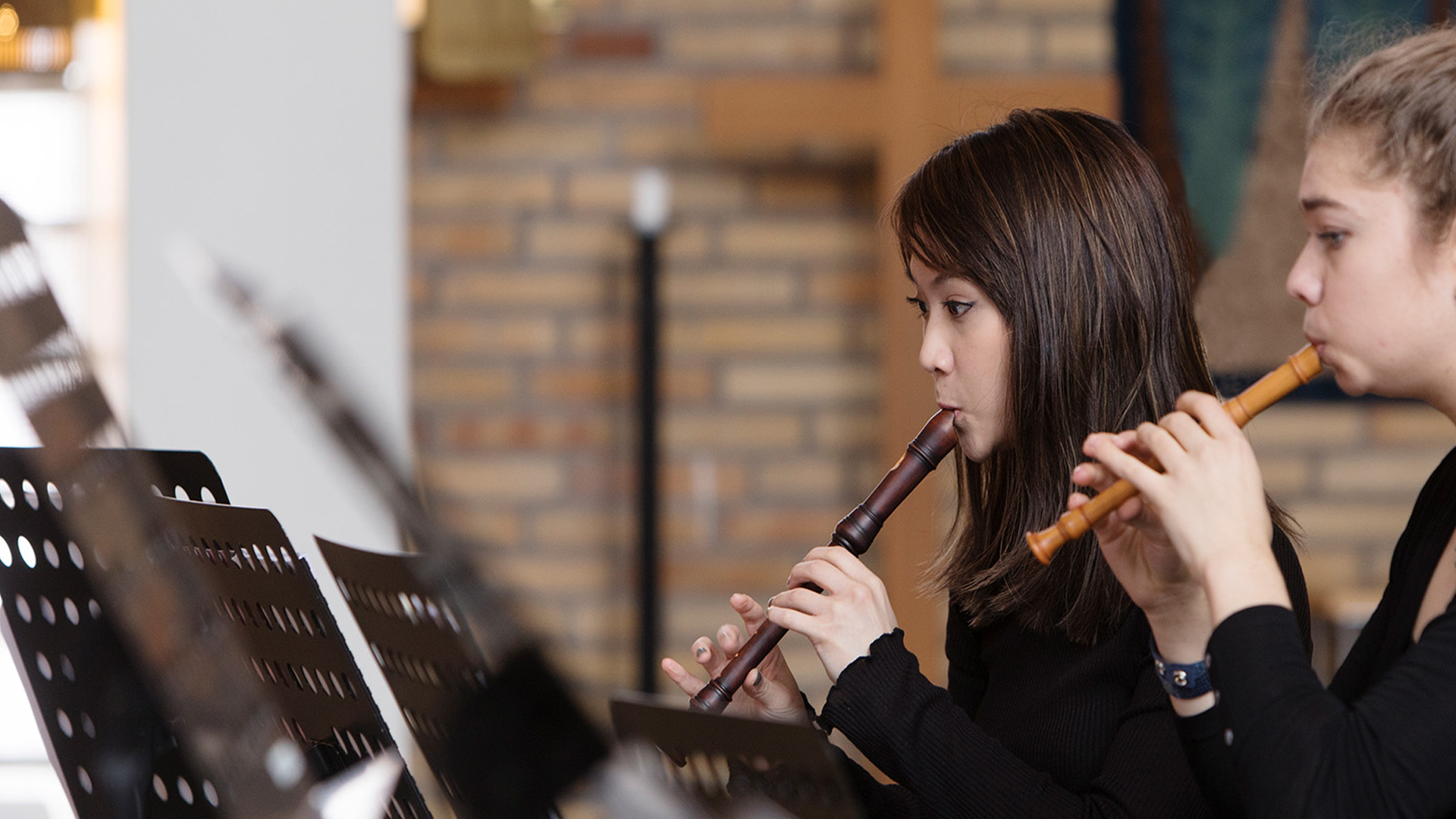 Why study here?
Come and study at one of the best performing arts universities of the world! As a student of early music, you will increase your knowledge of music from the renaissance to the romantic era, without forgetting contemporary music composed for period instruments. You will have access to a large collection of instruments, including the full range of baroque orchestra instruments and a collection of renaissance and classical instruments. We believe that ensemble playing is the best way to learn.
Content and objective of the programme
In the Department of Early Music, your main instrument is one of the following:
harpsichord
lute
viola da gamba
recorder
traverso
baroque violin
baroque cello
baroque oboe
baroque trumpet (master's student)
You can also study baroque singing and have baroque viola, baroque bassoon, natural horn, baroque trombone, violone, fortepiano or chlavichord as a secondary instrument.
You will gain an understanding of different musical styles and learn to work in different ensembles as well as in different types of roles as a musician. Mastery of your own instrument and performing in concerts is at the core of the studies. In addition to honing your solo repertoire, you will deepen your skills in ensemble playing in our own Baroque Orchestra and in different chamber music ensembles, for example.
We also organise several chamber music weekends with different themes in the Kallio-Kuninkala Centre in cooperation with the University's Open Campus and Collegium ry on a yearly basis. In 2020 and 2021, the programme's visiting professor will be harpsichord player and conductor Lars Ulrik Mortensen, and the visiting teacher will be baroque violinist Sirkka-Liisa Kaakinen-Pilch.
The studies prepare students for their career by combining artistry and research, seminar work and pedagogical studies. You may also study instrument pedagogy more extensively and complete pedagogical studies providing qualifications as a teacher. You can also choose courses organised by the other two academies of the University and complete so-called joint studies that are available for all students.
Bachelor's studies
During the first three years of studying for the bachelor's degree, you will not only study your main instrument and ensemble playing, but also musical perception skills, music history and pedagogy. Studying a secondary instrument is also a natural choice for students of early music. Optional studies are also included in the degree.
Master's studies
During your master's studies, you will continue studying your main instrument. Optional studies enable you to either develop your competence more broadly or select a focus for more in-depth study.
Teachers
Our teachers are some of the best experts in their respective fields. In addition to the permanent teaching staff, the programme welcomes international top experts as guests on a regular basis.
Applying to the programme
Our University is one of the most sought-after places to study in Finland. Browse the admissions statistics from previous years.
Doctoral studies
It is possible to complete a licentiate and a doctoral degree at the University as a third-cycle degree. After graduating with a master's degree, you will have the option to apply for doctoral studies in music and specialise in research-oriented, artistic or applied doctoral studies.
Find out more
The Sibelius Academy Baroque Orchestra has established itself as an important part of the Sibelius Academy's Department of Early Music. The Orchestra has concerts every academic term and engages in cooperation with other training at the Sibelius Academy, for example in the form of opera and oratorio productions.
You can apply to
---
Degree Programme in Classical Music Performance, major subject: early music
bachelor's and master's (5,5 years)
master's (2,5 years)
Target degree
---
Master of Music (MMus)
Unit
---
Sibelius Academy
Languages
---
English, Finnish, Swedish Read more about language skill requirements
Tuition fee
---
Annual tuition fee €5,000 for students from outside the EU and EEA countries.
Read more about tuition fees
Application period
---
Next possible time to apply is in January 2022. Studies begin in August 2022.
Persons in charge
---
Annamari Pölhö
Department Head, Lecturer, DMus