Safety measures concerning the use of Uniarts Helsinki facilities
These safety measures ensure the safe use of the facilities.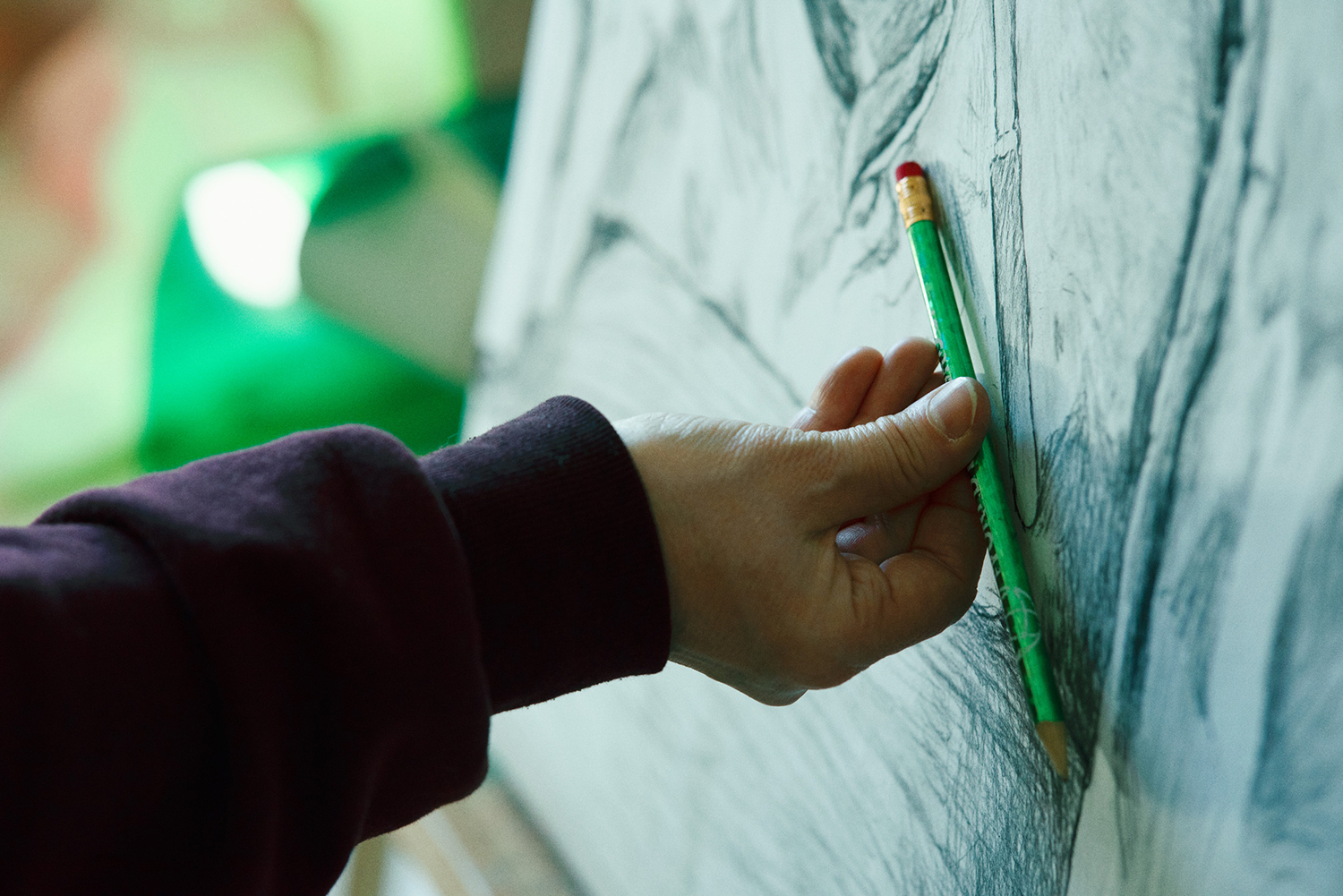 Updated 8 March, 2021
Protect yourself and others – keep a safe distance
You cannot come to the university if you are sick. If you have a fever, symptoms of a flu, stomach symptoms or other coronavirus-related symptoms, you cannot come on campus.
Maintain over 2 meters to everyone. Refrain from shaking hands or hugging and use alternative greeting methods.
Keep a safe distance to others when walking in stairways or through corridors. Instead of elevator, use stairs whenever it is possible.
Take care of good hand hygiene
Wash your hands with water and soap often and carefully, for at least 20 seconds.
Always wash your hands

when you come from the outside to indoors
before a meal
after going to the toilet
after coughing or sneezing

Use an alcohol-based hand sanitiser if washing your hands is not an option.
Do not touch your eyes, nose or mouth unless you have just washed your hands.
Cough and sneeze into a disposable tissue and put the tissue in the bin immediately after use. If you do not have a tissue, cough or sneeze into your sleeve, not into your hands.
Avoid all unnecessary touching of surfaces, handles, banisters etc.
Clean the surfaces of devices and other items that are in shared use
Clean the devices and items that are in shared use by wiping their surface with a soap and water mixture or with alcohol-based detergent. These are available near the work stations in the open-plan offices. More products are available at the info desks.
Before starting a practice session with an instrument, you can pick up the cleaning equipment and instructions from the info desk of the M, R, N and Kookos buildings.
Face masks
The main principle is that students and staff wear a mask in all situations whenever they are at the university and there are other people present and when they do not have a specific health-related reason to not wear a mask. Not wearing a mask should always be a separately calculated exception.
Uniarts Helsinki will provide staff and students with face masks. Masks are available from the info desks of the university's main buildings (M, N and R Building, Kookos, Academy of Fine Arts)
Procesure when infected
What to do if you suspect a coronavirus infection
When you have symptoms of a flu, stay at home immediately, because the infection risk is highest during the first 2–3 days, when it is important to avoid contacts with other people and to take care of good hand and coughing hygiene.
The THL website lists e.g. coughing, sore throat, fever, shortness of breath, muscle pain and headache as symptoms of a coronavirus infection.
Coronavirus testing of students
Contact your healthcare centre or emergency clinic by phone. You will be given instructions on what to do by a healthcare professional. For the time being, the FSHS does not provide coronavirus testing, because the duty is that of the public sector in accordance with the Communicable Diseases Act.
The residents of Helsinki and Espoo can do a check-up and book an appointment for a test in the online Omaolo.fi service. The residents of Uusimaa can review their symptoms and book a coronavirus test using the Coronabot service.
Guidance
National telephone service
​General information about the coronavirus: 0295 535 535
Guidance for the residents of Helsinki concerning the coronavirus offered by the City of Helsinki: 09 310 10024. The phone service is open Monday through Friday at 7:00-20:00. Outside of these hours, the number is 116 117.
Coronavirus testing of university personnel
You can contact Mehiläinen's Digital Clinic or phone service:
Phone number of Mehiläinen's OMATyöterveys health service: 010 414 0777
Mehiläinen's information on the virus can be found on their website. A coronavirus test is taken if a doctor at the Digital Clinic or at a respiratory infection clinic so decides based on the patient's symptoms that could match an infection caused by COVID-19.
If you get sick and/or your test result is positive
If your coronavirus disease has been confirmed, stay at home for at least 10 days and avoid close contact with other people. If the test result is positive, the infectious disease authority in your home municipality will contact you and give you quarantine instructions.
If you receive a positive test result in a coronavirus test, inform the university's on-call coronavirus coordinator without delay:
korona@uniarts.fi
call the number 02 9447 4100 (no text-messages)
When you answer the questions of a tracing official of the Epidemiologic Operations Unit, tell that the contact person for coronavirus cases can be reached at the aforementioned address and phone number to help them with the tracing.
Also inform the head of your degree programme, department or subject area or your supervisor on the infection.
You may return to campus after your isolation has ended, however not earlier than two asymptomatic days.
A negative test result
The result of the test indicates the situation at the time of sampling. A negative test result does not rule out the possibility that you have become infected after taking the test, or that the infection is not incubating.
If the test has been taken due to symptoms, and symptoms have cleared or significantly reduced when the test results arrive, you can return to normal everyday life. If symptoms reoccur and/or you experience prolonged symptoms, it is important to get tested again.
Exposure to the coronavirus
The definition of exposure to COVID-19 is then a person has been in contact with someone with the infections within 48 before they develop symptoms (the exposed are investigated from two days before the symptoms) and 7 days after the symptoms have start developing. In asymptomatic cases the exposed are considered as persons who have been in contact with the infected person within 48 hours before their test and 7 days after the test.
The infectious disease authority in the municipality of residence of the infected carries out contact tracing, on the basis of which nearby contacts are considered as exposed and officially quarantined. Other persons who are not considered as close contacts may continue their life as normal. The university can as a precaution move a student or an employee to study or work remotely when the exposure has happened at the university and decisions from the infectious disease authority are still being expected.
If a person has been ordered to quarantine by the doctor of communicable diseases, a negative test result is not sufficient grounds for ending the quarantine, and the person must stay away from the campus for the time period ordered by the doctor of communicable diseases.. You may go back to your normal life after the quarantine.
If an exposed person develops symptoms that may refer to coronavirus disease, they will be referred to a test. People without symptoms are not tested. Even if the quarantine ends, you may return to campus only after the symptoms are gone.
What to do you if you receive an alert of potential exposure in the Koronavilkku app
If you receive an alert of potential exposure, the app will give you instructions e.g. on how to seek a coronavirus test. It is important that you monitor your health during the next 14 days, avoid contact with people and take care of good hand and coughing hygiene. You can come to the university if your studies or work require on-site presence. We do, however, recommend that students agree on the matter with the head of their study field/degree programme/subject area and that staff members discuss the matter with their supervisor.
Please contact the healthcare services in the omaolo.fi service or by phone so that it can be assessed whether you should get tested. Anyone who has symptoms should get tested immediately. Even people with no symptoms should contact the healtchare services by completing the check-up in the Omaolo service or by consulting a healthcare professional by phone. Monitor your health until the notification of an exposure is no longer valid or get tested for COVID if you have symptoms even if you have previously received a negative test result when you did not have symptoms.
Process for dealing with COVID-19 infections among students and employees:
The Epidemiologic Operations Unit of the municipality traces transmission chains and places those who have been exposed in quarantine. We assist the authorities in this tracking work in accordance with their instructions.
With support from the on-call coronavirus coordinator, the supervisor is tasked with sending an email on the confirmed coronavirus case and possible exposures to the infected person's immediate study or work community. We publish a status update on case numbers on Artsi once a week.
As a precautionary measure, Uniarts Helsinki may recommend students and employees who have been in close contact with the infected person to completely switch over to remote learning and working for 10 days.
Process for dealing with COVID-19 infections in connection with events:
The Epidemiologic Operations Unit of the municipality traces transmission chains and places those who have been exposed in quarantine. We assist the authorities in this tracking work in accordance with their instructions.
If a person is diagnosed with coronavirus and if other people have possibly been exposed to the virus, this will be announced via the university's communication channels. Possible media enquiries should be forwarded to the communications team.
We negotiate with the Epidemiologic Operations Unit and follow their instructions.
Further information