Frequently asked questions about preventing the spread of the coronavirus at Uniarts Helsinki
Updated 27 August at 15:25.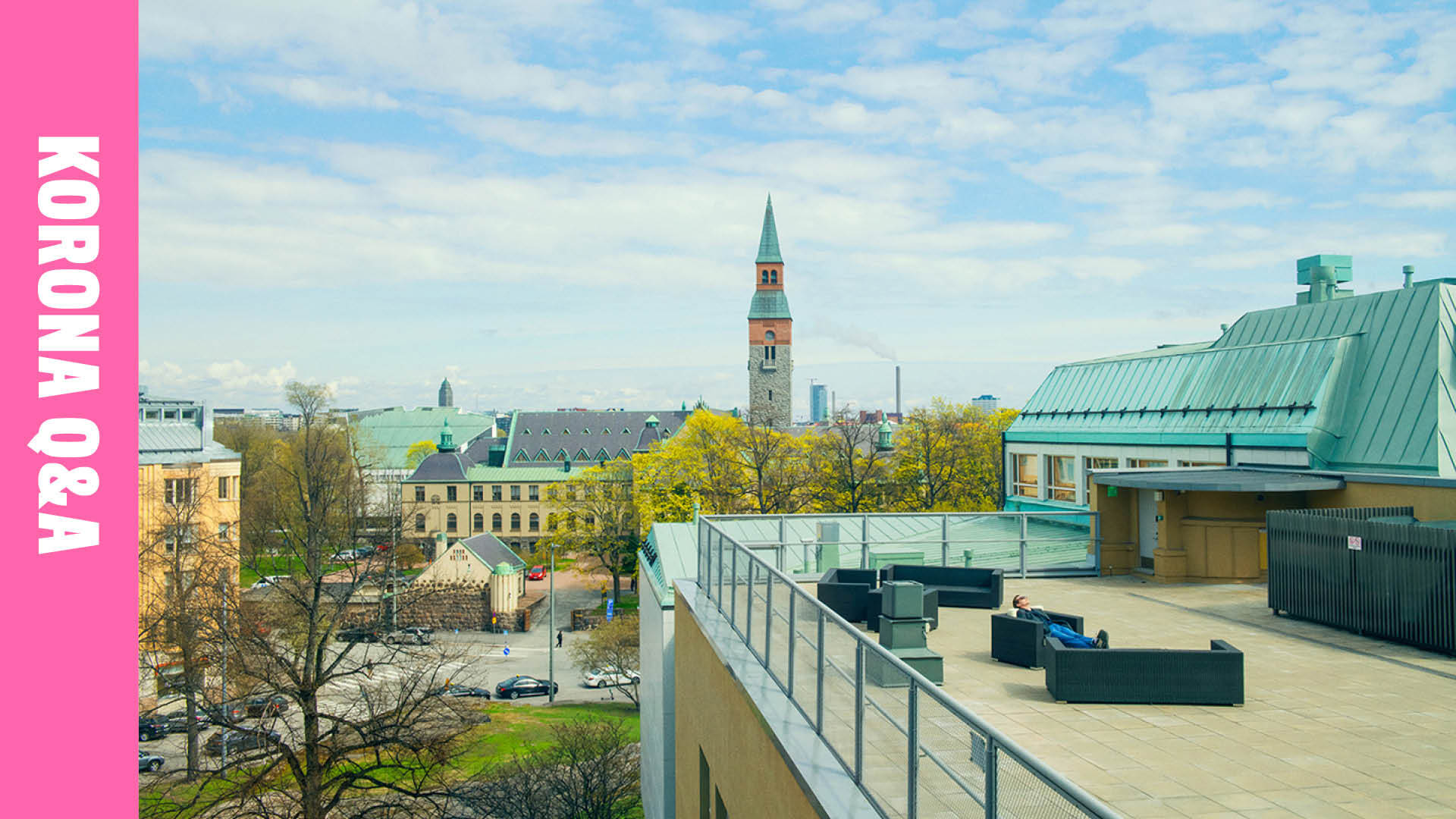 We are updating current information and instructions for the bulletin How coronavirus affects the University, the article is updated regularly.
Study
How do I know if my course will be held online or on University premises?
Teachers and Student Services will inform students about teaching arrangements. Changes are also currently being updated for the Pepi study guide.
Not all students have a computer of their own that is needed in remote learning. Is it possible for the university to provide monetary support for acquiring a computer?
At present students can make use of the equipment in the university's IT classrooms.
University students are expected to acquire various goods and materials needed in their studies, and a computer is included among these. However, the university is examining various options for supporting students in the matter.
Teaching
Do teachers need to keep track of students participating in their teaching?
A list of participants who have registered for the study unit is available from Oodi, if needed. In some of the study units the teacher monitors attendance by students in connection with classroom instruction as part of teaching. Those on the premises can also be listed based on passes that are issued, so the teachers do not need to keep separate records of students at this stage because of the coronavirus situation.
Procedure when infected
What should I do if I suspect that I have an infection?
When you come down with flu symptoms, the first thing to do is to stay at home, because contagion is at its highest on the first 2-3 days, during which time it is important to avoid close contact with other people and to ensure good hand hygiene and caution when coughing. You can find more instructions in the main corona news How coronavirus affects the University
How long must I stay away from the university if mild corona symptoms emerge?
If coronavirus symptoms emerge, get in touch with the Mehiläinen Digital Clinic, or call the number for telephone reservations (personnel) to get a coronavirus test. Students can contact the Self online service or telephone reservation number of the Finnish Student Health Service (FSHS) or their own municipal health clinic. You can find more information in the main corona news How coronavirus affects the University
If you test negative and you have no more symptoms, you may return to your normal daily routine. If symptoms continue, or if they re-emerge, voluntary quarantine should be continued, and you should not come to the university. It is recommended that you stay at home for at least one symptom-free day before resuming your everyday routine.
Who should I contact if rumours start flying about possible coronavirus cases and if the media approaches personnel or students?
Possible media requests should be directed to communications.
Information about an infection or suspected exposure falls under privacy protection, and a person's health information may only be handled by those who have it as part of their job. The university will inform employees and students on a general level about a possible infection or suspected exposure after learning of it and will instruct the people to work from home.
Persons who have been infected are urged to report their infection unprompted to those with whom they have been in close contact recently. However, in Finland those who are infected are not obligated to report the matter to anyone other than a doctor investigating the matter, and the doctor will launch an investigation to track down the possible chain of exposure as required by the Communicable Diseases Act.
Facilities
Has cleaning and ventilation of university facilities been upgraded in the corona period?
We have upgraded the cleaning and ventilation of every building.
Are the gyms and saunas on university premises open like normal?
The gym of the Theatre Academy will be opened, but the number of visitors is to be limited and equipment is being rearranged to ensure safe distancing. Spray disinfectant and wipes will be available at the gym. Saunas will not be in use in the coronavirus period.
Can the windows of the buildings be opened?
Unfortunately, the windows of buildings in the main facilities cannot be opened because this would interfere with automatic ventilation.
Can the formation of aerosols be prevented by singing straight in the direction of exhaust air, for example?
Singing into an exhaust air valve does not significantly add to safety, and mainly causes ergonomic problems. It is most important to maintain the indicated distances between people and to consider the number of people in the space.
Is it possible to completely eliminate the circulation of indoor air from classrooms where teaching takes place?
Unfortunately, this is not possible. However, the indoor air in our facilities is as clean as possible, as there are separate machines that bring in air and remove air from the building. This means that aerosols do not circulate through the same machine.
Personnel matters
Does Uniarts Helsinki require a certificate of absence for temporary nursing leave (5 days) or sick leave (6 days) in situations in which getting a coronavirus test result is delayed?
If access to a coronavirus test or getting the results of the test is delayed, it is possible, with the permission of a supervisor, to stay away from work until the result has come and/or the person has recovered.
Can the number of parking spaces for personnel be increased temporarily to make it easier to come to work by car?
Unfortunately, the university is not able to increase the number of parking spaces. There are parking facilities near each main facility (the M, N, and R buildings as well as Botta, Kookos, and Elimäenkatu) where it is possible to ask about available space for weekday parking.
Can shared workstations be temporarily relinquished and taken into personal use?
Shared workstations can be reserved for one working day at a time in the pandemic period. When the work is over the workstation is cleaned for the next user using substances acquired for this purpose. The university also recommends cleaning the workstation before starting work.
The unnamed workstations allow for sufficient distance in multifunctional facilities. If the facilities have designated workstations for employees, the employees must ensure in other ways (such as shift arrangements) that sufficient distances are kept for purposes of safety.
Events
Can exhibition openings be arranged by invitation?
Uniarts Helsinki's coronavirus readiness group has taken the view that no events with more than 50 invited guests are to be held. Events with fewer than 50 participants may be arranged if safety instructions are given, and if those instructions are obeyed.
Remote work
How does Uniarts Helsinki support ergonomics in remote work?
Even if no devices specifically designed with remote work in mind are available, it is possible to ensure good ergonomics also at home. Symptoms caused by poor working postures are usually caused by working too long in the same position. It is important to remember to change positions and workstations throughout the day and to take enough breaks in general.
The university is offering its personnel and students the BREAK PRO break exercise programme for mobile devices. The programme is a tool designed by physiotherapists for breaks in work to improve ergonomics and increase well-being at work through activation and giving reminders to take breaks.
Other measures to support ergonomics in remote work are currently under consideration.