CANCELLED: W.A. Mozart: Così fan tutte
Koomisen oopperan klassikkoteos, Così fan tutte nähdään Sibelius-Akatemian oopperan ja orkesterin esittämänä.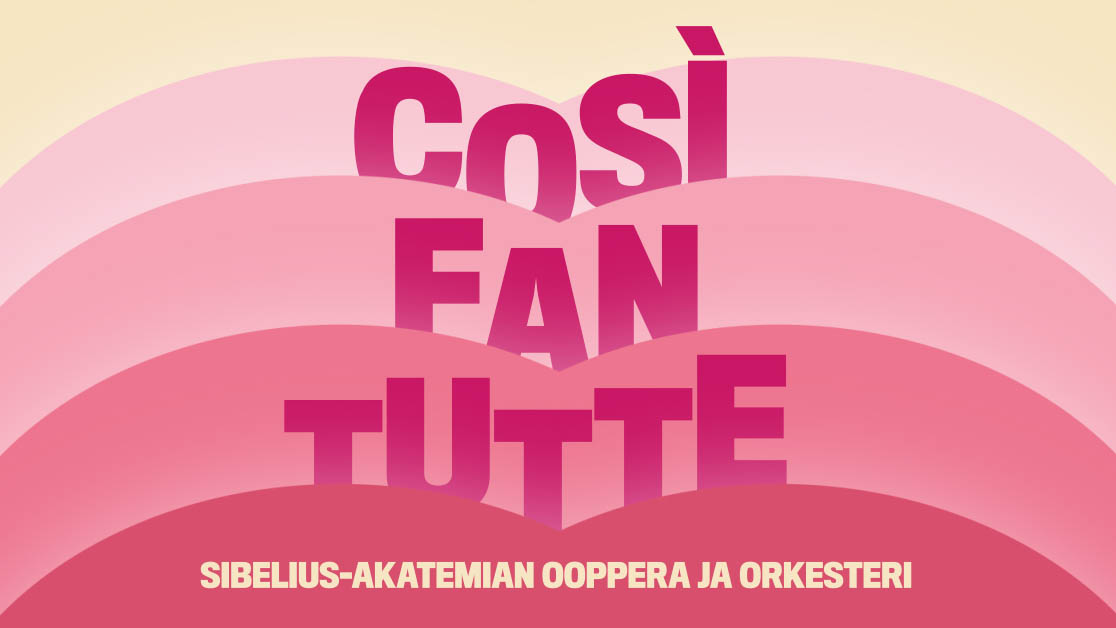 The Sibelius Academy concerts have been cancelled until 31.5.
The risk of coronavirus infection has increased around the world. Following the Finnish government's announcement, all Finnish universities will close their facilities as of Wednesday, 18 March 2020. The government's decision will be in effect until 13 April 2020 and The Sibelius Academy concerts have been cancelled until 31.5. Ticket refunds are handled by Ticketmaster.
Instructions for returning tickets: http://bit.ly/2QpDGkC
Vedonlyönnin tuloksena Don Alfonso punoo juonen, jotta saisi todistettua uskollisen Dorabellan ja Fiordiligion uskottomuuden – ovathan kaikki naiset hänen mukaansa hairahtuvaisia. Tästä asetelmasta syntyy ihmissuhdekiemuroita ja valepukuja täynnä oleva teatterileikki, jossa sääntöjä ei ole. Oopperailottelun kruunaa Mozartin nerokas ja kupliva musiikki.
Sibelius-Akatemian ooppera ja -orkesteri
Markus Lehtinen, James Sherlock, musiikinjohto
Vilppu Kiljunen, ohjaus
Markus Tsokkinen, lavastussuunnittelu
Anna Sinkkonen, pukusuunnittelu
Tuija Luukkainen, maskeeraussuunnittelu
Sirje Ruohtula, valosuunnittelu
Esityskieli: italia. Esitys tekstitetään suomeksi.
W. A. Mozart
Muut näytökset:
Ensi-ilta to 2.4. klo 18.30–21.30
Pe 3.4. klo 18.30–21.30
La 4.4. klo 16.00–19.00
Ma 6.4. klo 18.30–21.30
Ti 7.4. klo 18.30–21.30
Ke 8.4. klo 18.30–21.30
Lisätietoja: Mirka Rättyä, mirka.rattya@uniarts.fi