Vi­si­ting Ex­perts: Eva Neklyaeva
Curatorial strategies in performing arts.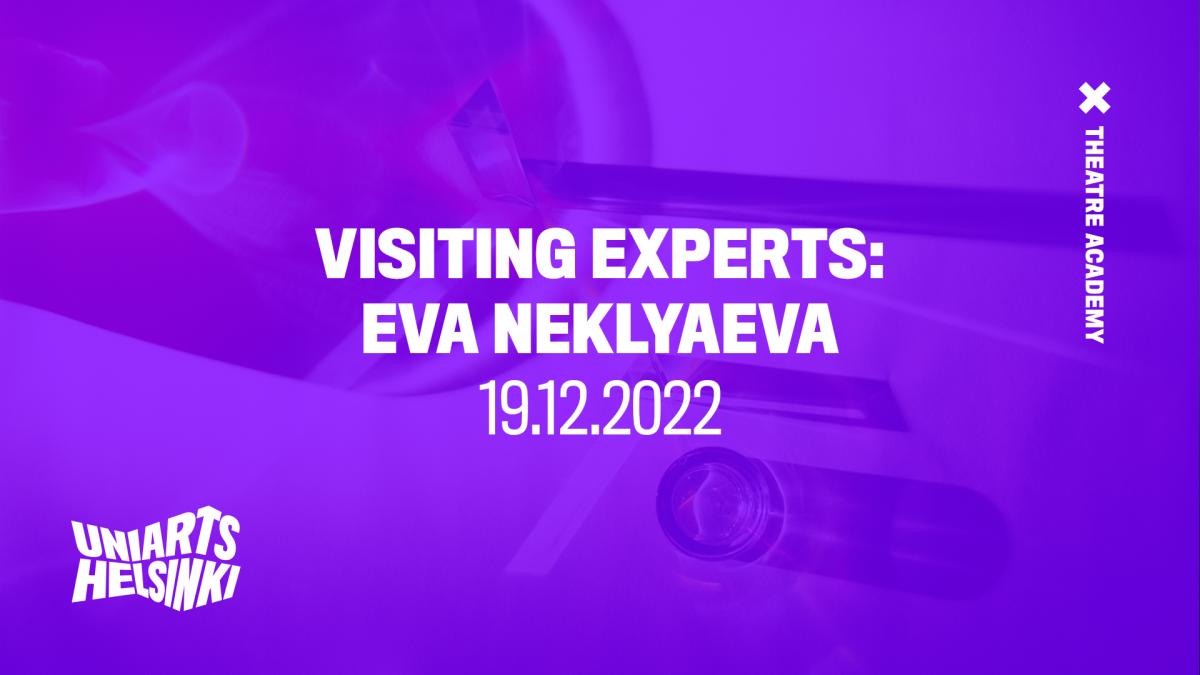 Eva Neklyaeva is a curator based in Milan. Eva is concerned with the questions of freedom and focuses her practice on exploring these questions across performing art, politics and sexuality.
For the lecture at Theatre Academy, Neklyaeva presents some of the key concepts in her curatorial approach, such as collective body of the audience, curation as desire, emotional dramaturgy and others, using the projects she has curated over the years as case studies.
At the moment, Neklyaeva is co-curating Samara Editions – performances by post; as well as SPIELART Theaterfestival in Munich. Additionally, Eva teaches curating in the performing arts field at IUAV University in Venice, and writes about the practice. You can read her latest texts on various-artists.com.
Previously, she has curated "With Pleasure" (2019) – the only art program that improves your sex life, as a guest curator for Vooruit, Ghent. In 2017-2019 Eva curated Santarcangelo Festival, the oldest Italian festival dedicated to the contemporary performing arts, presenting and producing an immersive, loud, radically anti- disciplinary program in a small town between the hills and the sea.
Her previous positions included Director of a contemporary art organisation Checkpoint Helsinki, an institution with a passion for finding new ways of producing, presenting and communicating art for the city and its residents. Before that, she had been running Baltic Circle International Contemporary Theatre Festival for six years. Under her leadership, the festival became an acclaimed international platform and laboratory for emerging multidisciplinary performance. In 2014, Neklyaeva co-founded Wonderlust – a festival of diverse and creative sexuality that took place every June in Helsinki for 6 years.
For her work, Neklyaeva received two TINFO awards for innovation in theatre field, Finnish PEN's Freedom of Speech award as well as Finnish Sexologists Association's award for promotion of sexual wellbeing.
Neklyeva is invited by Theatre Academy lecturer Imanuel Schipper.
Visiting Experts
The open lecture is part of the Visiting Experts series where international experts in the arts and sciences, invited by the Theatre Academy, share their knowledge.