The Sibelius Academy Opera: The Telephone and A Dinner Engagement
The Sibelius Academy Opera brings British and Italian opera to the stage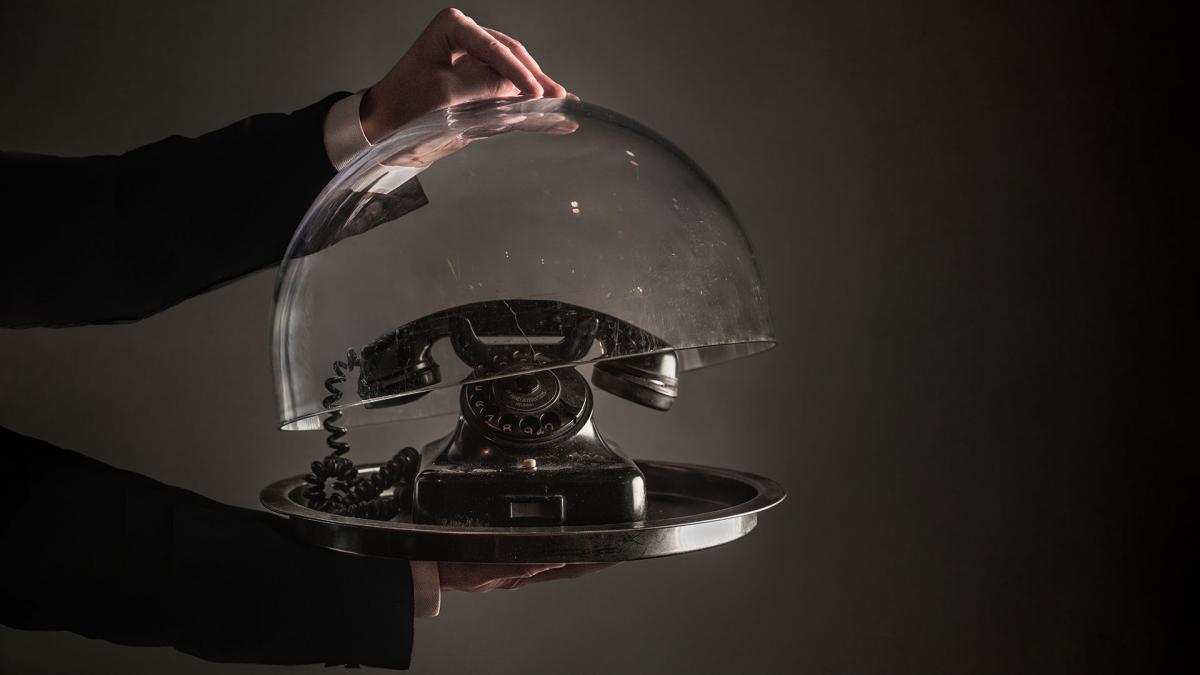 6 PHONE CALLS AND 1 DINNER
This double bill of mid-20th century operas provides a delightful evening of romance, wit and drama.
Menotti's short opera The Telephone depicts the attempts of Ben to propose to Lucy, repeatedly thwarted by her conversations on the telephone. He presents her with a gift, he prepares, and then… the phone rings! Why can't Ben tell Lucy how he feels? Why is Lucy more excited by talking to an absent other rather than to the person right in front of her? This playful piece examines these questions through a fast-moving text and a tuneful score full of twists and turns.
A Dinner Engagement by Lennox Berkeley is a tender comedy of manners, exploring the relationships of parents and their adult children. Full of nostalgia for their time in the fictional Grand Duchy of Monteblanco, Lord and Lady Dunmow are making the best of their reduced living situation in a small London flat. They have recruited the help of Mrs Kneebone, and are preparing for a visit by the Grand Duchess herself, accompanied by her son, Prince Philippe. The Dunmows hope that romance might blossom between the Prince and their daughter Susan, thus providing her with a life they themselves cannot give her. Featuring an exceptionally witty score with a huge variety of musical styles (plus food preparation live on stage!), this operatic meal is a real treat.
The performance will be in English with Finnish subtitles.
Performers
Gian Carlo Menotti: "The Telephone"
Lucy – Johanna Takalo / Júlia Pérez Arquillo
Ben – Olli Tikkanen
Lennox Berkeley: A Dinner Engagement
Lord Dunmow – Akseli Mattila
Lady Dunmow – Emma Hartikainen
Susan – Emma Mustaniemi
Grand Duchess – Fanny Henn
Prince Philippe – Aarne Mansikka
Mrs Kneebone – Ruusu-Maaria Brousseau
The Errand Boy – Emmanuel Yoque
Orchestra
Trumpet – Anni Jääskeläinen
Bassoon – Aaro Lehtovaara
Oboe – Anna Mantere
Flute, Piccolo, Alto Flute – Katja Ceder
Horn – Tatu-Pekka Paukkunen
Clarinet, Bass Clarinet – Markku Luuppala
Harp – Flora Antropius
Piano – Olga Nevalainen
Percussion – Samuli Vehkavaara
Violin 1 – Pia Pelkonen
Violin 2 – Pia Pulkkinen
Viola – Matti Lindholm / Pia Sävelkoski
Cello – Jani Metso
Double bass – Josh Baker / Paula Nääppä
Artistic working group
Victoria Newlyn, direction
Marianna Metsälampi, assistant director
Markus Lehtinen & Erle Kont, music direction
Mikko Elonen, set design
Pia Lasonen, costume design
Eero Erkamo, light design
Tuija Luukkainen, makeup design
Additional information: producer Joonas Mikkilä, joonas.mikkila@uniarts.fi
Mannerheimintie renovation project
Mannerheimintie renovation project will begin on March 6th between the Postikatu and Runeberginkatu streets.
Access to the Musiikkitalo from the direction of Mannerheimintie will be difficult. We recommend that you allow enough time for your arrival and use the entrance on the side of Kansalaistori if possible. According to current information, the entrance to Mannerheimintie will also remain in use throughout the renovation, but pedestrian routes can be challenging at times.
We recommend following the official information channels of the renovation project, where you can find the most up-to-date information.