Online event: Suor Angelica & L'amico Fritz
This double bill is formed by Giacomo Puccini's emotionally grandiose Suor Angelica and Pietro Mascagni's comic opera L'amico Fritz. In Suor Angelica, Puccini's heartfelt score sets a tragic tale of maternal love, redemption and grace.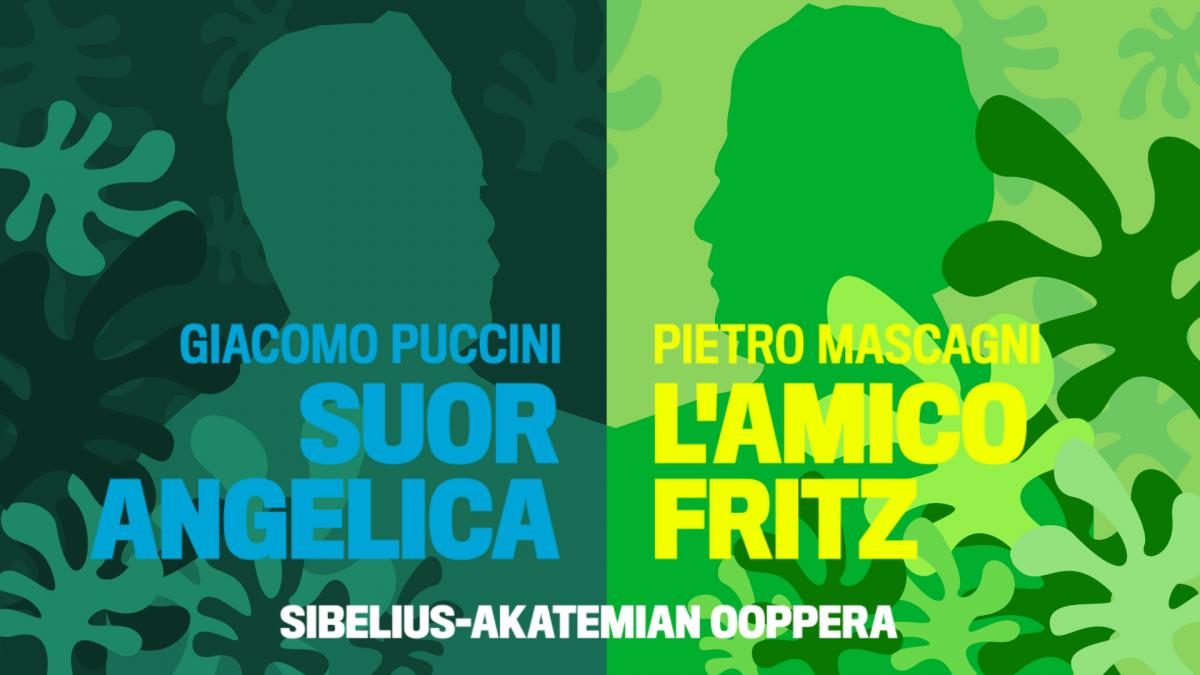 There will be two recordings available of these operas. The operas can be viewed as recordings on the Uniarts Helsinki's Youtube channel from 7 May to 6 June 2021.
In L'amico Fritz, the title character declares himself a perpetual bachelor, only to be blindsided by his feelings for the lovely Suzel.
The title character in Suor Angelica is a noblewoman who bears a child out of wedlock. As punishment, she is ordered to enter a convent. When her aunt, Zia Principessa, visits the convent, Angelica believes that she has completed her punishment and will be allowed to return home. But the news her aunt brings changes her life forever. Puccini wrote an achingly emotional score to frame this tale of maternal love, repentance and grace.
L'Amico Fritz is a comic opera by Pietro Mascagni, where the title character is a landowner who is happy with his life as a bachelor and could not care less about marrying. But thanks to a bet and an intrigue devised by his friend David, Fritz begins to have feelings for the lovely Suzel, rather to his surprise. Suzel also secretly realises that she is attracted to Fritz. But how can they declare their feelings, since Suzel – according to David – is already betrothed to another man?
Sibelius Academy Opera

Markus Lehtinen, conductor
Johanna Freundlich, director
Emilia Eriksson, costume designer
Tuija Luukkainen, makeup designer
Jukka Kolimaa, lighting designer

Suor Angelica
Suor Angelica: Manon Gleizes / Maria Turunen
La Zia Principessa, Aunt, Princess: Olivia Kyllönen
La Badessa, The Abbess: Elisabet Petsalo
La Suora Zelatrice: Rachel McIntosh
Suor Osmina: Eeva Suvanto
Suor Dolcina: Laura Ruusumaa
Suor Genovieffa: Ruut Karhula
Suor Lucilla: Sofia Majanen
La suora Infermiera, The Nursing sister: Emma Hartikainen
Cercatrice, The Alms sister: Wilhelmína Tómasdóttir
Cercatrice, The Alms sister: Aleksiina Turtiainen
L'amico Fritz
Fritz Kobus: Jasper Leppänen / Tuomas Miettola
Suzel: Iris Candelaria / Stella Tähtinen
David: Luke Scott
Beppe: Ruut Mattila
Federico: Aarne Mansikka
Hanezò: Janne Sihvo
Caterina: Olivia Moss
Opera students at the Sibelius Academy perform in four full-scale productions in the course of their studies and in one dramatised concert with piano accompaniment. The opera productions are staged with the assistance of Finnish and foreign professionals of opera and of the stage.
Further information: Mirka Rättyä