SibA Research Days
Welcome to the annual showcase for the doctoral studies at the Sibelius Academy!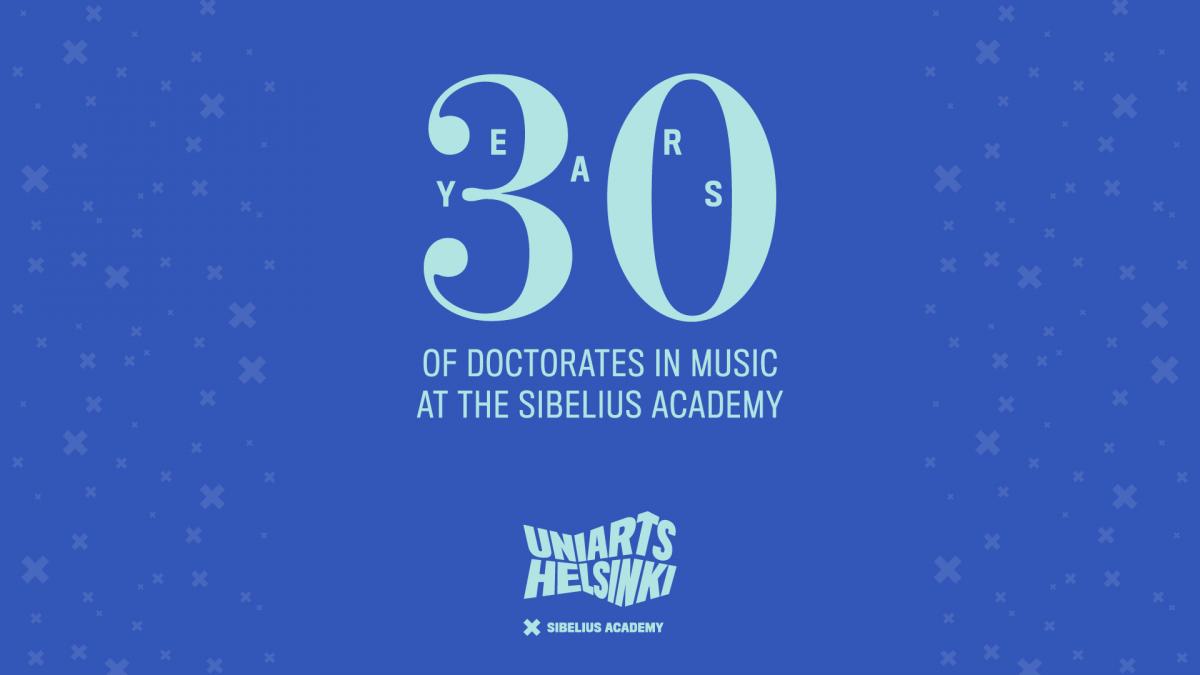 The SibA Research Days provides a space, where students and teachers from various artistic, scientific and applied research disciplines come together to learn from and connect to one another; to discover and examine similarities and differences; to collaborate on problem-solving and shared areas of interest.
In 2020, the SibA Research Days, organised March 10 to 11 2020 in Helsinki, celebrates the 30 years of doctoral education at the Sibelius Academy.
Enrol to join the event
SibA Research Days 2020 will be held in the Helsinki Music Centre. The working language is English, and all the events are open to all. Pre-registration has been required for Tuesday's coffee and social event as well as for Wednesday's After Lunch Concert and it ended on 28 February.
Programme 2020
Tuesday 10 March – Camerata Hall (9:45–17:00), Organo Hall (17:15-18:15)
09:45–10:00 Opening, Welcome, director of the MuTri Doctoral School Mikko Helevä
10:00–11:00 Session I, chair: doctoral student Tuulia Tuovinen (MuTri)
Spotlights on Doctoral Projects:
Taru Koivisto (MuTri): A journey within hospital musicians' hybrid professional space in the neonatal intensive care unit
Charles Quevillon (MuTri): Sacred Technology – How sanctifying technology makes sound performances more meaningful
Outi Niemensivu (MuTri): Sustainable internationalization of arts universities through extracurricular activities
Heidi Lehmuskumpu (MuTri): Strategic Fundraising – A Competitive Edge for Arts Organizations. Multiple case studies of international opera and ballet organizations
11:00–12:00 Session II, chair: doctoral student Eveliina Sumelius-Lindblom (DocMus)
Lecture-recitals:
Tuomas Kivistö (DocMus): Sergei Rachmaninoff and rooting in the first phrase of his Moment Musical Op. 16 No. 2 E-flat minor
Krishna Nagaraja (MuTri): Polska Travels: crossing boundaries
12:00–13:00 Lunch (not provided)
13:00–14:00 Session III, chair: doctoral student Pia Siirala (MuTri)
Lecture-recitals:
Gonçalo Cruz (MuTri): Forgotten Bagpipes – The Redesign of the Säkkipilli in Finland
Visa-Pekka Mertanen (MuTri): Expressive synthesizer & live-electronics setup in a jazz fusion band
14:15–15:15 Keynote: Some Remarkable Female Pianists in Finnish Music History, pianist, DMus Margit Rahkonen, chair: deputy director of the MuTri Doctoral School Saijaleena Rantanen
15:15–15:45 Coffee
15:45–17:00 Panel Discussion: Arts and Research Yesterday and Today, Assi Karttunen, Piia Kleemola-Välimäki, Cecilia Oinas and Lauri Väkevä, moderator: doctoral student Ville Komppa (DocMus)
Watch the panel discussion on Youtube
17:15–18:15 Session IV in Organo Hall, chair: doctoral student Samuli Korkalainen (DocMus)
Lecture-recitals:
Anna Pulli-Huomo (DocMus): Charles-Marie Widor's Symphony Romane in the Finnish Lutheran Divine Service
Kajsa Dahlbäck (DocMus): Singing-in-the-world – a phenomenological study on the singer's inner work
18:15–20:00 Social Event in Agora Hall
Wednesday 11 March – Black Box
09:30–11:00 Workshop: Funding for Your Work – What and How, senior research funding advisor Tiia Saarinen, UniArts, and senior advisor Veli-Markus Tapio, Finnish Cultural Foundation
11:00–12:00 Keynote: Between Practice and Theory: Performance Studies and/as Artistic Research
Professor John Rink, Faculty of Music, University of Cambridge, chair: professor Mieko Kanno
Watch the keynote on Youtube
12:00–13:00 Lunch (not provided)
13:00–14:00 After Lunch Concert in Hakasalmi Villa (Mannerheimintie 13b, next to the Music Centre)
Marianna Henriksson (DocMus), harpsichord: …Che sonando appariscono – Girolamo Frescobaldi's contrasting affects, speaking toccatas
Emilia Lajunen (MuTri), 5-string fiddle, nyckelharpa: From the Deceased – Dance and movement combined with solo fiddle music based on Kalevala tunes of the East and 19th century fiddle tradition of the West.
14:30–16:00 Session V, chair: doctoral student Olga Heikkilä (DocMus)
Conference Papers:
Hanna Fontana (MuTri): Vissi d'Arte, work as passion and calling. Narrative study of the work and careers of performing artists
Uljas Pulkkis (DocMus): Orchestration analysis with acoustical methods: a new visual tool for composers and conductors
Pauliina Valtasaari (DocMus): Social positions as a psychoanalytic tool in developing supervision and mental coaching method for professional musicians
16:00–16:30 Wrapping Up: University lecturer Anu Vehviläinen (DocMus)
Read the abstracts 2020
In 2020, the SibA Research Days features presentations of doctoral projects currently in the making.
Contact
Samuli Korkalainen
SibA Research Days Coordinator
samuli.korkalainen@uniarts.fi