Opening of Uniarts Helsinki's 2020–2021 academic year
The opening ceremony will be held on Thursday, 3 September 2020, at 15:00–18:00 outside the Helsinki Music Centre.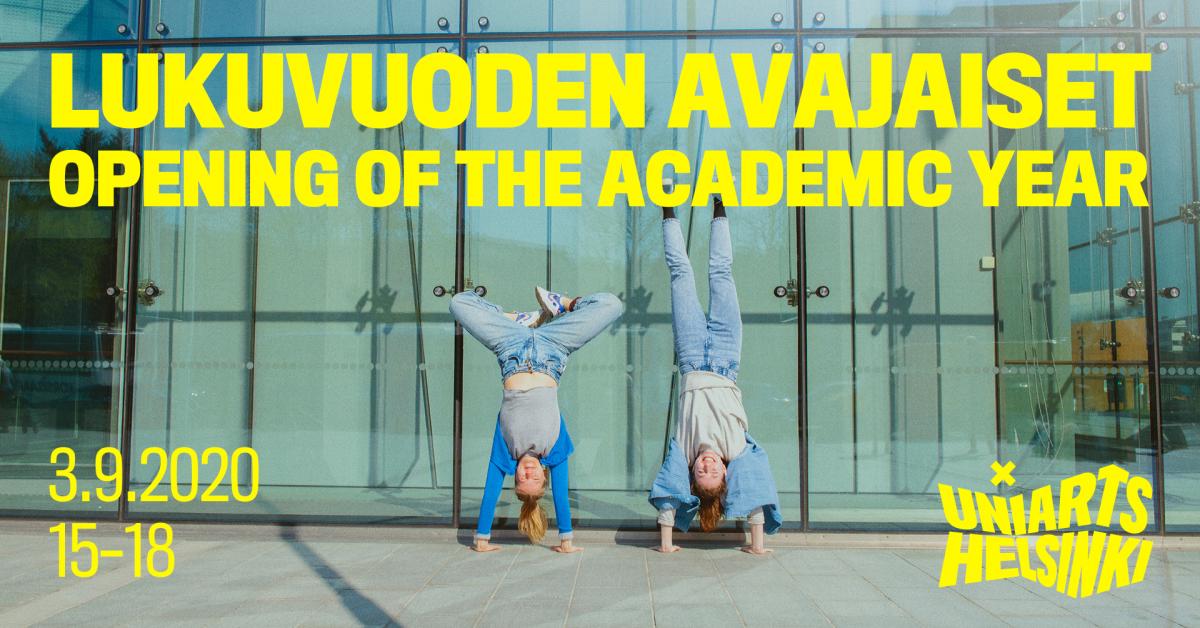 You can watch a live stream of the ceremony via the media wall of the Helsinki Music Centre in the outdoor audience area or on Uniarts Helsinki's YouTube channel.
The first-ever Taidepiste event will take place after the opening ceremony at 16:30–18:00.
Please note that the ongoing coronavirus situation may cause changes to the opening ceremony.
Presenters
Sara-Maria Pirhonen, Eugenie van der Meulen, Folke Narin
Programme 15:00–15:30
Media wall of the Helsinki Music Centre
Opening music
Brass septetet Cono
Speech
Rector Jari Perkiömäki
Speech by a governmental guest speaker
Director of the Division for Science Policy Erja Heikkinen from the Ministry of Education and Culture
Speech by a representative of the City of Helsinki
Deputy Mayor Nasima Razmyar
Speech by special guest
opera singer Topi Lehtipuu
Closing music
Kadi Vija Trio
Programme 15:30–16:30
Oodi stage
15:40
Laura Ikonen & Layers
music
Performers:
Laura Ikonen: Kantele, vocals
Aurora Visa: Kantele
Jonna Lankinen: Cello
Olli Sippola: Violin
Aino Kinnunen: Violin
Ammi Autere: Violin

Layers is a combination of folk music, kantele music, live strings, sounds from nature and electronic music, created by Ikonen. The live music is combined with recordings of sounds from nature, the urban city, kantele and computer samples. The inspiration has come from archaic tradition and its connection to modern ambient and electronic music, old compositions for traditional small kantele performed by Ulla Katajavuori, the relationship of nature and city sounds with music, minimalism, experimentalism, and combining all of this to the kantele tradition.

16:10
Circuit
performance
Circuit is a performance featuring an x number of repetitions until the time runs out. The performance revolves around repetition and exchange and the fact that everyone can do everything.
On stage:
Veera Kopsala, MFA
Matti Pajulahti, actor
Kaisa Rajahalme, scenographer
Joonatan Turkki, sound designer
16:40
Kadi Vija Trio
music
Performers:
Kadi Vija: Vocals
Hector Lepe: Guitar
Juuso Rinta: Double Bass

Kadi Via Trio is a trio of three young jazz musicians. Their repertoire is a mix of the members' own compositions, American jazz standards and Brazilian bossa nova. The trio is known for their warm, velvety sound and relaxed, airy groove.
Park stage
15:40
FAIA
music
Performers:
Emilia Keskivinkka
Eeva Rajakangas
Mikko Anttila
Others?
The rap lyrics by FAIA alternate between humour and emotional vulnerability. The songs deal with boundaries, dance floors and human communications, for example. FAIA operates within the framework of a utopia and describes the world using entirely unique angles.
16:10
Arosa Ensemble
music
Performers:
Marja Ahlsved: Vocals, keyboard
Heidi Kiviharju: Vocals
Kalle Ylitalo: Bass
Niklas Ahlsved: Drum pad

The Helsinki-based Arosa Ensemble performs enchanting indie-pop music with lyrics from Edith Södergran's poems. Their music has been composed by Marja Ahlsved, who founded the ensemble in 2009. The songs are performed in Swedish, the original language of the poems. Arosa Ensemble combines contemporary electroacoustic sound with 1920s modernist lyrics. Södergran's Swedish texts stay as the main focus, while the music shifts from fragile breaths to massive blare.
16:40
Garden
music
Performers:
Josefina Vannesluoma: Vocals
Selma Savolainen: Vocals
Virva Immonen: Vocals
Sirja Nironen: Cello
Mikael Saastamoinen: Double Bass
Jesse Ojajärvi: Percussions
Mikko Sarvanne: Composition, electronics, electric guitar
Three female voices meet with a fragile double bass, a well-rooted cello and percussion instruments that are older than humankind. Garden creates a space where we want to stop and take a moment to look around us. GARDEN explores whether an understanding of how small a part we play in the continuum of human generations might make people embrace a way of life where our planet is not considered in the light of the opposing forces of resource exploitation and nature conservation but, instead, it could be seen as one big, flourishing garden. The ensemble's music combines contemporary vocal polyphony, jazz improvisation and sound art.
Beach stage
15:45
Timo Viialainen: Gooseneck
performance
The Finnish word joutsenkaula, literally swanneck in English, refers to a semi-rigid metal tube that can be bent to stay in different positions. In English, these are called gooseneck tubes. Hanhenkaula, literally gooseneck in English, on the other hand, means goose barnacle in English and is a small crustacean. Unlike other barnacles, goose barnacles have a long peduncle that they use for attaching themselves onto objects. Hanhenkaula and joutsenkaula both have the word goose in their equivalent English terms, so the meanings and names of the animal species get jumbled up in the translation. As such, this seems like a harmless detail that shouldn't cause any inconvenience or upset.
Then again, if we use the word goose together with the word Töölönlahti, the connotations are bound to stir up emotions: Kanadanhanhi means Canada goose in English, and if we change the order of the words in the translation for hanhenkaula, we get the word barnacle goose, which means valkoposkihanhi in Finnish. Timo Viialainen's performance art piece "Gooseneck" delves into these associations on the sandy shore and surroundings of Töölönlahti Bay.
Helsinki Music Centre's media wall
15:30–16:30
Moving image by the students of Uniarts Helsinki
Venla Helenius, Anna-Sofia Nylund
Trailer from A Pool House
2019
Voice over: Minna Partanen
Voice over recording: Johannes Birlinger
Sound mix: Ludvig Allén
Appu Jasu
Nowhere Specific
2019
UHD video, stereo sound, 5 min 30 s
dog: Miina
interviewer: Ville Hopponen
assistant dog handlers: Helena Jasu, Olli-Pekka Jasu
set construction: Onni Nieminen
assistant cinematography: Kristiina Mäenpää
interview pop songs: Cawein (Ville Hopponen, Appu Jasu & Pauli Laasonen)
directed, written, cinematography, edit, sound design, set design: Appu Jasu HAM Helsingin taidemuseo
Folke Narin
THENANDTHERE – a monologue by and with Folke Narin
2020 Script, music and performance: Folke Narin
Sara-Maria Pirhonen
Varenda människa jag känner är hursomhelst ett törnrossnår/
Jokainen ihminen jonka tunnen on kuitenkin ruusupensaikko
2020
Course: Eget Arbete 2
Text excerpt: Elfriede Jelinek, Prinsessdramer – Törnrosa
Music: Nicolas Jaar – The Governor
Thanks to: Antonia Atarah amd Saana Reijonen for help with filming.
Iiri Poteri
Monument 1
2019
Taidepiste 16:30–18:00
Main Foyer (limited seating available) and media wall of the Helsinki Music Centre
Radical songs – how does music fuel revolutionary dreams?
Guests in the discussion include rap artist Karri Paleface Miettinen, music history researcher Saijaleena Rantanen, and folk musician and music journalist Amanda Kauranne. Paleface & Laulava Unioni perform revolutionary dreams and battle anthems dating back a hundred years.
We will limit the number of guests in the Main Foyer so that the Taidepiste audience members can maintain a safe distance to each other. It is also possible to watch the Taidepiste event outdoors via a broadcast on the media wall of the Helsinki Music Centre or on Uniarts Helsinki's YouTube channel.
Map