Naukkarinen & Mustonen: Beating parts and private skriiks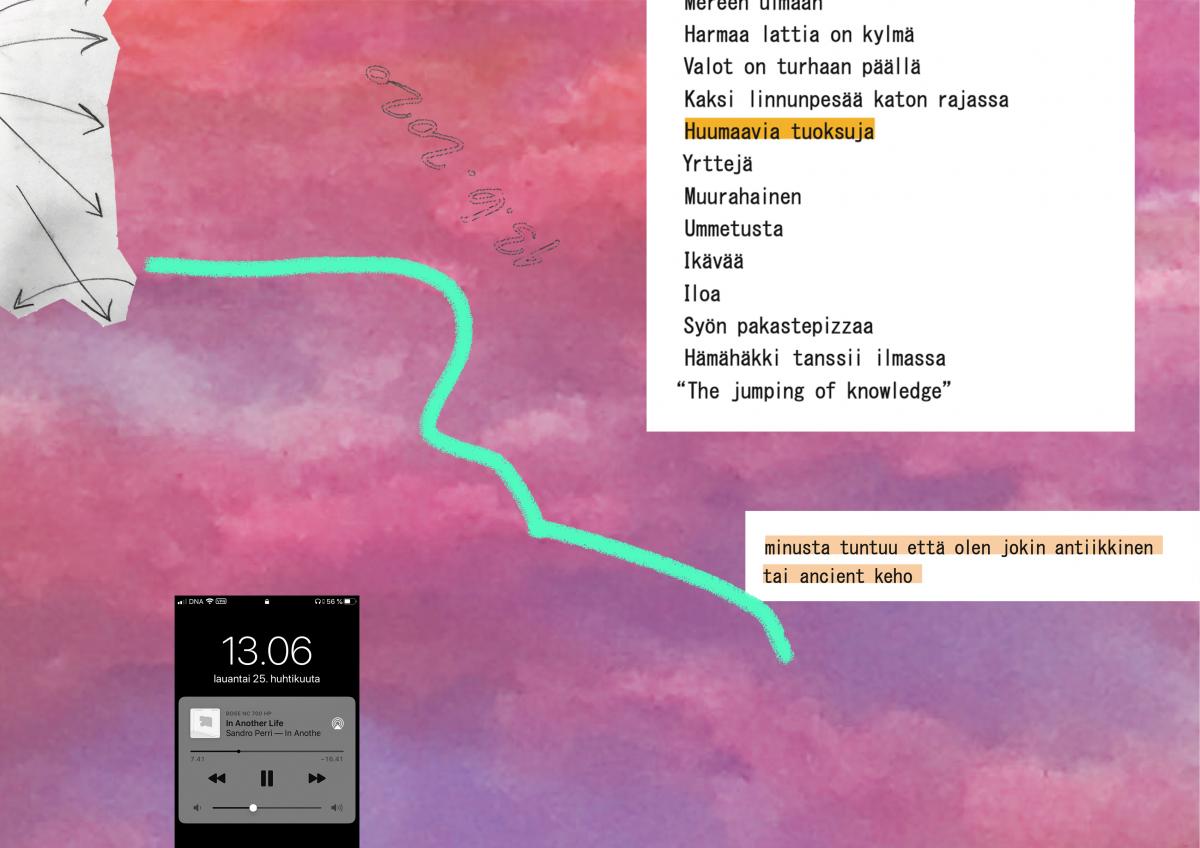 Beating parts and private skriiks is sparked by smudges in a notebook almost lost, emotions stuck in the body, rushed words typed in a phone, and times, weathers and spaces that cross each other. It is a performance or a living collage. A swinging movement between imagining and remembering, and an attempt to find a meaning for fleeting fragments in one's experience.
The performance Beating parts and private skriiks is part of Maarit Mustonen and Anne Naukkarinen's work Notes 1.4.–9.8.2020. It is an excerpt from a working process in which Mustonen and Naukkarinen work with different methods of taking notes: writing, recording, images and bodily practises. They note and collect experiences, emotions and thoughts over the course of a year. Notes 1.4.–9.8.2020 is affected by both the chosen method and the life they live. The work consists of a publication and a performance. Mustonen and Naukkarinen will continue the working process until summer 2021.
The work is part of the exhibition Surrender? Surrender at Exhibition Laboratory, Helsinki, curated by the students of the Praxis Master's Programme in Exhibition Studies of the Academy of Fine Arts of Uniarts Helsinki.
Maarit Mustonen and Anne Naukkarinen are Helsinki-based artists who have been collaborating since 2014. Naukkarinen has a background in dance and performance art, Mustonen in working with language and images. When collaborating, they combine their working methods through installations, performances and publications.
Artist, musician Minna-Kaisa Kallinen has composed a song for the performance. Performance languages: Finnish and English.
The work is supported by Arts Promotion Centre Finland and Kone Foundation's Saari residence.