Kontakt! Composition Concert
Kontakt! is a concert by four young composers in which the Helsinki Chamber Orchestra will perform their new works for orchestra.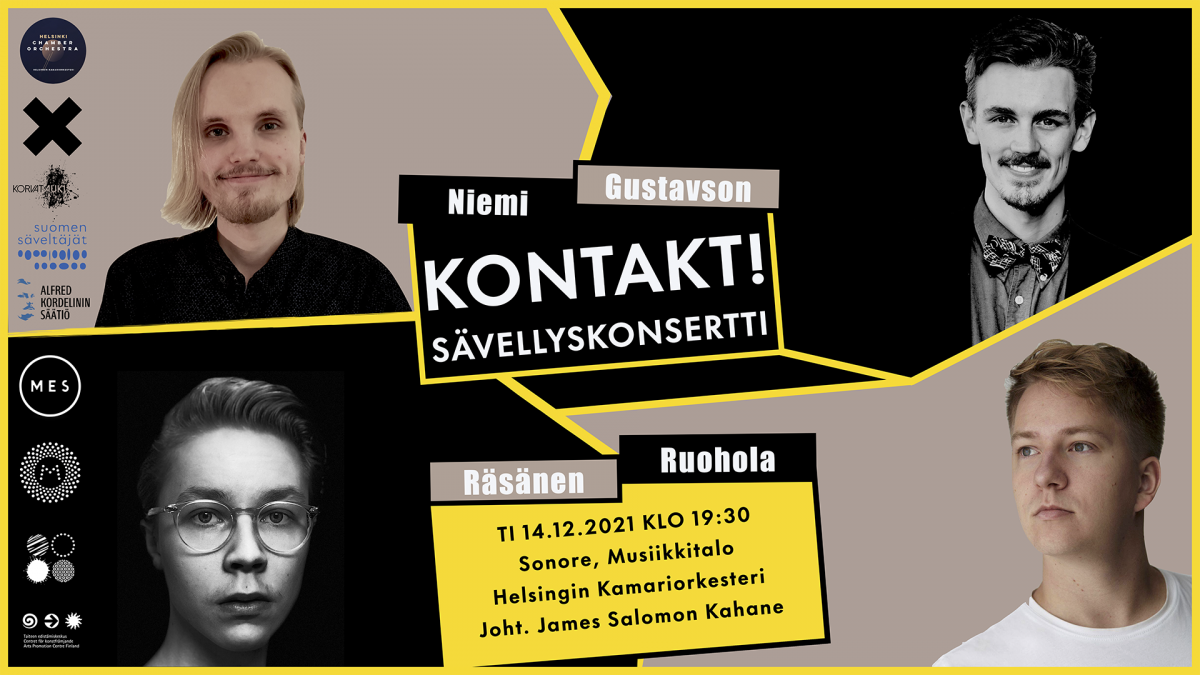 Covid pass is required in all concerts
Based on the order issued by the Regional State Administrative Agency of Southern Finland on 2 December 2021, covid pass is required for all events at the Sibelius Academy. Covid passes are checked from the entire audience at all our public events that hold more than 20 people. The restriction applies to our Helsinki locations. If you do not have a covid pass, you are entitled to a refund of your ticket. Ticketmaster is in contact with customers.
The name of the concert stems from a word meaning "connection" and reflects its theme of shared introspection and common ground. Each piece incorporates the personal voice of its composer as well as reflects upon contact as a subject.
The concert is produced in collaboration with composers Leevi Räsänen, Robert Ruohola, Rolf Gustavson and Touko Niemi, and the Helsinki Chamber Orchestra.
We welcome the audience to call into the vast emptiness of space, to paint their dreams, awaken to cease all action, and to sink into a world of sound.
Performers
James Salomon Kahane, conductor
Helsinki Chamber Orchestra
Programme
Leevi Räsänen: Thinking about the immortality of the crab (2021) world premiere
Robert Ruohola: Konsonanssi ja avaruus (2021) world premiere
Rolf Gustavson: Dream Painting (2020)
Touko Niemi: Unimetsä (2017)
Touko Niemi: New work (2021) world premiere
Robert Ruohola is a fresh composer whose influences range from Sibelius to minimalism. In his new orchestral piece Cosmos and Consonance, he looks to the skies and listens to the sounds echoing down from space, creating a story of the universe. Inspired by J.R.R. Tolkien's creation myth, the piece is a tone poem of the cosmos, where in the beginning there was not the word, but sound.
Leevi Räsänen has spent the last few years leaning towards the expression of intimacy, intuition and personality in his music. In his new orchestral work, Räsänen wanted to confront his own feelings and thoughts in relation to death and the fear of it. Fear of death is often only experienced in private and therefore it is interesting to produce a shared experience of the phenomenon.
"Strong feelings of anxiety, excitement and fears are felt from within as physical feelings, shivers, coldness and heat, palpitations. I have experienced very similar sensations at orchestral concerts and electronic music gigs, for example – I see an interesting confluence here." says Räsänen.
Rolf Gustavson is a composer and orchestrator based in Helsinki, Finland who studies composition at the Sibelius-Academy with Matthew Whittall. His endless curiosity towards life, art and technology has granted him opportunities to explore a vast spectrum of artistic realms, ranging all the way from composing gamified chamber music pieces to orchestrating music for feature films.
It all started with dreams of colours…
The through-thread of this orchestral piece is the concept of stillness in motion. Even though at the surface the texture may be filled with movement, rapid scales, and fast repetitions, the underlying currents, especially with regards to harmony, are often slow-paced and meditative in nature.
The piece is essentially about painting one's imagination – with textures and colours, shapes and sonorities, while pursuing dream-like freedom – all while embracing the pure joy of making music.
…and it all ended with the colours of dreams.
Touko Niemi is a classically trained young composer. He is a hard worker who appreciates high standards, having composed music for concert halls and short films — and even one musical. Unimetsä (2017) leads the listener on a journey into a dreamy world of tones in which various musical figures are playing with each other. The journey will always continue deeper, until eventually the only option is to return with great power. Niemi's new work to be premiered is a look at the composer's current aesthetics. It combines elements from different styles of music in a way that is at the same time both instantly approachable and fresh sounding.
The Helsinki Chamber Orchestra is a Finnish orchestra based in Helsinki and specialized in chamber orchestra repertoire ranging from early music to music of our time.
The orchestra works to produce high-quality performances of western classical music written for chamber orchestra or chamber ensemble, to bring classical music to new audiences through accessible performances and well-constructed concert programs, and finally, to celebrate the variety in classical music by performing works that span a breadth of different styles and by championing lesser-known works.
James Salomon Kahane is young Franco-German conductor presently holding the position of Principal Conductor of the Helsinki Chamber Orchestra and Conductor of the Polytech Orchestra in Finland. Aged 21, he was appointed as the first ever Assistant Conductor of the Helsinki Philharmonic Orchestra, where he served at the side of its Chief Conductor Susanna Mälkki until Autumn 2018. James is one of the 3 young conductors featured in the movie "Orkesterin edessä", which came out in the cinemas in February 2020.
Further information: Leevi Räsänen
Music – of a more recent variety
The students of the Sibelius Academy perform in over 700 concerts each year. The concerts of the internationally renowned academy open doors for future top artists and offer unforgettable experiences.