Group Hug: Jade Kallio, Elina Nissinen, Aleksi Martikainen and Man Yau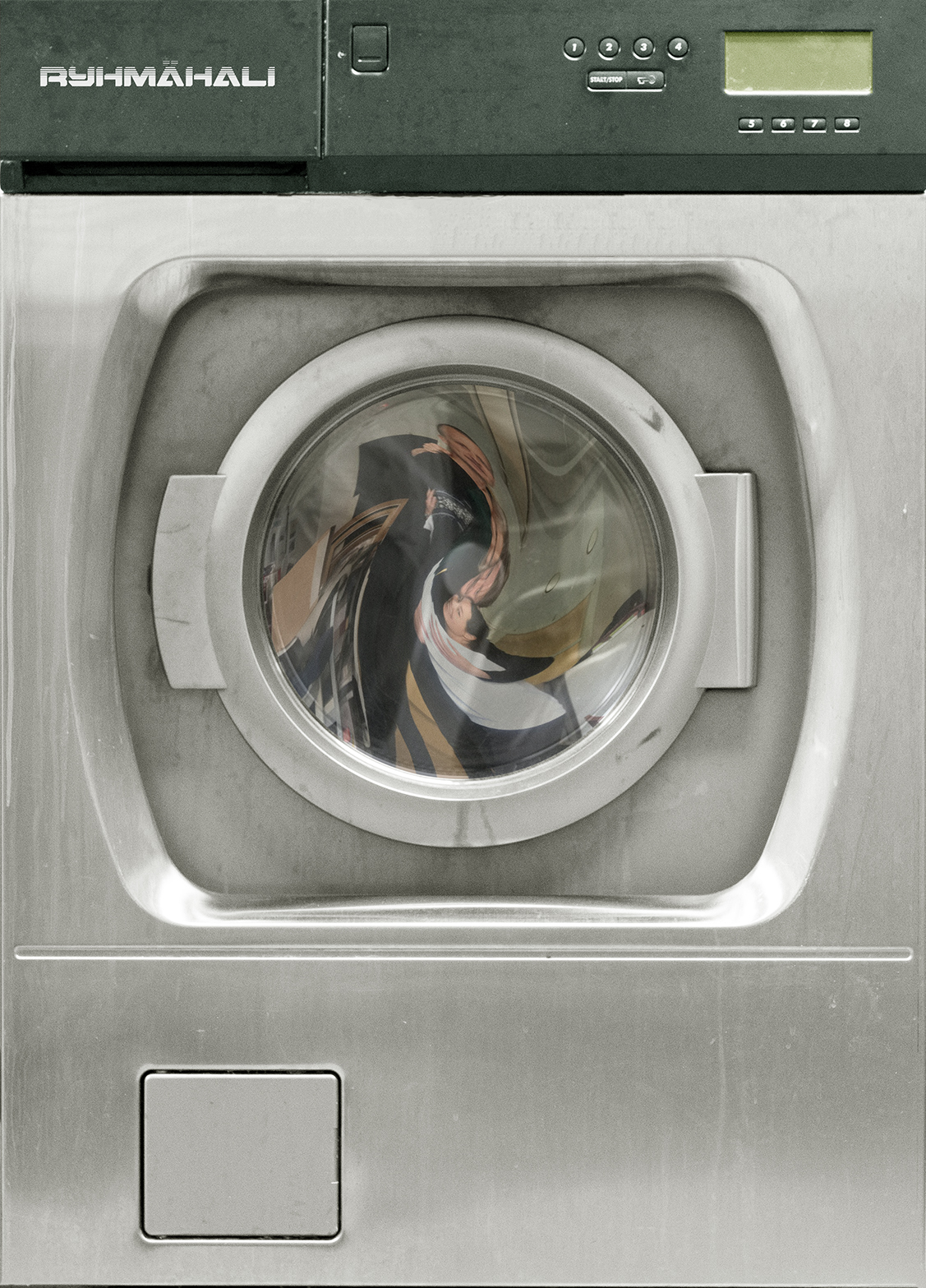 Laundry List
I'm thinking back to that one night in the laundry room, and about how one's own space loses the protection of privacy while becoming so lonely. How the need to define intimacy opens up the distance. How two people sitting close to each other on washing machines speaks louder than confessions about closeness. Setting foot in someone's home means more than a kiss. That night when tenderness feels prefabricated without bodily contact. I'm so tired of talking about how it feels, and yet I cannot think of anything else.
Laundry rooms already in and of themselves already encapsulate something essential about the emotional life in Helsinki. The anonymous surveillance, the welfare society's rationalized sterility, a passive aggressive note from a neighbor, the memory of an afterparty or one-on-one moment. The smell of detergent in an unknown neighborhood is enough to propel one back in time to this familiar no man's land.
I'm thinking of the night in April when I'm thousands of miles away, available to me as a prismatic vision relayed by fragments narrated from different perspectives. Perhaps it is the nostalgic where-were-you moment that has the capacity to transcend the saturated shared feeling. Instead, we yearn for hidden truths, depths, wobbly memories, inexplicable workout routines, charged energy, red ears, the smell of Mäntysuopa. We long for the epic—or maybe epoch-making—original stories of closing the distance.
Text: Anna Tomi
About the artists
Jade Kallio (b.1978) is an artist and filmmaker working with a variety of media including experimental cinema, performance and installation. Kallio's personal and collaborative works mix documentary and speculative fiction, playing with the threshold of imagination and everyday life.
Elina Nissinen (b.1991) is a visual artist currently working with clay and paint, but also with other materials, collaborators, and space. Nissinen is fascinated by questions on relationalities, narrativity, and meaning-making, as well as the overlap of intersectional thinking with the matter(s) and manifestations of magic and the transcendental. Nissinen's work is supported by Arts Promotion Centre Finland.
www.instagram.com/elina_nissinen/
Aleksi Martikainen (b.1984) is a visual artist who works with kinetic sculpture and moving image. His performative video work and motorized sculptures reflect on feelings about being, and the observed life surrounding him. Martikainen considers it important to face the feeling of shame, and to search for joy intuitively.
Man Yau (b. 1991) is a sculptor whose works balance between traditional craftsmanship and industrial form. Central to her work are the values and history associated with everyday objects, and by reshaping them, Yau explores notions of values in racial, gendered, and commonly accepted narratives. Yau's work is supported by Arts Promotion Centre Finland, Finnish Art Society and Greta and William Lehtinen Foundation.
In addition, the artists would like to thank the companies Sun Effects and Vallilan Panimo for their generous support in
the exhibition.