Global Spring: Urban Nature Sound walk – Vija Moore's bachelor concert
"Urban Nature" is a site-specific open-air walking concert, reflecting on the contrasts of urbanised nature environments.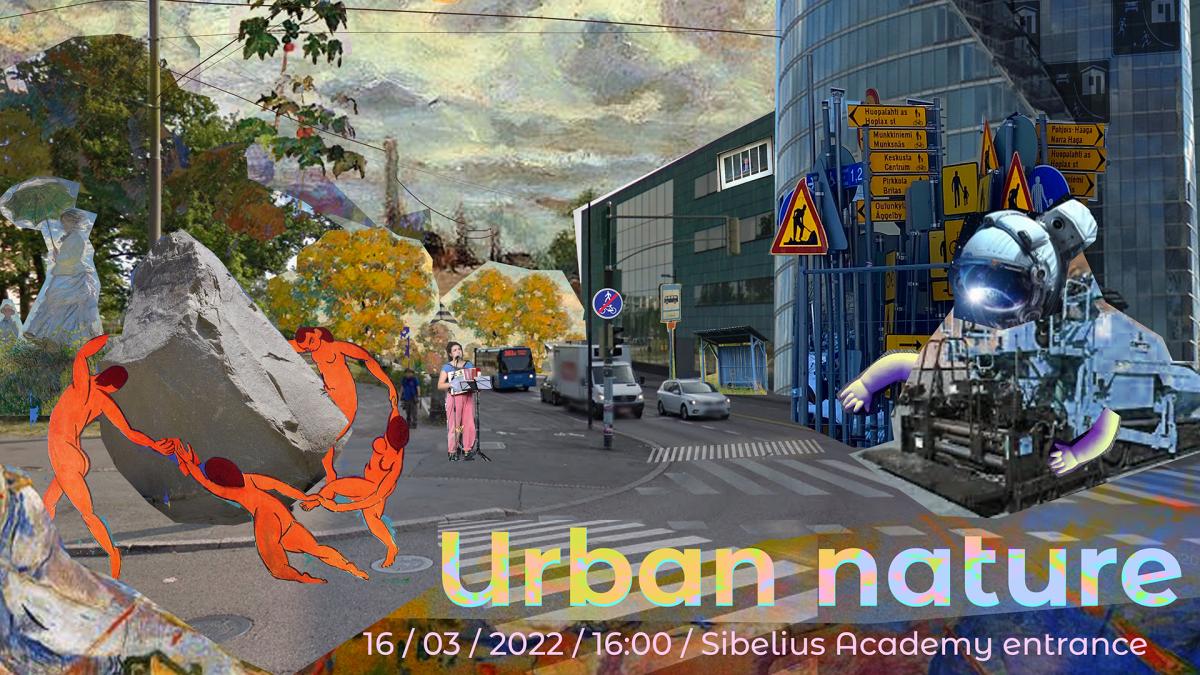 We like to take walks in the park for a breath of fresh air and to feel the calm of the trees, the birds, and the green grass. But the experience of nature and calm is not completely real, because the sounds of the city with cars driving, trams zooming, and motorbike noises become invasive to that natural environment. Only in nature outside our cities, where, untouched by humans there is true peace and silence. Cities are taking over the planet's nature and urbanisation is becoming a norm. Aggression takes over peace, noise over silence, anxiety over calm.
I invite people to experience these contrasts through music within the soundscapes of the noisy city and calm nature, integrating the unexpected occurrences and soundscapes that are around.
Performers
Trumpet – Alevtina Parland and Devina Boughton
Clarinet and bass clarinet – Sonia Vidal and Jaakko Arola
Drums – Aarne Toivonen
Voice and dūceņi – Oscar Beerten, Bojana Pekovic, Susjaira Kerpens, Eriika Ketara, Liene Skrebinska
Global Spring 16.-20.5.
Global Spring is an annual festival featuring students, teachers, alumni and special guests representing Sibelius Academy's Global Music Department. The Global Music Department embraces pluralistic, fluid approaches to sound, culture and identity, creating new hybrid musical spaces through intercultural dialogue and collaboration. Expect a feast of dynamic, innovative and inspiring concerts, featuring performers from around the world celebrating the diversity of our planet.
Support Ukraine and donate to Uniarts Helsinki's fundraising campaign: https://lahjoita.punainenristi.fi/team/taideyliopisto-uniarts-helsinki or https://oma.unicef.fi/team/taideyliopisto-uniarts-helsinki
Additional Information: Eeva Hohti