Global Spring: Global Orchestra and Global Choir
The Global Orchestra and Global Choir features 25 plus instrumentalists and singers from diverse musical and cultural backgrounds.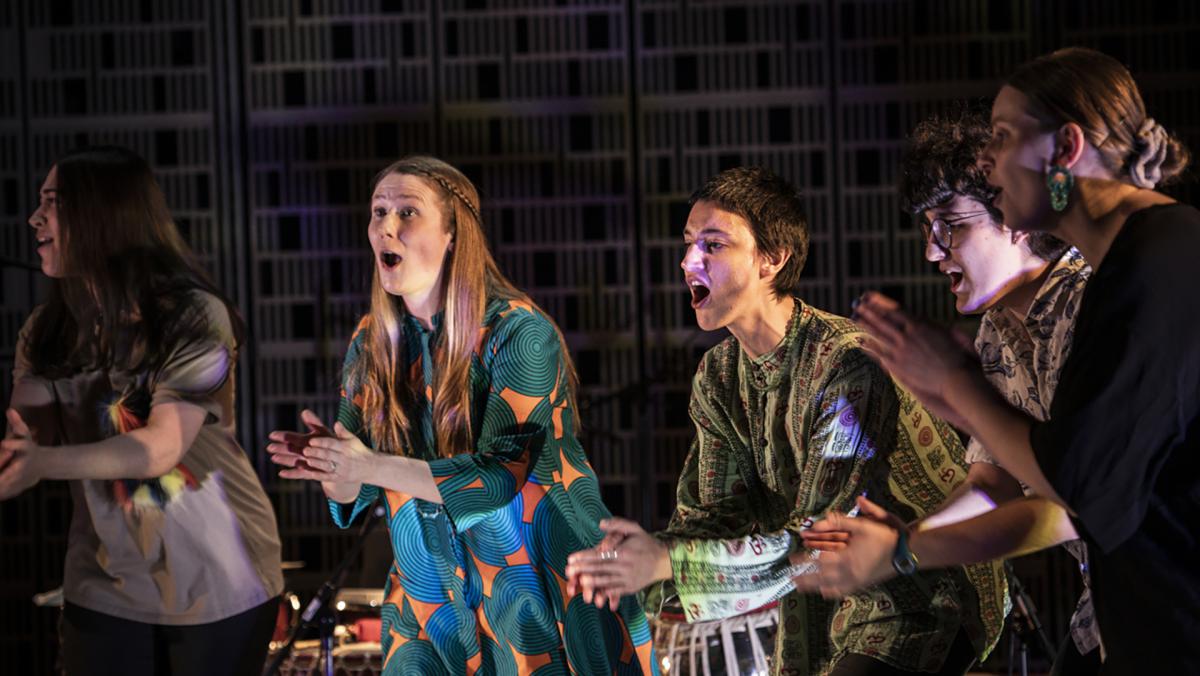 The dynamic ensembles create new music and innovative arrangements inspired by the (bio)diversity of our planet.
Global Choir – connected by the water
This year Global Choir as a group of 13 singers presents songs from the singers multicultural backgrounds. The participants have been memorizing, composing, arranging and teaching to each other songs from their own culture or research interest to Spain, Portuqal, Turkey, Georgia and Ukraina.
Global Choir is co-led by the students and Global Music lecturer, choir conductor Merzi Rajala.
Global Orchestra – Deep Roots and New Shoots
The Xinjang-Aruba Express via outer space will depart from the Black Box on Wednesday May 18th 2022 at 12:00. Come and experience a breathtaking journey through sonic galaxies.
The Global Orchestra consists of musicians from seven different countries. Together we not only share music from different places, but we also fearlessly explore the boundaries of making music together. Please buckle up, because it's is going to be a wild ride!
Programme
Announced later
Global Spring 16.-20.5.
Global Spring is an annual festival featuring students, teachers, alumni and special guests representing Sibelius Academy's Global Music Department. The Global Music Department embraces pluralistic, fluid approaches to sound, culture and identity, creating new hybrid musical spaces through intercultural dialogue and collaboration. Expect a feast of dynamic, innovative and inspiring concerts, featuring performers from around the world celebrating the diversity of our planet.
Support Ukraine and donate to Uniarts Helsinki's fundraising campaign: https://lahjoita.punainenristi.fi/team/taideyliopisto-uniarts-helsinki or https://oma.unicef.fi/team/taideyliopisto-uniarts-helsinki
Additional Information: Eeva Hohti